Laurel Park: Alternative jockey stats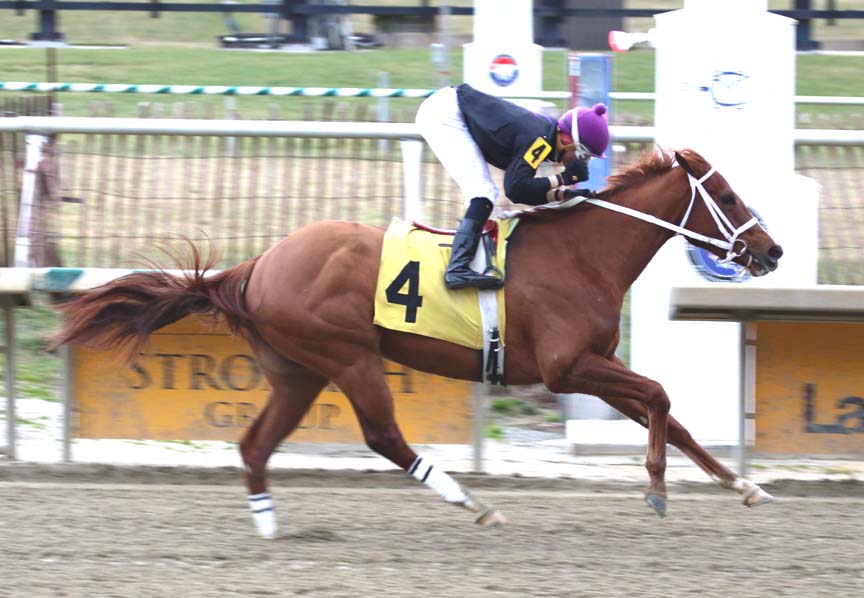 A fist pump from Jorge Vargas, Jr. as Ms Locust Point wins the 2016 Gin Talking Stakes for two-year-old fillies. Photo by Laurie Asseo.
by Frank Vespe
Which jocks are having the best seasons thus far at Laurel Park?
Standard jockey statistics tell part of the story — but only part of it. Those stats typically order a jockey colony either by wins or by purse earnings, and while those matter, they don't tell the whole story.
While perhaps the best way to rate jocks would be the old-fashioned way — with copious note-taking and observation, supplemented by data — we still wanted a stats-based system, and so…
We devised the rating system below. It takes into account wins, win percentage, earnings per start, and wagering return on investment. The jockey leading the colony in each category receives a score of 100 for that category, with other riders getting a percentage of that. That would give a jockey leading in all categories a perfect score of 400.
In brief, the rating system rewards jockeys who win often and in the biggest races. We applied the stats to every jockey at Laurel who's made at least 10 starts and won at least one race.
So who's having the best season? Overall, Jorge Vargas, Jr. is; Vargas leads the colony in wins and is second in win percentage and earnings per start. His wagering ROI is a solid $1.88 per two-dollar wager, placing him seventh in the colony.
Another relative newcomer, Edwin Gonzalez, is right behind him. Though he has only five wins, they have come in just 14 starts, and he is third in earnings per start and $2 ROI.
Veterans Jomar Torres, Julian Pimentel, and Elvis Trujillo round out the top five.