Limited View: "Putting it all together," cruises in Marshua Stakes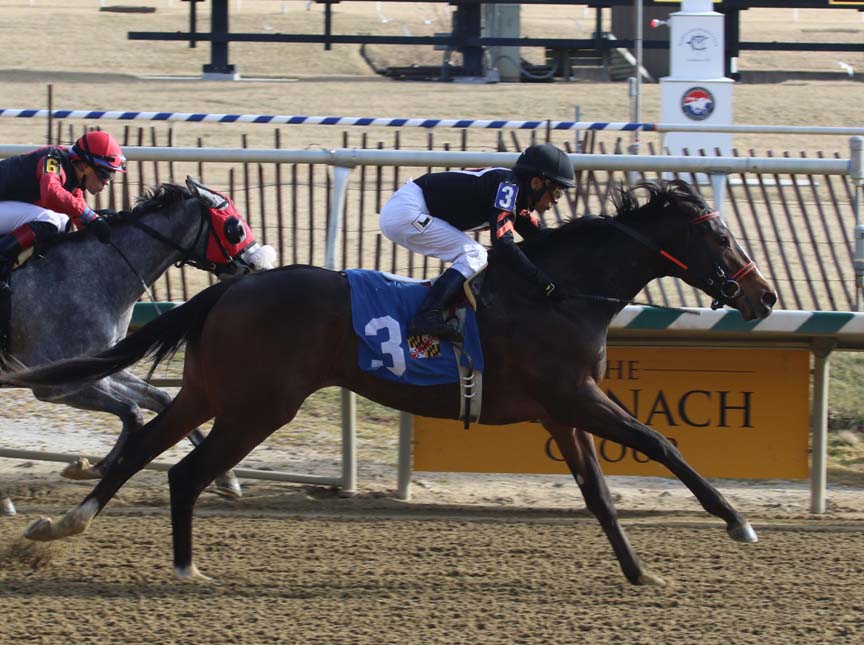 Limited View. Photo by Laurie Asseo.
by Frank Vespe
If there's one thing John Salzman, Jr. wants you to know about Limited View, it's this: "She's fine; she's just quirky. She's not crazy by any means. She doesn't want to hurt anybody. She just gets wound up."
Limited View, the fleet, flighty three-year-old filly he trains for himself, George Greenwalt, and Fred Wasserloos, was on best behavior this afternoon at Laurel Park, cruising to a nearly-one-length victory in the $100,000 Marshua Stakes for sophomore fillies. It was the third stakes win, and fifth win overall, for the daughter of Freedom Child, who now has earnings of over $237,000.
That's not always the case, though. Limited View has five wins from seven starts but was off-the-board in the other two. She also had to be scratched from a race at Saratoga when she melted down in the paddock.
Those behavioral issues have led Salzman to a number of adjustments and improvisations. For example, he outfits her with a training saddle back at the barn prior to bringing her over to the paddock, then swaps that out for a racing saddle in the paddock.
"We put that on her so that when we get here, it just makes them more comfortable coming with the saddle," he explained.  "We just slide that off and just slide the real saddle back on. It just makes them more comfortable. We've been doing that since the second time at Saratoga."
Today, with Edgar Prado in the irons for the sixth time in seven starts, Limited View broke a bit slowly before cruising up to stalk the leaders from third while on the outside. She bid up to the lead in upper stretch and went to win, the chart said, with "something in reserve." Running time for the six furlongs was a zippy 1:10.99.
It was one of the most professional outings of her career and marked a good bounceback after a ninth place finish in the Gin Talking Stakes over the strip on December 30.
"Last time it just wasn't her day," Salzman said. "If we win every race, it wouldn't be fun."
Not sure how much he — or any of the horse's connections — believes that, but the truth, which ought to be a bit frightening to most of her rivals, is that she appears, gradually, to be settling down.
"She's got the talent," Salzman said. "She's putting it all together. I'm feeling more comfortable with her. She's feeling more comfortable with us. I think we're on the right mindset."
Mike Pons, whose Country Life Farm stands Limited View's sire Freedom Child, chimed in his impressions of the training job Salzman has done.
"This is one of the great training jobs of the last couple years," Pons said. "Like Dickie Small with Broad Brush, some of these. It's interesting to watch from afar."
"It's funny you say that," Salzman responded. "There's one race — except for Xtra Heat (trained by his father), she just gives me cold chills every time — when this filly won the Maryland Million the way she did (by circling the field to rally from last to win). I mean, I still get goosebumps talking about it. That Broad Brush race when he bolted — that gives me cold chills."
In the 1986 Pennsylvania Derby, Broad Brush famously bolted to the far outside rail at the head of the lane before rallying to win.
As for the future, Salzman's plan is to keep Limited View at home, where she has her routine down pat.
"With her mindset — there' s just so much money to be made here," he said. "Why do I want to go looking for the heavyheads? If they want to come here, let them come here. I think I can make a decent living here. And I just have no reason to go."
That's good news for local racing fans, but not so much for the runners she'll be facing.