NBC Sports, DRF take first of media Eclipse Awards
From a National Thoroughbred Racing Association release
The National Thoroughbred Racing Association (NTRA), Daily Racing Form and the National Turf Writers and Broadcasters (NTWAB) today announced Media Eclipse Award winners in three categories: NBC Sports has won the Media Eclipse Award for Television – Live Racing Programming for its broadcast of the 2017 Kentucky Derby; NBC Sports has also won the Television Features Media Eclipse Award for the NBCSN telecast of "My Kentucky Home," about renown broadcaster Tom Hammond. Daily Racing Form has won the Media Eclipse Award in the Audio and Multi-Media Internet category for "Chasing Man o' War's Ghost," by Barbara Livingston.

These winners will be presented their trophies at the 47th Annual Eclipse Awards dinner and ceremony, which will be held on Thursday, January 25, at Gulfstream Park in Hallandale Beach, Fla. The Eclipse Awards are presented by Daily Racing Form, Breeders' Cup and The Stronach Group, and produced by the NTRA.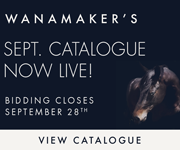 Under sunny skies but over a sloppy racetrack NBC covered the 147th Kentucky Derby on the first Saturday in May before 158,070 on-track attendees at Churchill Downs and a television audience of more than 16 million viewers. Building the drama in the final hour of its live coverage, NBC deployed its reporters in the walkover of the 20 Derby starters from the backstretch to the saddling paddock, interviewing key trainers on the final preparations of the horses. NBC also captured the time-honored tradition of fans singing "My Old Kentucky Home" as the horses entered onto the track for the post parade.
For the race itself, NBC used an overhead camera shot for the gate break. Race Caller Larry Collmus quickly noticed something was amiss with Thunder Snow, who broke awkwardly and was escorted from the track. Cameras focused on the fortunes of Always Dreaming who secured the lead near the end of the backstretch and held off all challengers to the wire. NBC cameras quickly moved to a shot of winning trainer Todd Pletcher, who watched the race on a screen in the paddock and gave a triumphant first pump. Analysts Jerry Bailey and Randy Moss spoke of the long time and successful working relationship of Pletcher and jockey John Velazquez, who collaborated on their first Derby win together, and credited Velazquez's early positioning and ground-saving ride as a key to Always Dreaming's victory.
In capturing the 2017 Kentucky Derby, NBC utilized multiple specialty cameras, including a helmet camera on the outrider (escorting the winning horse and jockey to the winner's circle), a camera suspended 80-feet high on the Churchill Downs video board structure, a robotic camera in the paddock saddling area, and a camera focused on Collmus.
"More than 50 cameras were deployed to showcase a tremendous week of racing beneath the famed Twin Spires at Churchill Downs," said Rob Hyland, coordinating producer of NBC Sports Group's horse racing coverage. "Our production team takes tremendous pride in covering horse racing's biggest events. Our presentation of Always Dreaming's Kentucky Derby victory and all the pageantry surrounding the first Saturday in May was a great way to start our Triple Crown season."
In addition to Hyland as coordinating producer, the Kentucky Derby broadcast was directed by Drew Esocoff. The program was hosted by Bob Costas and Mike Tirico, who were joined by analysts Randy Moss and Jerry Bailey, and analysts/handicappers Bob Neumeier and Eddie Olczyk. Donna Brothers, Carolyn Manno, Laffit Pincay III and Kenny Rice were the reporters. Larry Collmus was the race caller.
NBC Sports also earned an honorable mention in this category for its live telecast of the 2017 Breeders' Cup Classic, which aired on Nov. 4, 2017. Billy Matthews was coordinating producer of the NBC broadcast.
Judges in the Television Live Programming category were Jim Bannon, racing analyst and member of the Canadian Horse Racing Hall of Fame; Toni Slotkin, former ABC Sports award-winning producer; and Chris Svendsen, director at CBC Sports.
FEATURE TELEVISION WINNER "MY KENTUCKY HOME" IS A TRIBUTE
TO TOM HAMMOND'S CAREER AND LOVE OF BLUE GRASS STATE 
In claiming the honor of the Feature Television Award, "My Kentucky Home," which was televised on NBCSN on May 3, longtime host of NBC Sports Thoroughbred racing, Tom Hammond, narrates his everlasting bond with his hometown of Lexington. The broadcast legend takes the viewer on a tranquil journey in his yellow Thunderbird through the Bluegrass as he reveals a few of its signature traditions: Kentucky basketball, the finest Bourbon and the majestic horse farms that have been the birthplaces to the world's greatest Thoroughbreds. Hammond's sojourn includes visits with 2015 Triple Crown winner American Pharoah, the Woodford Reserve bourbon distillery and a chat with University of Kentucky Basketball Coach John Calipari. Hammond overlays these scenes with some of his fondest career memories throughout the half-hour, culminating with the First Saturday in May at Churchill Downs.
In addition to his writing and narration, Hammond, and Dave Picker were co-producers of "My Kentucky Home." Jack Felling and Rob Hyland were coordinating producers of the program.
"What a delight to receive an honor for a project that was an absolute labor of love," Hammond said. "I hope my affection for Kentucky and especially its Thoroughbred industry was evident. It was great fun making the program and my thanks to all involved, especially to Jack Felling, Dave Picker and the crew for making it so memorable."
Honorable mention in the Feature Television category went to CBS News for "Photo Finish," a story about multi-Eclipse Award winning photographer Barbara Livingston, who overcame eye sight disabilities to become one of her sport's most accomplished professionals. "Photo Finish" aired during the "CBS News with Scott Pelley" on May 4, 2017. Jack Renaud was the producer. Honorable mention also went to "This Old Horse: California Chrome," a biography of two-time Horse of the Year, California Chrome, which premiered on Ride Television on April 18, 2017. Nathan Fletcher was executive producer and Hilary Rushnell Kitzman was the producer and director.
Judges in the Feature Television category were author, racing journalist and television producer Karen Johnson; former television photographer Drew Cook; and, television producer, Sirius XM Radio Host, and longtime racing voice of the Triple Crown, Dave Johnson.
DRF'S AUDIO MULTI MEDIA AND INTERNET WINNER "CHASING MAN O' WAR'S
GHOST" CHRONICLES THE MASTERY AND LEGEND OF 'BIG RED' 
Since she was 10 years old or so, Barbara Livingston has had a fascination with Man o' War, a horse she learned about through story books. She still has a few handwritten stories and some 40 sketches she drew of him as a child.
In winning her fifth Eclipse Award (three for Photography – 1992, 2001 and 2004 – and last year's contribution of her photographs to Daily Racing Form's winning submission in Audio Multi-Media and Internet category), Livingston, through her narration, writing the main article, and her photographs on the 100th anniversary of Man o' War's birth, attempted to unravel the mystery of a larger than life figure who was arguably the greatest race horse of the 20th Century.
Man o' War won 20 of 21 starts in 1919-1920 during the "Golden Age of Sport," and he continued to enjoy immense popularity with legions of visitors during his career at stud and until his death in 1947 at age 30.
"He's been a lifetime obsession for me, and I've been waiting for the 100th anniversary of his birth for at least the last 25 years," said Livingston, Daily Racing Form's chief photographer. "There is something about Man o' War that transcends reality. He was so high-headed, so imperious, so superior, that he seems a mythical creature. And many books written about Man o' War seemed to extend that myth. Man o' War is everyone's dream of what a racehorse should be.
"I've tried to carry on his flame throughout the years and to win an award related to my biggest muse is a profound honor for me."
During a nine-minute video, produced by Daily Racing Form's Craig Gorbunoff, Livingston retraces the locations where Man o' War raced, lived during his stallion career, and is buried. Those locations include the long-shuttered Havre de Grace racetrack and Glen Riddle Farm in Maryland; and Faraway Farm (now Mt. Brilliant Farm), Man o' War Farm, and the Kentucky Horse Park in Lexington, Ky. Empty and broken-down stalls abound yet, for Livingston, Man o' War's ghost is still – and will forever be – ever-present.
Photographs Livingston shot over more than 40 years are included, including side-by-side comparative photos of Man o' War's barns from various years. Several of her childhood Man o' War images also appear. The multi-media display also includes a short excerpt from a national radio address of Man o' War's funeral.
As a part of the Daily Racing Form team, the video was produced by Gorburnoff, and the graphic design, which included a Man o' War timeline, was provided by Jim Sewastynowicz. Nicole Russo also contributed an additional historical feature on the legacy of Man 'o War.
The winning entry can be viewed at the DRF website.
Honorable mention in the Audio Multi Media and Internet category went to Sirius XM Radio's "At the Races with Steve Byk" for "Garrett Gomez Remembered," its broadcast on the tragic death of the four-time Eclipse Award-winning jockey. Steve Byk was host and executive producer. The program aired on December 16, 2016. Honorable mention also went to Jockey Talk 360 for "Behind the Sciences at the Pegasus World Cup," which was posted on August 21, 2017. Darrell Haire was the executive producer, and Darrell Haire II and Hector Cruz Sandoval were the producers.
Judges in the Audio Multi Media-and Internet category were Ashley Cagle of Grand Slam Social; Brian Nadeau of Horseplayer Now; Joe Withee, Director of Broadcast Publicity at Emerald Downs; and John Lee, Executive Director of Goodman Media International.
The Eclipse Awards are named after the great 18th-century racehorse and foundation sire Eclipse, who began racing at age five and was undefeated in 18 starts, including eight walkovers. Eclipse sired the winners of 344 races, including three Epsom Derbies. The Eclipse Awards are bestowed upon horses and individuals whose outstanding achievements in North America have earned them the title of Champion in their respective categories. Those awards are voted by NTRA, Daily Racing Form and the National Turf Writers and Broadcasters (NTWAB). Eclipse Awards also are given to recognize members of the media for outstanding coverage of Thoroughbred racing.