Fasig-Tipton Mixed Sale by the numbers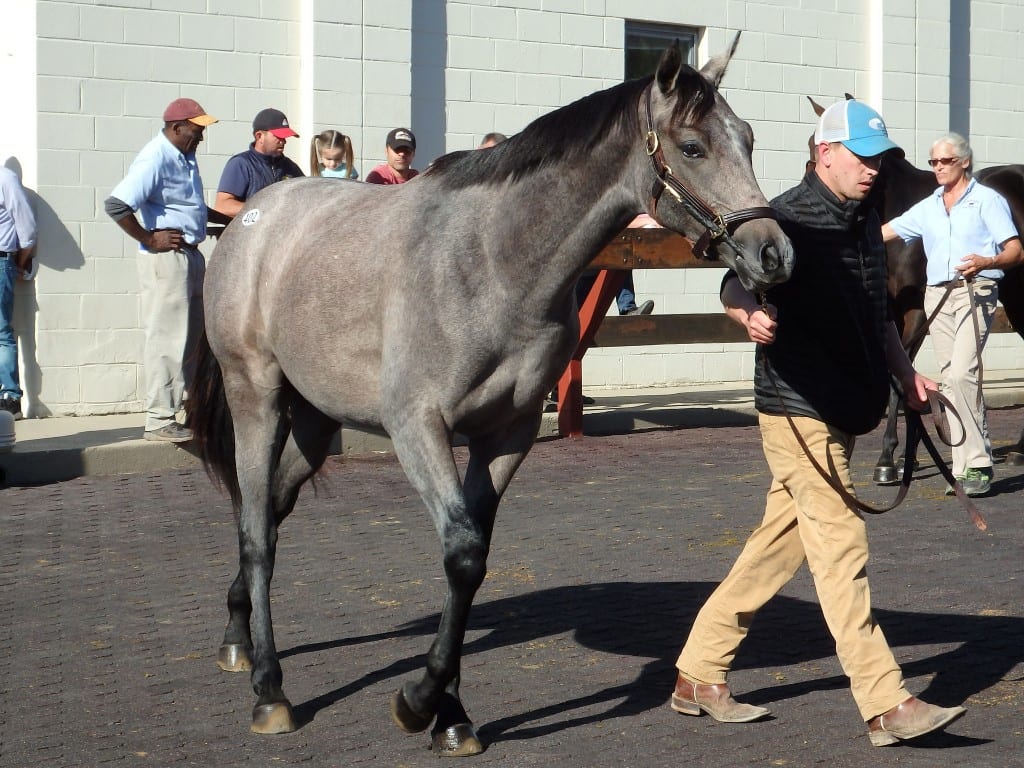 by Frank Vespe
The Fasig-Tipton Midlantic Mixed Sale, which takes place December 5 at the sales pavilion at the Timonium Fairgrounds, doesn't have quite the buzz of the company's other regional sales.
It's not the sale that produced Stellar Wind, Bradester, and Cathryn Sophia (that was the company's yearling sale). Hall of Famers like Xtra Heat didn't come through this event (she sold for $5,000 at the two-year-olds in training sale).
But for all of that, it's an event that nevertheless occupies an important niche in the regional marketplace. At this sale's most recent predecessor — which took place this past January — 141 horses changed hands, generating nearly $1 million in sales.
Here is next Tuesday's event, by the numbers.
SOME OF THIS AND SOME OF THAT
BABIES Weanlings represent the plurality of horses on offer. There are 102 babies for sale here, just ahead of the 96 broodmares being sold.
QUESTIONS AND ANSWERS Alphabetically, the first horse on offer is A Lover's Question. The final hip — alphabetically — provides the answer: Yes I Dance.
NAMELESS Of the 307 hips in the main body of the sale (more have been coming in for the horses of racing age supplement), 116 have not been named.
COLORFUL-ISH Looking for a brown horse? There are 129 of those. To say nothing of the 75 dark bay or brown horses, and the 68 chestnuts. Oh, and just for variety's sake, 35 gray or roan horses.
FOREIGN INFLUENCE Some 301 hips in the main body of the sale were bred in the United States. Of the remainder, five were bred in Ontario, and one — hip 22, a racing/broodmare prospect named Sur Empire — was bred in Great Britain.
STUD DUTY Two horses currently standing at stud are on offer. Hip 101 is Etched, who entered service in 2012 and recently got his first stakes winner in the form of My Sistersledge, who won the Maryland Million Ladies. Hip 102 is Greek Sun, who entered stud in 2008 and has sired 20 winners.
[widget id="related-posts-by-taxonomy-2″]
HIPS BY SEX
Fillies 108
Mares 103
Colts 68
Geldings 26
Horses 2
HIPS BY HOW THEY'RE BEING SOLD
Weanlings 102
Broodmares 96
Horses of racing age 68
Yearlings 20
Racing/broodmare prospects 10
Broodmare prospects 9
Stallion prospects 2
TOP SIRES OF WEANLINGS AND YEARLINGS
Seville 8
Super Ninety Nine 6
Jump Start 6
Friesan Fire 6
Imagining 6
Golden Lad 6
Bourbon Courage 4
Bandbox 4
STATES WHERE HIPS WERE BRED
Maryland 106
Kentucky 83
Pennsylvania 34
New York 33
West Virginia 12
Virginia 10
Florida 9
New Jersey 9
California 2
Illinois 1
Louisiana 1
Ohio 1
TOP COVERING SIRES
Seville 12
Golden Lad 6
Super Ninety Nine 5
Mosler 4
Orientate 4
Bandbox 3
Flat Out 3
Great Notion 3
Hey Chub 3
Imagining 6
TOP DAMSIRES (all hips)
Two Punch 10
Not for Love 9
Partner's Hero 6
Mr. Greeley 5
Indian Charlie 4
Unbridled's Song 4
Kingmambo 4