Scary Stuff! Longest shot Halloween winners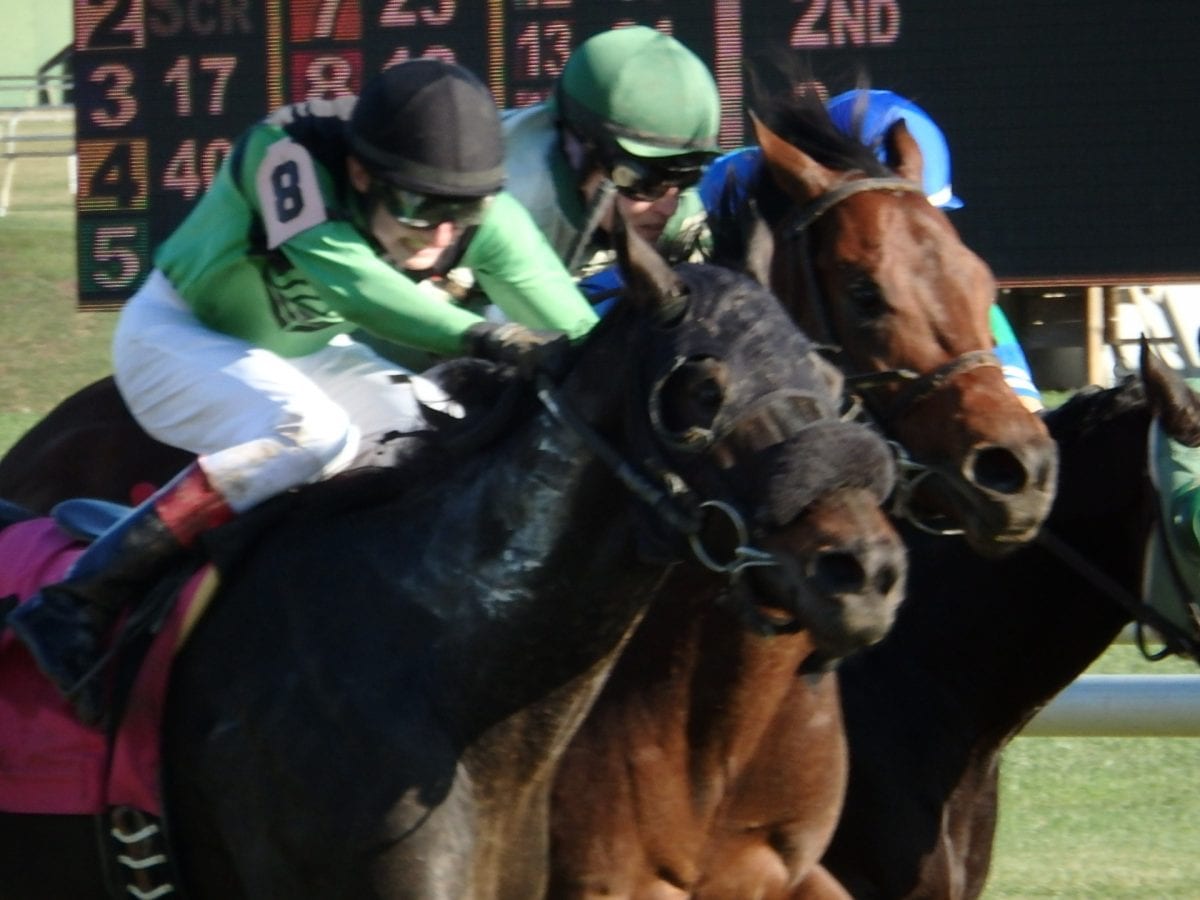 by Frank Vespe
For no particular reason beyond idle curiosity, we wondered whether longshots were more prevalent on Halloween than on other days. Probably not, but our wondering led us to unearth some recent bombs that came in on this day.
Herewith, the 10 longest-priced October 31 winners of the last 10 years:
Primehouse (10/31/08) — $154.40 win payout — On August 29, 2008, Primehouse was distanced and eased in a bottom-level maiden race at Penn National. Two months later, on Halloween night, the then-three-year-old Lord At Law colt returned to action at the same level, and at 76-1 odds. Under jockey Peter Sosa, Jr., Primehouse stalked the pace of favored The Jakester and overhauled that rival in the stretch to win by three parts of a length for trainer Charlie Cuprill. The exacta, with the favorite in second, returned $631.60. Primehouse would win just one more race in his career and conclude it with a record of 34-2-3-2 and earnings of $24,338.
Banana Pancakes (10/31/07) — $147.00 win payout — Bug rider Marion Cornwell won only 12 races in his career, which, like his life, was cut short by pancreatic cancer. The first of the dozen wins came on this Judge T C filly trained by Stephen Casey, which also was the first career win for Banana Pancakes. The win came in Banana Pancakes' sixth career start and followed a race in which she'd finished sixth, beaten 12 lengths, at odds of 98-1. Banana Pancakes would finish her career with two wins in 18 starts and career earnings of $18,613. Cornwell died in 2011 at age 35.
P. H. Firestarter (10/31/10) — $121.60 payout — West Virginia-bred P. H. Firestarter, a Devon Deputy filly trained by Harry Painter, was a respectable 10-1 when she debuted in November 2009. But she finished last that day, losing by 53 lengths, and disappeared from view. When she resurfaced, at Charles Town on Halloween almost a year later, in a bottom-level maiden event for state-breds, bettors almost completely ignored her, making her the second-longest shot in the 10-horse field. But, with Alcibiades Cortez in the irons, she rallied from the rear of the field to win going away by four lengths. The start of something big? Not really: she lost her next eight starts, failed to finish in two of them, and never finished better than sixth again. She ended her career with one win from 10 starts.
Lil Ragazza (10/31/08) — $104.80 payout — Bettors were underwhelmed by Lil Ragazza when she faced the Laurel Park starter on Halloween of 2008, and with good reason: the King Cugat filly, then three, had not finished better than fifth in her seven prior starts. But under jockey Walter Llagas, the Anthony Regalbuto trainee made a quick move from sixth after a quarter-mile to a short lead after a half and never looked back, going on to win by three lengths. She won once more in her career, concluding it with a mark of 12-2-0-1 and earnings of $12,220.
Too Wild for Words (10/31/14) — $91.80 payout — Maybe he just got lost in the shuffle. Unlike the never-weres above him on this list. Too Wild for Words had a pretty admirable racing career; the Offlee Wild gelding raced through his eight-year-old season, winning 14 times and earning just shy of $280,000 in 57 races. He entered his 2014 Halloween night tilt on a short, two-race losing streak, his most recent defeat having come in a turf sprint against $16,000 claimers at Keeneland, where he finished fourth, beaten by three lengths. But in this one, an optional claiming event with a $16,000 tag at the Meadowlands, he was dismissed at 44-1. He wasn't bothered by that, and neither was jockey Hector Diaz, who steered the Mike Rogers trainee from sixth to win by almost a length. The exacta, with a 5-1 shot in second, returned $850.20.
Place Value (10/31/09) — $85.60 payout — Place Value is another who went on to a productive career. The Purge gelding ultimately won nine races and earned over $127,000 in his career, but on Halloween of 2009, he was just another two-year-old facing winners for the first time — and the longest shot in a five-horse field at the Meadowlands. But under jockey Pablo Morales, Place Value stalked the pace and went on to win by a half-length for trainer Tim Salzman. It was the second of what became three straight wins.
Van Leroy (10/31/12) — $79.00 payout — This Van Nistelrooy gelding posted 11 wins in his 81-race career and earned over $263,000. Almost half of those wins came during a productive 2012 season in which he won five times — including on Halloween night even though Charles Town bettors dismissed him as a rank outsider against the types of horses he'd bested earlier in the year. Here, under Mauricio Rodriguez, the Alejandro Maymo trainee won by a neck — and for good measure, he did it again just over a month later, the second time at 6-1.
Hockessin Flash (10/31/12) — $53.80 payout — This Weigelia colt's debut, as a two-year-old, wasn't too successful — a seventh-place finish — so when he resurfaced 16 months later, bettors, to their detriment, ignored him altogether. In just his second career start, the Sam Cronk trainee teamed up with jockey Brian Pedroza to post a front-running upset in maiden special weight company. That would, however, turn out to the be the Flash's lone… well… flash of brilliance, as he completed his career with just one win, and $27,000 in earnings, from eight starts.
Cherokee Cowboy (10/31/15) — $53.60 payout — Cherokee's Boy the sire hasn't set the racing world on fire, so it's perhaps no surprise that his son Cherokee Cowboy didn't grab the bettors' interest when he debuted on Halloween night of 2015 at Penn National. But under jock Francisco Rodriguez, the William Stites trainee rallied from the back of the pack to win going away against state-bred maiden special weight rivals. That's probably been his career highlight, though; he's just three-for 29 overall, with $56,163 in earnings, and he's winless in 10 tries in 2017.
That's My Number (10/31/08) — $48.20 payout — This City Zip gelding's first eight starts netted just a pair of third-place finishes. For his ninth, trainer Donald Barr shipped him up to Penn National and dropped him to the $7,500 level. With jockey Vladimir Diaz in the irons, That's My Number responded with the first win of his career, surging from well out of it to win by three parts of a length. That would turn out to be the only win — and final start — of his career, which concluded with a record of 9-1-0-2 and earnings of $12,430.