Pace scenarios: Handicapping Governor's Day, Tax Free Shopping Distaff
by Doug McCoy
Saturday will mark the 25th Owners' Day at Delaware Park. If you're an owner who races at this storied oval, the day means wining, dining, a 50 percent increase in purses for the overnight races, and a full slate of stake races for your better horses. For the horseplayer the 12-race program that includes six thoroughbred stakes and full fields offers one of the best opportunities at the meeting to get value for their betting buck.
The fourth race, the first of those stakes, is the $75,000 DTHA Governor's Day Handicap, a dandy affair that features some real warriors. Twocubanbrothersu has 18 career wins, morning line favorite Dr Blarney has won 11 of 15 lifetime starts and – who knows? — may be the best Massachusetts-bred of all time. Warrioroftheroses has won four of nine lifetime starts over the Delaware main track, and Marengo Road won by 19 lengths in his last start.

In short we have a very competitive field of accomplished runners in a handicap setting in what is a throwback to the good old days when the weight a horse carried was a crucial part of the race.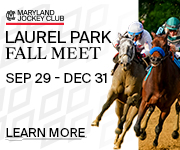 Having said all that, in this race where, as the players like to say, there's "steam on top of steam," we like a horse who is most comfortable sitting just off the pace and making his move when the speed comes back. While Marengo Road disputed the pace last out in a four-horse race en route to winning an off-the-turf race with just four horses in the field, we suspect he'll be sitting back off the leaders early in the Governor's Cup as speed rivals Afleet Willy,Twocubanbrothersu, Warrioroftheroses, Dr Blaney, and All out of Aces can all be expected to be either on or very near the lead from the start of the mile and 70 yard test. With the run to the first turn shorter than mile and a sixteenth tilts, these often turn into affairs where horses and riders seem to scramble more than usual during the early stages. Speed horses at this distance also often wind up hung wide and never seem to get settled.
We look for Marengo Road to be tucked in right behind the battle for the lead. If the race track continues to favor stalkers and closers as it has most of this week we look for Edwin Gonzalez to swing Marengo Road to the middle of the track in the second turn, go after the leaders, and pull away in the late stages for trainer Michael Trombetta. Marengo Road spent all of 2016 racing exclusively with stakes and handicap company, and while it took a while for his connections to realize the Quality Road gelding is probably a better horse on the dirt, he is a stakes winner on the dirt and looks like he's just now finding his best form this year.
Fellowship has frankly been thrown to the wolves most of the time this season, racing against graded stakes company three times and was 21-1, 50-1, 17-1 and 29-1 before finally being put in an allowance optional claiming route at today's distance here. When hard triers who have been frustrated racing over their head finally get put in a spot where they can win, it often brings a horse back to life. Regaining that feel of a winner can turn a horse around, and it wouldn't be a shock to see Fellowship in company with Marengo Road, also making his move to challenge in the second turn.
Then there's Tale of Life, who is just now coming to form after being gelded. This will be only his second start of the year, and those who follow trainer H. Graham Motion's horses closely will tell you his older runners are often at their peak in their first and second starts off long layoffs.
Six races later comes the $100,000 Tax Free Shopping Distaff Stakes for older fillies and mares that are Delaware-bred or Delaware-certified going six furlongs on the main track.
It is one of those races handicappers love to sink their teeth into. There are speed horse, late running threats, horses in new barns, and all sorts of betting angles.  As is usually the case when handicapping sprint races, trying to envision the pace scenario is the biggest challenge for the bettor.
In the case of the Tax Free a review of the field's Timeform US pace numbers reveals four horses in the field have numbers over 100. The Timeform numbers, which are a new addition to Daily Racing Form pps, are becoming more and more popular among serious horseplayers. When a horse earns a Timeform pace figure of 100 or higher it tells the handicapper that while this particular horse may not have the staying power to go wire to wire, they still have enough early speed to insure that those who try to stay with them will have to have strong stamina to stay in contention in the late stages of the race.
The four triple-digit horses in the Tax Free are not habitual quitters in the stretch; all have shown not only good early speed but also more than average staying power. This means the pace is likely to be very quick, and none of the speed rivals appears to have enough speed to be dominant and clear the field early.
There's a strong chance there will be a bunched-up group at the front of the field contesting the pace. Of the speed rivals, Hailey's Flip looks to be the most legitimate speed threat. She's won twice over the Delaware Park main track, gets a hot rider in Jomar Torres, and her trainer, Gary Capuano, is winning at 24 percent at Delaware this season.
The big drawback for Hailey's Flip is her post position. The 3-year-old drew the rail post and this season the inside portion of the main track has not always been the place to be, especially in sprint races – and especially if, as seems likely, the inside horse has to dispute the pace. Hailey's Flip may buck the odds and be able to win from her poor post but considering the fact she's the 2-1 morning line favorite, this doesn't look like a value play.
Which means it's time to look for a late-running type who will be a generous price. To us Lakota, a versatile 4-year-old who has just moved to the overachieving barn of Erin Wilkinson, is the perfect candidate. Lakota has finished first or second in seven of her nine career starts and has raced well at both sprint and middle distances on both the main track and turf.
The only time the Pennsylvania bred finished worse than third was when she finished fifth at Presque Isle in her only career start over the Tapeta synthetic surface. Last fall Lakota ran second in the Small Wonder Stakes on Owners' Day 2016 while still a maiden, she has the perfect stalking style, and while most of her career races have been against state-bred rivals Lakota earns a Timeform US late running figure of 100, the highest such figure in the field by a wide margin. At 12-1 on the morning line, Lakota is a juicy longshot with a lot to offer.
And if you're looking for a closer's exacta box, put Camille Claudel and Lucky in Malibu in the mix. Camille Claudel. Camille Claudel makes her first start for trainer Bill "Radio" Downing, a sharp New England horseman who has shown in the past he can improve on claimed horses. While she's spent most of her career racing at middle distances she's also been racing with tougher company than most of her rivals in the Tax Free and she too should be a very attractive price.
Lucky in Malibu is the "other" Gary Capuano entrant in the Tax Free. Lucky in Malibu has two wins and a second from her last five starts and from her outside post, should be able to be placed where she needs to be by jockey Kevin Gomez.