Kowboy Karma romps – and prompts big dreams
by Frank Vespe
There are only so many questions a two-year-old can answer in his second race.
But it's safe to say that Kowboy Karma answered them in emphatic fashion today at Delaware Park, and when trainer — and breeder, and part-owner — Larry Jones goes to bed tonight, he'll likely drift off to sleep by counting superlatives.
"This horse is fast," Jones said in the winner's circle following this afternoon's $50,000 Strike Your Colors Stakes at Delaware Park. "I've had a few fast horses before, but I've got to put this horse here in the category of the Hard Spuns and horses like this, and with Eight Belles and those kind of horses. This horse is talented."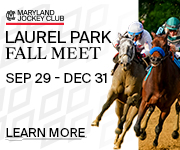 That's high praise, indeed. Hard Spun ran up nearly $2.7 million in earnings under Jones's tutelage — running second in the Kentucky Derby and Breeders' Cup Classic — and the ill-fated filly Eight Belles won two graded races prior to breaking down in the gallop-out after finishing second in the Kentucky Derby.
In his debut, Kowboy Karma won by a dozen lengths in eye-popping fashion.
Today under Alex Cintron, Kowboy Karma was away slowest of the seven-horse field, with Cintron biding his time through the early going.
"Just break, save a little ground," the rider said of his strategy. "Just try to teach him a little bit more than last time. Today he was taking a little dirt."
Wonder How led the field through the opening quarter mile, holding a half-length advantage over American Talent after a 21 4/5 marker.
Rounding the turn, Cintron was content to steer Kowboy Karma to the far outside and out of trouble. He was floated well wide entering the stretch, while American Talent took the lead, the half-mile gone in 45.51 seconds.
Cintron never asked Kowboy Karma for his best, but what the horse gave was plenty, and he drew away to a 2 1/2 length score in 1:03.53 for 5 1/2 furlongs. American Talent held second, while 33-1 outsider Stroll Smokin was third.
Kowboy Karma — off at 1-20 — paid $2.10 to win, and the exacta returned a modest $4.10 for a dollar.
"He's the real deal," Cintron observed.
Kowboy Karma is a gelding by Kodiak Kowboy out of the Any Given Saturday mare Just Jan, and he's something of a family affair. He was bred by Jones and his wife Cindy and is owned by the two of them in partnership with Michael Pressley.
He's the first foal out of Just Jan, a horse the Joneses owned and Larry Jones trained. She retired winless but, Jones said, that was due more to bad luck than lack of talent. Just Jan got loose on the backside one day before getting to the races and injured herself, breaking her pelvis.
"I was really high on (Just Jan)," he explained. "She used to be (multiple Grade 1 winner) Havre de Grace's workmate, but she was just unfortunate."
When it came time to breed her, Jones thought immediately of Kodiak Kowboy, the 2009 champion sprinter who won Grade 1 events at six furlongs, seven furlongs, and a flat mile and was third in the 2007 Breeders' Cup Juvenile.
"We just liked the way it was," Jones said of breeding Just Jan to Kodiak Kowboy. "He was one of those come-from-behind sprinters. He had so much sense and class to him, and we felt like that would help her because sometimes there was times when she wanted to be a little bit of a loose cannon."
So far, in the complex alchemy that is the breeding game, Kowboy Karma has come up gold — calm, sensible, professional, and imbued with ample talent.
Jones has a short-term plan in mind for Kowboy Karma — the seasonal goal is the Grade 3, $1 million Delta Downs Jackpot in November — but it's the longer term goals that make your ears perk, as he casually drops the name of a five-time Horse of the Year.
"We really weren't trying to look at Breeders' Cup," Jones explained. "I mean, he's a gelding and I would love for him to be around at eight years old, and I would love for people at Delaware Park to think, 'This is the next Kelso.' I would love for people to be looking at him six years from now still running here."