Shore Bets: Monmouth Park July 15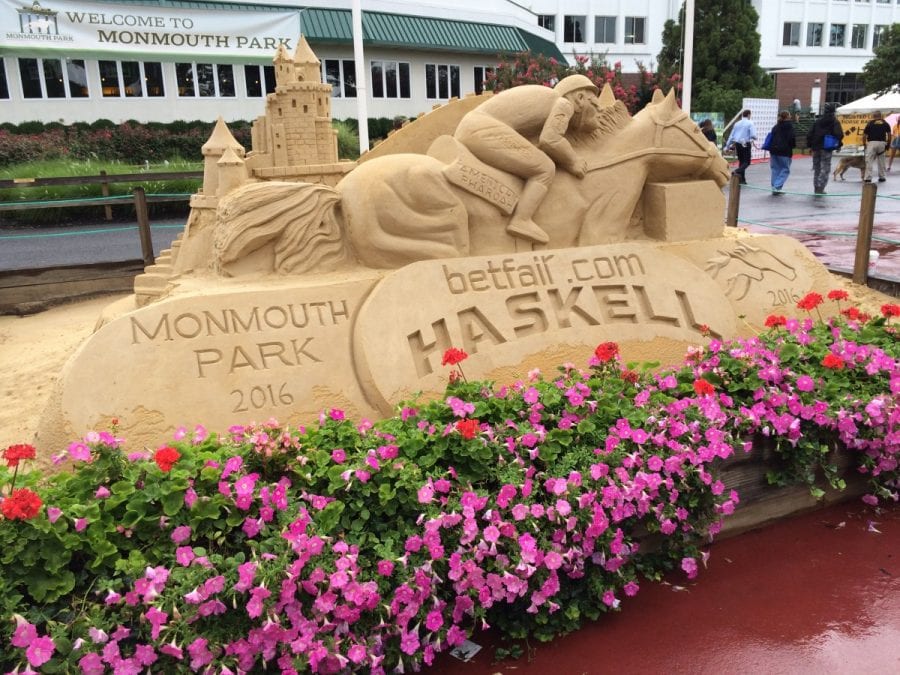 by John Piassek
We're back to Oceanport, New Jersey for an eleven-race card at Monmouth Park. The highlight of the card is the Boiling Springs Stakes, which will go as race 10.
Race 1: Maiden Claiming $10,000, 3yo and up, 6 Furlongs
2- Our Space: Makes his first start since February at Gulfstream Park. He was wide throughout against better horses, but still earned a fantastic brisnet figure of 77. He's been working well since that last race, getting ready for a return.
7- Unleash Him: He was involved in a tough duel last out, in his first race off the layoff, but hung in there and secured third place. Trainer Jorge Navarro hits at 26% with horses second time off the layoff.
5- Down Market: First-time starter provides an interesting alternative in this field. Eddie Castro, who has been having a great meet, picks up the mount. He's been working steadily since early May, and even though his times have not been the fastest, at least he's had plenty of experience in the morning.
Race 2: Starter Handicap $16,000, 3yo and up, 1 Mile (Grass)
4- Heiko: Two races ago, he almost wired the Henry Clark Stakes field in a 46/1 upset. He didn't do much when cutting back to five furlongs last out, but has much better form going long. He turned in a bullet workout twelve days ago at Penn National, going four furlongs in 47.4. Look for him to be on the front end early on.
2- Bow Tie Affair: Ships in from Belmont Park, where he was hung six-wide in the stretch but still managed to finish third, beaten two lengths. He generally runs in the upper-80s to low-90s. In his last Saturday of riding at Monmouth, Paco Lopez picks up the mount.
3- Class and Cash: Wired the field at 3/5 last out. I expect that he'll be a similar price today, but he will get more pace pressure than last time.
Dirt:
4- Heiko
3- Class and Cash
6- Spring About
Race 3: Claiming $7,500 (n/w2L), 3yo and up, Fillies and Mares, 6 Furlongs
1- Boxing Betty: Was burned up on a reasonably fast pace in her last race, but still earned a respectable figure of 63. She earned a 72 when surviving a pace duel while breaking her maiden two races ago. Hopefully, she'll last on the lead this time.
4- Cookie Cookie: Finished a fast-closing second in both of her races at this meet. Her last-race figure of 71 is tops in this field by eight points.
5- Tybee: Finished fourth after dealing with a bit of traffic as the favorite last out. Paco retains the mount. While she's a strong contender, she's not worth anywhere near her 6/5 morning line.
Race 4: Claiming $7,500, 3yo and up, 5 Furlongs (Grass)
2- War Destiny: Ships in from Delaware Park, and gets a big jockey upgrade to Nik Juarez. He gets a good inside post, and should show lots of early speed. Juarez's riding should enable him to hang in there until the end.
1- Global Magician: Won going away at this level last out, with a big figure of 78. Figures to stalk the pace from the inside. Jose Delgadillo, who guided him to victory in that last race, retains the mount.
10- What the Chub: This Jersey-bred has been within three lengths of the finish in each of his last four starts. He's a good candidate for the exotics, but I don't know about him to win.
Dirt:
12- Grey Glory
10- What the Chub
2- War Destiny
Race 5: Allowance Optional Claiming (n/w1x), 3yo, Fillies, 1 Mile
3- Thirstforthecup: Ran a decent second at this level last out, rallying past one of her rivals here to get second. Won at Belmont three races ago, and comes in here running for the tag.
1- Squan's Kingdom: Finished a respectable third when stretching out for the first time last out. Should hang around for a piece of the exotics.
5- Silver Threads: Runs for the third time off the layoff, and retains Paco Lopez. She's never crossed the finished line first, but has hit the board in four out of six dirt races.
Race 6: Maiden Special Weight, 2yo, Fillies, 5 Furlongs (Grass)
7- Afsaneh: Trainer Tony Margotta is a fantastic trainer with first-timers, hitting at 35% with them. He's also a sharp 29% on the meet. This $350,000 purchase has been working well at Monmouth in a string of four-furlong outings.
3- Unbridled Atlantic: Ships down from Saratoga for her debut. The Juarez/Clement jockey-trainer combination figures to be dangerous over the Monmouth grass.
4- Bangle: Moves onto the grass after two dirt tries at Churchill Downs. Has been working very well at Keeneland for Wesley Ward.
Dirt:
7- Afsaneh
3- Unbridled Atlantic
4- Bangle
Race 7: Claiming $7,500 (n/w2L), 3yo and up, 6 Furlongs
2- Callant: Penn National invader went gate-to-wire to win easily in his most recent start. He has a very advantageous post, and gets Paco aboard.
6- Twice Oaked: He will be going out there with Callant in the early stages. Last out, he withstood an early pace battle and hung on to win by ¾ of a length.
1- Naughty Delite: Has been close in two races at this level this meet, and gets a change-of-pace jockey switch to Kevin Mendez.
Race 8: Claiming $16,000 (n/w2L), 3yo and up, Fillies and Mares, 1 Mile (Grass)
4- Veblen Good: Takes a big drop in class to the $35,000 level, and has averaged a 76 figure in her last two grass races, the best average in the group.
1- Dangerous Woman: This speedy filly has shown speed and tired in both her route tries this year, finishing third. Going to a mile here could be in her wheelhouse.
3- Leroids Mommie: Broke her maiden in her 14th try at 4/5 last out. Trainer Jane Cibelli is 19% with a positive ROI with horses who just broke their maiden.
Dirt:
4- Veblen Good
9- Fautive
12- Miss Jackson
Race 9: Allowance (n/w1x), 3yo and up, NJ-bred, 6 Furlongs
7- Credo: If you toss out his disappointing off-track effort two races ago, his figures are dominant over the rest. Trainer Thompson's slump during the meet is the only concern.
3- Jersey Joe B: Defeated a Jersey-bred maiden claiming field for fun last out, with a career-best figure of 79. Young and improving first-time gelding looks promising in this spot.
4- Guinness Spice: Had a rough wide trip last out, and faded to a distant fifth as such. Usually, he runs competitive figures in the high-70s to low-80s.
Race 10: Boiling Springs Stakes, 3yo, Fillies, 1 1/16 Miles (Grass)
9- Bertranda: She made her grass debut last out, and finished a solid-closing third in the Christiana Stakes at Delaware Park, earning a figure of 85. Looks like a great value at 8/1.
3- Majestic Bonnie: Makes her second start of the year, and gets Lasix for the first time. As a two-year-old, she earned figures of the 80s, and hopes to return to that form as a sophomore.
4- Lipstick City: Brown/Juarez on the Monmouth grass is always deadly, plus she finished a sharp second against n/w1x allowance horses last out.
Dirt:
5- Frank's Folly
8- Untaken
3- Majestic Bonnie
Race 11: Claiming $12,500, 3yo and up, Fillies and Mares, 6 Furlongs
5- Katie Ice: Chased the dominant Scotland Bay last out while finishing second. Today, she's the one with the best speed figures and recent form. Look for her to be on or near the pace early on.
7- House Red: Sat a perfect trip off the pace while winning her last dirt race convincingly, and looks to sit another good one today.
8- Runaway Train: Speedy filly turned in a blazing three-furlong workout last weekend. Looks to show early speed from the outside.