Pimlico Pick 6 pays $185,957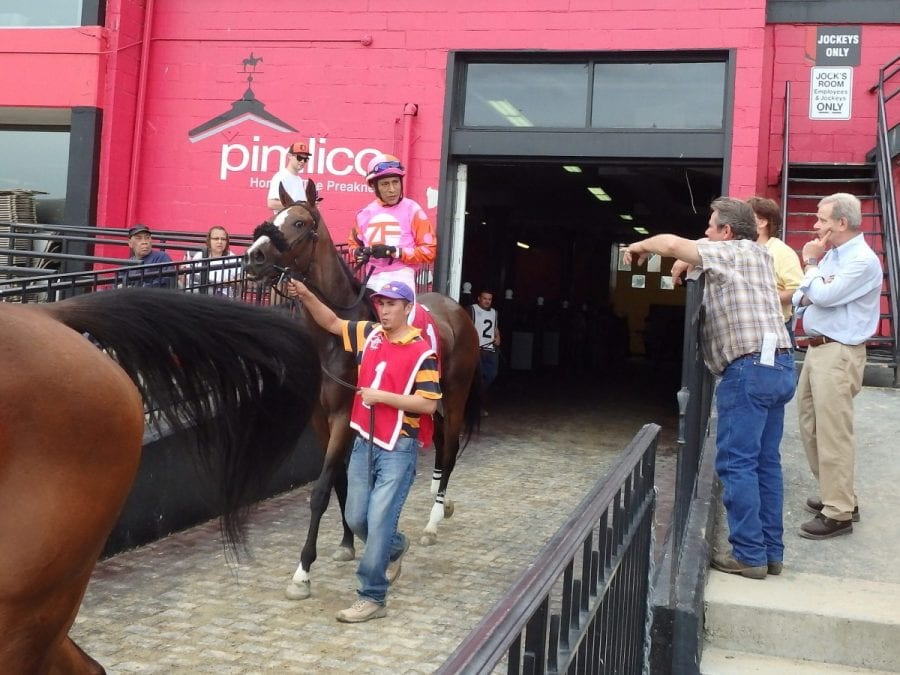 From a Maryland Jockey Club release
One lucky bettor solved the 20-cent Rainbow 6 Thursday at historic Pimlico Race Course for a life-changing jackpot payday of $185,957.24.
A total of $45,260 was wagered into the Rainbow 6 Thursday, adding to a carryover of $149,752.58 from Preakness Day, May 20. Two horses were live to take down the jackpot heading into the ninth-race finale, Wilko's Goldeneye and Buzz Lite.
Buzz Lite ($27.80), racing on the outside, edged Wilko's Goldeneye after a stretch-long duel to win by a nose on the wire under jockey Ashley Castrenze and complete the winning 8-6-1-6-7-5 sequence. A 4-year-old Friesan Fire gelding, Buzz Lite is owned and trained by Hamilton Smith.
Other winners in the Rainbow 6 sequence Thursday were So Quiet ($4.80) in the fourth race, Sammy Be Cool ($16.20) in the fifth, While Ye May ($14.60) in the sixth, One Step Closer ($31.20) in the seventh and Zinger ($7.40) in the eighth.
The Rainbow 6 carryover jackpot is paid out only when there is a single unique ticket sold with all six winners. On days when there is no unique ticket, 60 percent of that day's pool goes back to those bettors holding tickets with the most winners while 30 percent is carried over to the jackpot pool.
Friday's Rainbow 6 sequence begins anew in Race 4 and includes a $40,000 maiden special weight for 2-year-olds led by Sagamore Farm's 5-2 program favorite He Hate Me in Race 5.
No one selected all five winners in the 50-cent Late Pick 5, creating a carryover of $7,281.31 for the sequence that begins in Friday's Race 5. Tickets with four of five winners Thursday were worth $2,427.05.