Tim Ritchey, keeping control at Delaware Park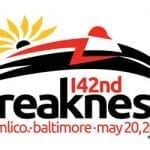 by Doug McCoy
Mention the second leg of the Triple Crown to many fans and people in the business, you'll get a response that includes Afleet Alex.
The heart-stopping and miraculous performance by the son of Northern Afleet during the running of the 2005 Preakness is considered by many to be one of the most amazing examples of athleticism, courage and just flat-out luck ever seen during a Triple Crown or any other race.
After finishing third, beaten just a length in the Kentucky Derby after he had a decidedly troubled trip in a race won by 50-1 longshot Giacomo, Afleet Alex came to the Preakness loaded for bear. Moving out of the second turn, he and jockey Jeremy Rose were in full flight and going for the lead when Scrappy T, a longshot with a history of unpredictability whom Ramon Dominguez had gotten to the lead in the turn, suddenly swerved out after Dominguez hit him with a left hand whip.
That unexpected move put Scrappy T square in Afleet Alex's path and the colt clipped the heels of Scrappy T and went to his knees, throwing Rose up on his neck. But just when it looked like Afleet Alex would go down, he miraculously recovered, gathering himself in the next strides, and shot to the lead inside Scrappy T. He drew off from there to win the second leg of the Triple Crown going away. Three weeks later, he reconfirmed his greatness when he smashed his field in the Belmont by seven lengths, covering the final quarter mile in the fastest time (24:2) in 36 years.
Many consider Afleet Alex's effort in the Preakness and Alysheba's stretch run in the 1987 Kentucky Derby, when he overcame being knocked sideways by Bet Twice in the stretch to win, as two of the most amazing examples of horses overcoming adversity at the highest level of competition in the history of the sport.
But there were other crucial players in the Afleet Alex march to greatness, most notably his trainer, Tim Ritchey. Time flies in the sports world, and it's hard to believe Saturday will mark 12 years since that fateful afternoon in Baltimore. While Afleet Alex went on to a career at stud, what's been going on with his trainer since those heady days in 2005?
These days, the trainer has 12 head currently stabled at Delaware Park, a place he has called home since 1991, and as he explains, he owns part of all of 10 of the 12 runners in his stable and there's a reason for that.
"I only have two horses for outside clients and that's simply so I can control the management and training of the horses I have," Ritchey explained, "I had 50 or 60 head at one time, and while I won a lot of races there was also an unbelievable amount of work and time involved. The management of a large stable outside of the training portion of the business is mind boggling and time consuming.
"The main problem with a public stable is dealing with owners and ownership groups. You find people who have been successful in businesses of one type or another decide they want to get involved in racing, but they think they can step in and employ plans and ideas from the outside world to the training and management of their horses, which just doesn't work," Ritchey continued.
"The owners who allowed me to train and manage their horses and let me call the shots all did well. The ones who wanted to be hands-on with their involvement and ideas didn't do as well. And," he added with a chuckle, "when that happens it's always the trainer's fault. These days I have a stable I can control, I can train and manage my stock the way I want and if mistakes are made, they're my mistakes."
Ritchey said being able to stable at Delaware Park is a big plus for him. The man who won five training titles at the Stanton oval said the backstretch and grounds at Delaware Park will always be special to him.
"The backstretch is such a natural setting, with plenty of places to graze and spend time outside the stall for the horses, the main track's always been a good surface to train over and the turf course is also good to race over," the trainer said. "Plus I think the paddock's the best in the business. I've raced and trained other places, but Delaware is home."
Since trainers are always worried about the health of their charges, Ritchey was asked if he had to be thinking about how badly Afleet Alex had injured himself in those moments after his star crossed the wire on that fateful day in May.
"I'll be honest, I don't even remember the questions or any of the interviews immediately after the race because I kept looking for Alex," Ritchey recalled, "When he didn't come back right away I was sure he'd pulled up bad. Then I saw them interviewing Jeremy (Rose), and my heart started beating again. After we got back to the barn we had him x-rayed, and If I remember right we took at least three or four more sets of x-rays over the next two days but fortunately they were all clean."
"He was an amazing horse, the kind a trainer can only hope to be involved with in his career," Ritchey reflected. "We still go to the sales, looking for young horses with potential, but anyone who knows me knows I'm a businessman and I realize the odds of finding another horse of that type of quality are long indeed. But," he concluded, "that doesn't mean we're going to stop looking."