For Pimlico stall manager Overmier, two weeks of 24-7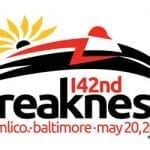 by Teresa Genaro
For Maryland Jockey Club stall manager Terry Overmier, it starts the day after the Kentucky Derby. The phone calls. The preparations. The orders for bedding. The stall requests.
"Some trainers want to be in certain places, so I try to get them done first," she said, standing outside stakes barn D on Preakness morning. "Then I plug in the other odds and ends."
An MJC lifer that has worked in various roles at the track, Overmier became stall manager last year, when 30-year veteran of the job Charlie Hall retired.
In the days after the Derby, Overmier spends a lot of time on the phone, figuring out when all the stakes contenders—not just the Preakness runners—are going to arrive. But arrival times are just the start of it.
"We need to know whether they want shavings or straw in the stalls," she said, "and how many people are coming in. Then we're here at all hours when they come in. Some people don't give us a lot of notice, and we end up getting a call in the wee hours of the morning."
For these two weeks, there's no such thing as a day off, and she's essentially on 24-hour call, making sure that the 300 horses that ship in are taken care of. This year was especially challenging, as Pimlico opened later, just days before Preakness weekend.
The work doesn't stop when the horses arrive; Overmier also oversees the crew that maintains the horse paths near the stakes barns and brings in bedding. And tomorrow, when the horses start leaving, she makes sure that the barns are stripped and cleaned.
"It's fun and stressful," she said. "A little more stressful than fun."
Despite his retirement, Hall is back working this year, but now he works for the woman who answered to him for 12 years. Both of them began walking horses, Hall when he was 13, 66 years ago.
"I started walking horses for a guy named George Howard," he said. "I never had another job but this."
Except that "this" encompasses a lot of jobs: groom, exercise rider, assistant trainer for Bud Delp and John Forbes, and now he trains his own horse, a 3-year-old filly named Danica.
"Lukas is one trainer that I really admire, and Nick Zito," he said. "A lot of the trainers I really liked have died."
"Seattle Slew was my favorite," he went on. "And Secretariat."
And if Hall is right, racing will welcome a 13th Triple Crown winner this year. Both he and Overmier pick Always Dreaming this afternoon, but Hall takes it a step further.
"He looks like a Triple Crown winner," he declared. "If nothing happens—and in this business, changes happen overnight—he looks like the dominating horse unless someone comes out of the woodwork—and that do happen."
Perhaps surprisingly, both Hall and Overmier endorse moving the Preakness to Laurel Park. Both live closer to that track, but convenience isn't among their concerns. They recognize the important of attracting a discerning audience of sports fans and horseplayers.
"It's so congested around here," said Overmier. "That's a bigger area."
"It's an upgrade," observed Hall. "Every other racetrack is upgrading to bring in more people. That's what this business needs: for people to come back to the racetrack. In house—that's where you need them."
He went on, "Laurel is a nice place, and if they could finish it out like the old days, where the train comes right there to the track, it would be convenient for the public to get to. I think that would be a big, big move for Maryland racing."
Like Hall, Overmeier has also owned and trained horses, and another member of their crew is recently retired trainer Tim Tullock, who admitted that when he was training, he had no idea of the extent of the efforts of the stall manager.
"I didn't appreciate what these guys do," he said. "And the reaction from the grooms on up, I doubt that there's another track in the country that provides for and accommodates horsemen like we do here."
"In fact," he continued. "I'm going to go out on a limb and say by the way horsemen react, there's isn't another track that does this, and we're all very proud of that. It's a great army of people and they get the job done."