Always Dreaming "very happy" during Preakness prep
From a Maryland Jockey Club release
A sloppy track forced trainer Todd Pletcher to cancel his plan to gallop Kentucky Derby (G1) winner Always Dreaming Friday morning at Pimlico Race Course. Instead of doing one circuit jogging over the sloppy track, the animated son of B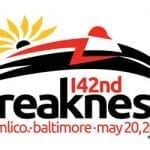 odemeister, ridden by Nick Bush, was allowed to make a second lap and covered two miles in the company of a pony.
"He was full of himself, feeling great," Pletcher said. "I'm really happy where he is energy level-wise. We'll just sit around and worry about the forecast and go from there."
The dreary Baltimore weather report calls for more rain Friday afternoon and evening and all day on Saturday with temperatures on the 50s. Conditions are expected to improve dramatically on Sunday with partly cloudy skies and temperatures in the 70s. The long-range forecast for the week leading up to the 142nd Preakness Stakes (G1) calls for dry and warmer weather.
Always Dreaming was still a handful for Bush when they completed their first clockwise trip around the track and Pletcher chose to give his star some more exercise.
"I told Nick before we went out, 'Let's see how he's doing,'" Pletcher said. "He was pretty energetic, so we felt like going two miles would be better. He's razor-sharp and that's what we're hoping for."
Even with more rain in the forecast, Pletcher said he might let Always Dreaming gallop Saturday morning.
"I'll play it by ear. The main thing is that I don't want him to get too fresh," Pletcher said. "If the track is the same tomorrow as it was today, I'd probably opt to gallop. We're flexible. We'll inspect the track in the morning and do what we think is best for him."
Since Pletcher had already decided that he would not give the colt a timed workout in Baltimore, the likelihood of two mornings of sloppy tracks is an inconvenience and doesn't impact preparations for the race.
"This whole two weeks in between the Derby and the Preakness is all about just refueling and keeping him healthy and happy," Pletcher said. "Right now he looks like he's very, very happy."