Pegasus World Cup to boast $16 million purse in '18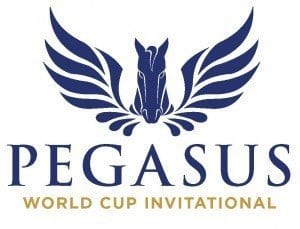 From a Stronach Group release
The world's richest race is set to get richer. The Stronach Group announced Wednesday that the Pegasus World Cup Invitational, which boasted a $12 million purse this year for its inaugural running, will have a $16 million purse in 2018.
The 2018 Pegasus World Cup Invitational is scheduled for January 27 at The Stronach Group-owned Gulfstream Park. It is open to twelve domestic and international owners who will put in $1 million each for a spot in the starting gate. The additional $4 million will be contributed by The Stronach Group.
"The 2017 Pegasus World Cup Invitational surpassed our expectations and we believe took the sport of Thoroughbred racing to an exciting new level," said The Stronach Group Chairman and President Belinda Stronach. "Our company is committed to building on the momentum that was inspired by our Founder and Honorary Chairman, Frank Stronach. In 2018, we will bring an even bigger, more modern and unforgettable entertainment experience to a global audience."
With the commitment to an enhanced purse, The Stronach Group aims to attract the attention of an international audience marking the resurgence of North American Thoroughbred racing.