EquiLottery bill introduced in West Virginia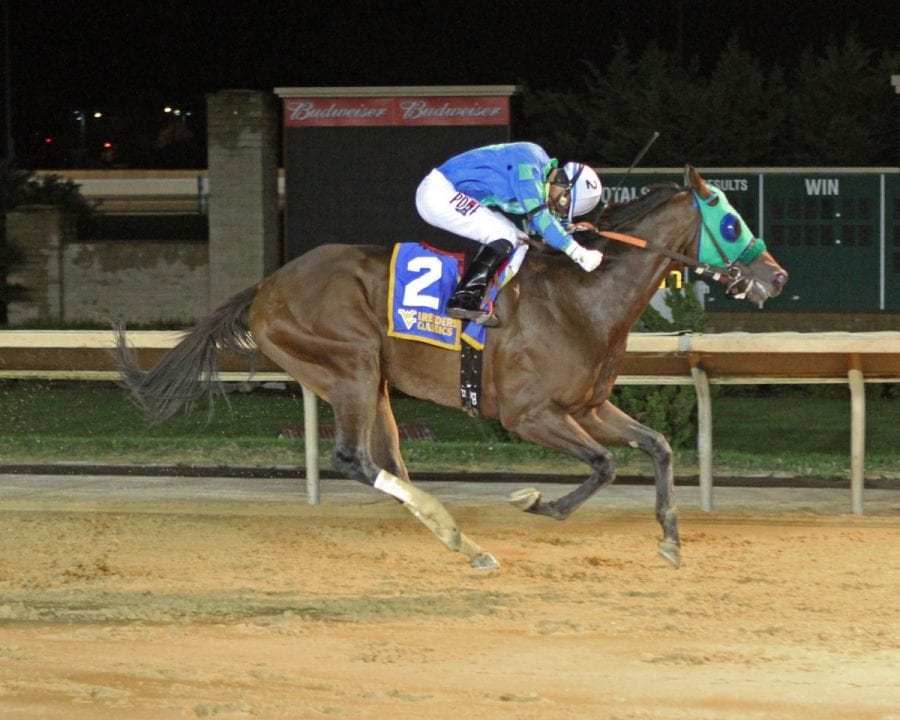 Slip the Cable winning at Charles Town. Photo by Coady Photography.
From an EquiLottery release
As part of the mission to bring EquiLottery to West Virginia, House Bill 2943 has been introduced in the House of Delegates today and assigned to the House Judiciary committee for consideration.
Described as "authorizing the Lottery Commission to introduce games whose winning tickets are determined by the outcome of a licensed horse race," this bill amends a statutory prohibition on combining the results of a sporting event with the result of a lottery by giving an exemption to horse racing. Similar exemptions have precedent in other states, including California, Florida, Kentucky and Minnesota.
The bill was sponsored by Del. Riley Moore (R-Jefferson County) and has nine additional cosponsors.
"We are honored to have the support of so many leaders in the House of Delegates," said EquiLottery Founder and CEO Brad Cummings. "The great state of West Virginia and its vital racing industry have been longtime allies of EquiLottery. We want to sincerely thank Delegate Riley Moore for his leadership as the primary sponsor of HB 2943 and the impressive slate of nine co-sponsors who understand the importance of improving the sport of horse racing and helping the lottery maximize its returns as the state faces significant revenue shortfalls. Through this process, we hope to become part of the solution in West Virginia."
EquiLottery, piggybacking on existing lottery games, is a three-number draw game. But, rather than the numbers coming from, for example, the selection of ping pong balls, they are generated by the numbers of the first three finishers in designated horse races.
EquiLottery and Hollywood Casino at Charles Town Races inked an agreement in February allowing EquiLottery to use Charles Town's racing product as one of the tracks to generate numbers for the draw. Charles Town will receive a broadcast rights fee in return; that fee will be split between the track and the purse account.
Since its public announcement over the summer of 2014, EquiLottery has worked diligently to develop its lottery product based on the results of live horse racing. During that time, this innovative company has structured agreements with lottery industry leader IGT Global Solutions and tote system leader AmTote International to be able to deliver a cohesive lottery experience for state lotteries and their players. EquiLottery is also in development on its IOS and Android mobile app which will allow players features such as watching races live and on replay, scanning tickets and setting push notifications for upcoming races all from the convenience of their mobile devices.