Weekend wrap: March 6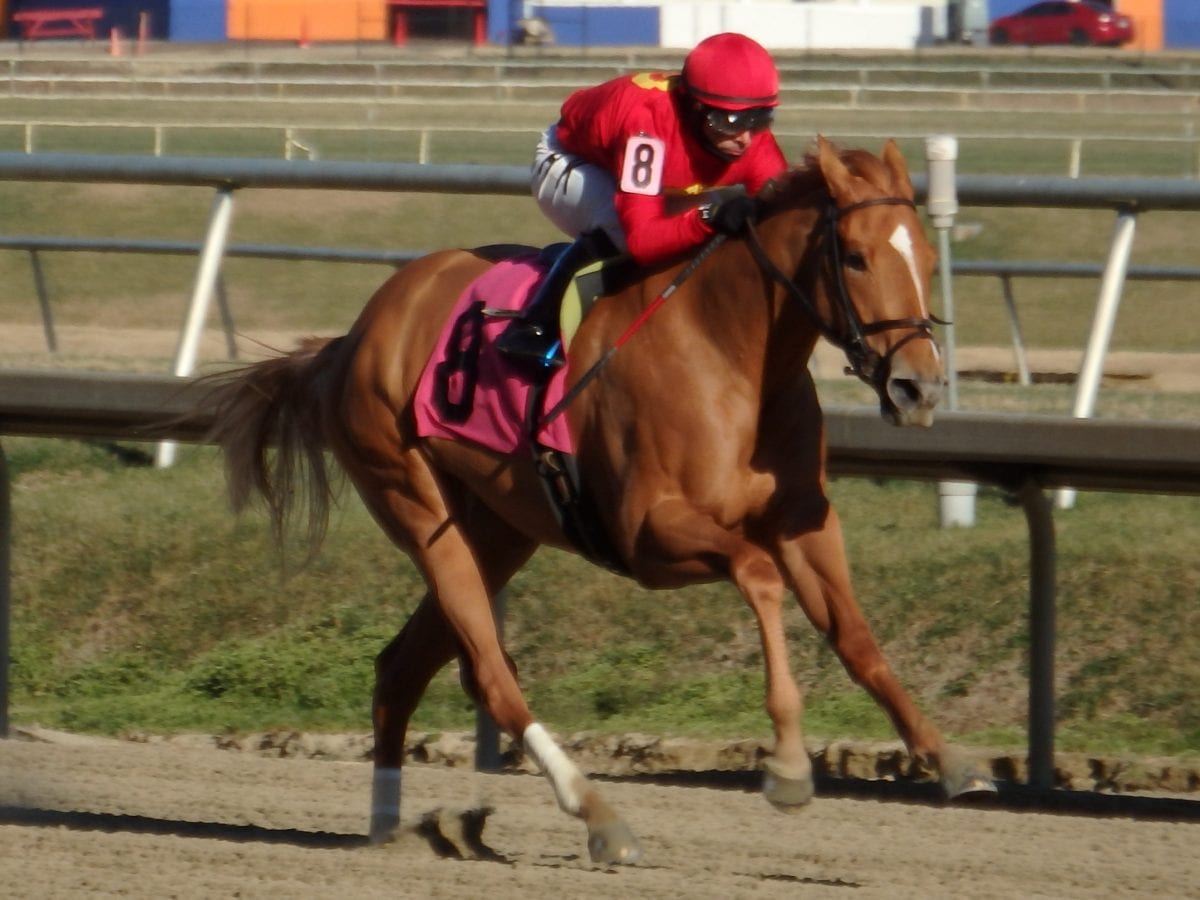 Check out our new feature! Now you can comment on an article anywhere the spirit moves you. Next to each paragraph or heading, you can click the little speech bubble which will have either a plus sign or a number in it. That will open up a comment box allowing you have your say. When you make a comment, it will appear both down at the bottom of the page, with all the other comments, and next to the sport where you left it, so that other readers can see what you had to say at the spot it occurred to you!
Sounds Delicious romped at Laurel Park. Photo by The Racing Biz.
Staff reports
Our weekend wrap: news and notes from the weekend's mid-Atlantic racing action.
Beautiful While it was a rough weekend for Midlantic horses on the Triple Crown trail — both Maryland-based El Areeb and New Jersey-bred Irish War Cry faltered as favorites in prep races — all was not lost. Pennsylvania-bred Unique Bella won her third consecutive graded race by a couple over Abel Tasman the G3 Santa Ysabel at Santa Anita Park. It wasn't Unique Bella's best performance, but she quite readily put away her main rival when asked. The three-year-old remains on track for the Kentucky Oaks in May.
Tasty! Sounds Delicious delivered an ultra-impressive victory in the final race of the weekend at Laurel Park, winning an allowance by over 11 lengths in a sharp 1:10.06 for six furlongs. One race prior, in a Maryland-bred allowance, The Great Provider, a five-year-old gelding, took 1:10.53 to navigate the same distance. Sounds Delicious, a three-year-old Yes It's True filly, trained by Linda Rice, now has won all three of her career starts.
Gallant! The time wasn't much — 53.61 for 4 1/2 furlongs — and it's unknown whether she beat much. But the way Gallant Calling, a three-year-old West Virginia-bred filly, broke her maiden Wednesday at Charles Town was eye-catching. Making her debut, the Tim Grams-trained daughter of Overdriven was unprepared at the start, came out of the gate late and slowly, and quickly spotted Brooksie Robinson, the favorite and early leader, 10 lengths. She was still 5 1/2 back and in third with an eighth of a mile to go, but under Oscar Flores, she closed with a rush up the fence to win by a half-length over Brooksie Robinson.
Listen up Multiple stakes winner Hear the Chatter snapped a six-race losing streak Friday night at Charles Town. With Yamil Rosario up, the John Casey trainee led most of the way and held off 30-1 shot Perfect Cross's bid to win by three parts of a length. Favored Judge Carr was third.
Staking claims Parx Racing's nine-race Saturday card included nothing but claiming races. So maybe it's not surprising that 15 (!) horses were claimed there that day. That's by far the most claimed in a single day in the mid-Atlantic this year — four more than were claimed at Parx on New Year's day and at Laurel Park on January 22.
One for the early Dew Forest Dew had an unusual streak to start her career: the five-year-old Forestry mare ran second in each of her first four starts, twice at odds-on. Wednesday at Penn National, she snapped that streak, taking a hard-fought neck victory in a Pennsylvanaia-bred maiden special weight event. Angel Rodriguez was in the irons for trainer Todd Beattie.