Irish War Cry, Finest City head first Top Midlantic-bred Poll of '17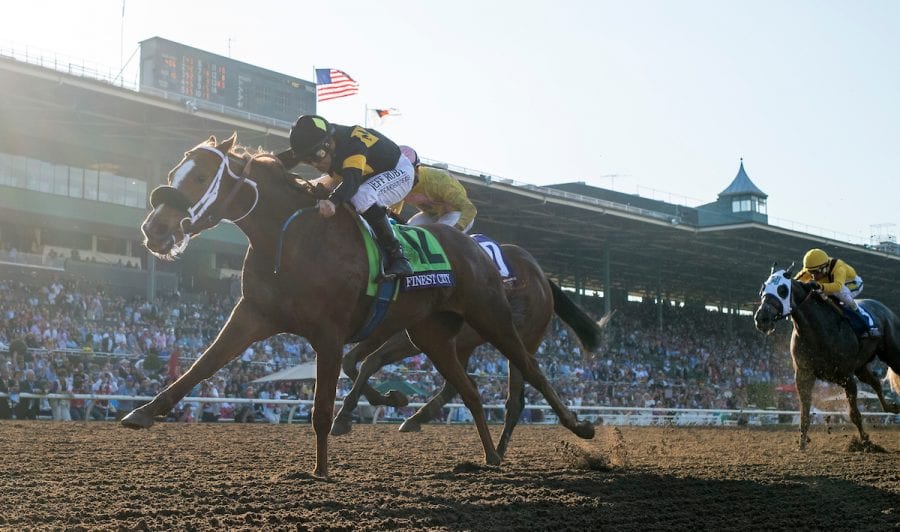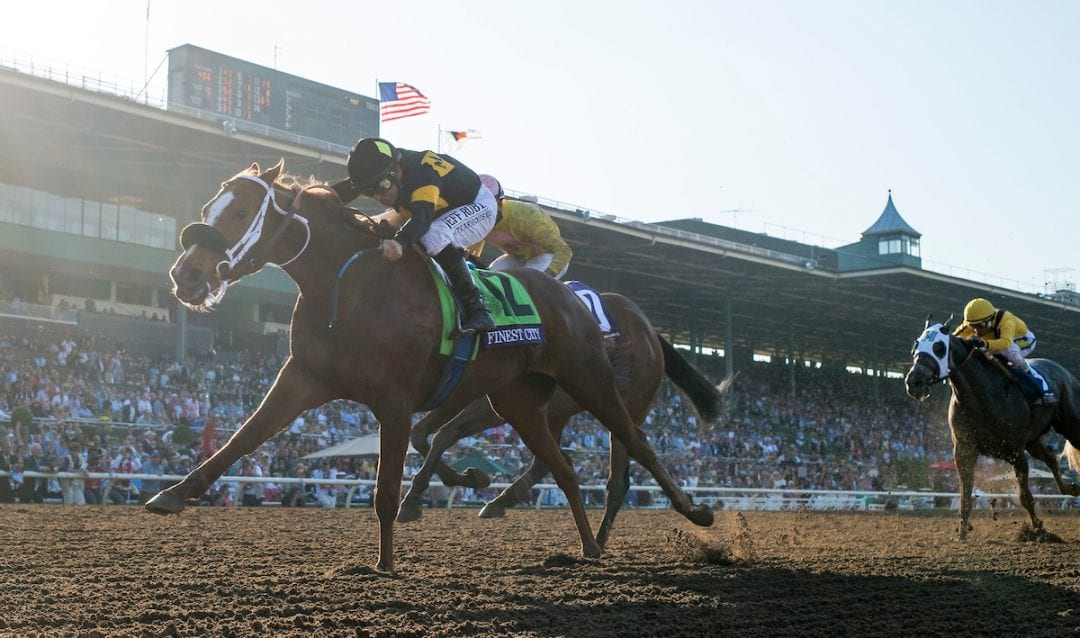 Finest City #12, ridden by Mike Smith, wins the Breeders' Cup Filly & Marie Sprint during day two of the 2016 Breeders' Cup World Championships at Santa Anita Park on November 5, 2016 in Arcadia, California. Photo by Alex Evers/Eclipse Sportswire/Breeders Cup
Staff report
Here's how deep the current crop of Midlantic-breds is: the leading older horse in the Mid-Atlantic Thoroughbred/The Racing Biz Top Midlantic-bred Poll, released today for the first time in 2017, is a defending Eclipse Award winner and Breeders' Cup champion.
And the top two horses in the three-year-old version of the poll are on everybody's short list for top sophomore colt and filly in the nation.
In the first poll, complete through last weekend's racing, Finest City was the clear winner among older horses, while Irish War Cry and Unique Bella were head-bobbing at the wire for sophomore honors, with the former up narrowly.
The poll is conducted monthly among a panel of industry participants and media members.
New Jersey-bred Irish War Cry narrowly earned the decision over Unique Bella among three-year-olds. He is a son of Curlin out of the Polish Numbers mare Irish Sovereign. Though perhaps a bit later to the races than some of his contemporaries, Irish War Cry certainly hit the ground running: he broke his maiden at first asking at Laurel Park and followed that up with a narrow score over O Dionysus in the Marylander Stakes to conclude his two-year-old season.
In his sophomore debut, Irish War Cry delivered a boffo performance, cruising to an easy win in the Grade 2 Holy Bull at Gulfstream Park against a field that included graded stakes winner Gunnevara and 2016 Breeders' Cup Juvenile winner Classic Empire.
Irish War Cry was bred in the Garden State by his owner, Isabelle de Tomaso. She is a daughter of Monmouth Park cofounder — and Haskell Invitational namesake — Amory Haskell. Irish War Cry is trained by Graham Motion.
Meanwhile, among older horses, Finest City picked up just where she left off in 2016.
The five-year-old Pennsylvania-bred mare scored an upset in last November's Grade 1 Breeders' Cup Filly and Mare Sprint to conclude her season, in the process earning an Eclipse Award as champion female sprinter. She returned to action with her running shoes on, posting a dominant win in the Grade 2 Santa Monica Stakes at Santa Anita January 21.
Finest City is a daughter of City Zip out of the stakes-placed Lemon Drop Kid mare Be Envied. She was bred in the Keystone State by HnR Nothhaft Horseracing, LLC, which sold her at auction as a weanling. Pinhooked at the following September's Keeneland Yearling Sale, she fetched a winning bid of $85,000 from her current owner, Seltzer Thoroughbreds. She is trained by Ian Kruljac.
Of the 10 horses on the twin lists, five were bred in Pennsylvania, including four of the five older horses.  Three were bred in Maryland, and two were bred in New Jersey. The list includes seven males and three females.
The monthly Mid-Atlantic Thoroughbred is the only publication devoted to Thoroughbred breeding and racing in the Mid-Atlantic region. The Racing Biz, an online publication, is the independent voice for mid-Atlantic racing and breeding.
The poll is restricted to horses that have run in 2017 and were bred in Pennsylvania, Maryland, Virginia, West Virginia, New Jersey, Delaware, and the Carolinas.
TOP THREE-YEAR-OLDS
Irish War Cry (NJ) — by Curlin-Irish Sovereign, by Polish Numbers; trained by Graham Motion for owner-breeder Isabelle de Tomaso; in 2017 won G2 Holy Bull
Unique Bella (PA) — by Tapit-Unrivaled Belle, by Unbridled's Song; bred by Brushwood Stable; trained by Jerry Hollendorfer for Don Alberto Stable; won G2 Santa Ynez, G2 Las Virgenes
O Dionysus (MD) — by Bodemeister-Safe Journey, by Flatter; bred by Dark Hollow Farm; trained by Gary Capuano for Marathon Farms; won Miracle Wood S., second Frank Whiteley, Jr. S.
Bonus Points (MD) — by Majestic Warrior-Baby Love, by Not for Love; bred by Country Life Farm; trained by Todd Pletcher for Three Diamonds Farm; second G3 Jerome
Crabcakes (MD) — by Great Notion-Aunt Elaine, by Charismatic; bred and owned by Buckingham Farm and trained by Bernie Houghton; second Wide Country S.
Also receiving votes: Fast and Accurate
TOP OLDER HORSES
Finest City (PA) — 5yo mare by City Zip-Be Envied, by Lemon Drop Kid; bred by HnR Nothhaft Horseracing, LLC; trained by Ian Kruljac for Seltzer Thoroughbreds; won G2 Santa Monica
Granny's Kitten (PA) — 5yo horse by Kitten's Joy-Granny Franny, by Grand Slam; bred and owned by Ken and Sarah Ramsey; trained by Mike Maker; won G3 Colonel E.R. Bradley H.
Mor Spirit (PA) — 4yo ridgling by Eskendereya-Im a Dixie Girl, by Dixie Union; bred by Elkstone Group LLC; trained by Bob Baffert for Michael Lund Peterson; second G2 San Antonio S.
Green Gratto (NJ) — 7yo horse by Here's Zealous-Starship Smokester, by Smokester; bred by Kaz Hill Farm; trained by Gaston Grant for himself and Anthony Grant; won G3 Toboggan S.
Page McKenney (PA) — 7yo gelding by Eavesdropper-Winning Grace, by Yarrow Brae; bred by Dr. James E. Bryant & Linda P. Davis; trained by Mary Eppler for Adam Staple and Jalin Stable; won Native Dancer S., second John B. Campbell S.
Also receiving votes: Partly Mocha, Sunny Ridge, Storm Advisory, Power of Snunner
TOP MIDLANTIC-BREDS IN ACTION THIS WEEKEND
Irish War Cry is the 5-2 morning line favorite in the G2 Fountain of Youth Stakes Saturday at Gulfstream Park.
Unique Bella is entered in the G3 Santa Ysabel Stakes Saturday at Santa Anita.
Participating Voters: Ted Black (freelance writer), Michael Campbell (Thoroughbred Breeders' Association of New Jersey), Joe Clancy (Mid-Atlantic Thoroughbred), Cindy Deubler (Mid-Atlantic Thoroughbred), Linda Dougherty (freelance), Debbie Easter (Virginia Thoroughbred Association), Paul Espinosa (Charles Town Races), Anne Frederick (Maryland Horse Breeders Association), Rich Glazier (Delaware Park), Cricket Goodall (Maryland Horse Breeders Association), Jim Hague (freelance), Nick Hahn (freelance), Carol Holden (West Virginia Breeders Classics), Tom LaMarra (The Blood-Horse), Jeff Nations (freelance), Kate Painter (West Virginia Thoroughbred Breeders Association), Vinnie Perrone (freelance), Frank Petramalo (Virginia Horsemen's Benevolent and Protective Association), Gary Quill (The Racing Biz), David Richardson (Maryland Thoroughbred Horsemen's Association), Brian Sanfratello (Pennsylvania Horse Breeders Association), Sal Sinatra (Maryland Jockey Club), Chris Sobocinski (Delaware Park), Dan Tordjman (freelance), Frank Vespe (The Racing Biz), Bill Watson (freelance), Lydia Williams (freelance), Bobby Zen (freelance).
Note — Not all participating voters will vote in every poll.