Turnbull, Roll leading from behind — the camera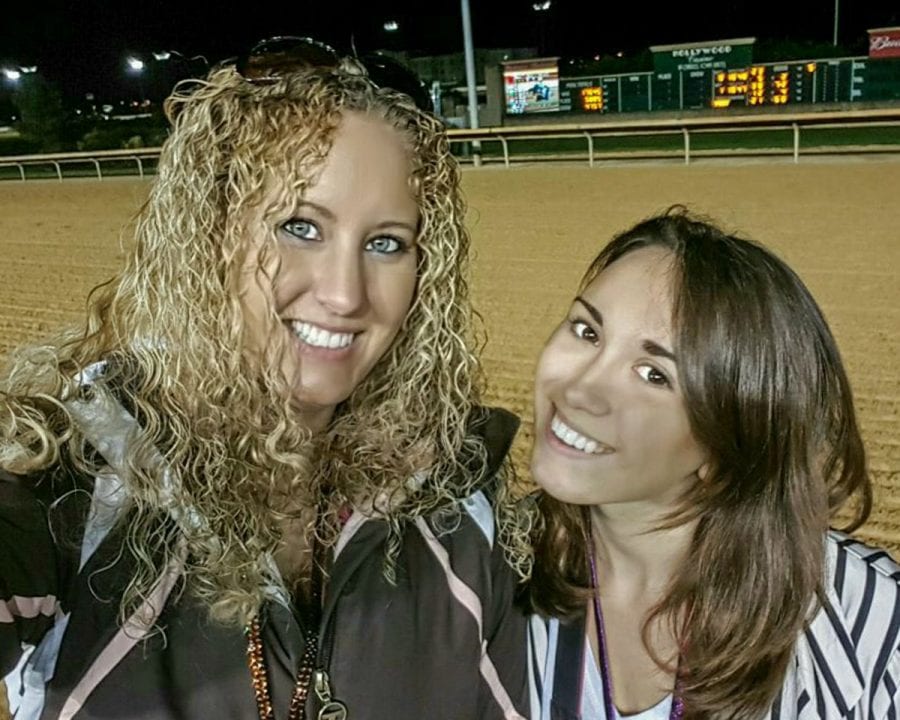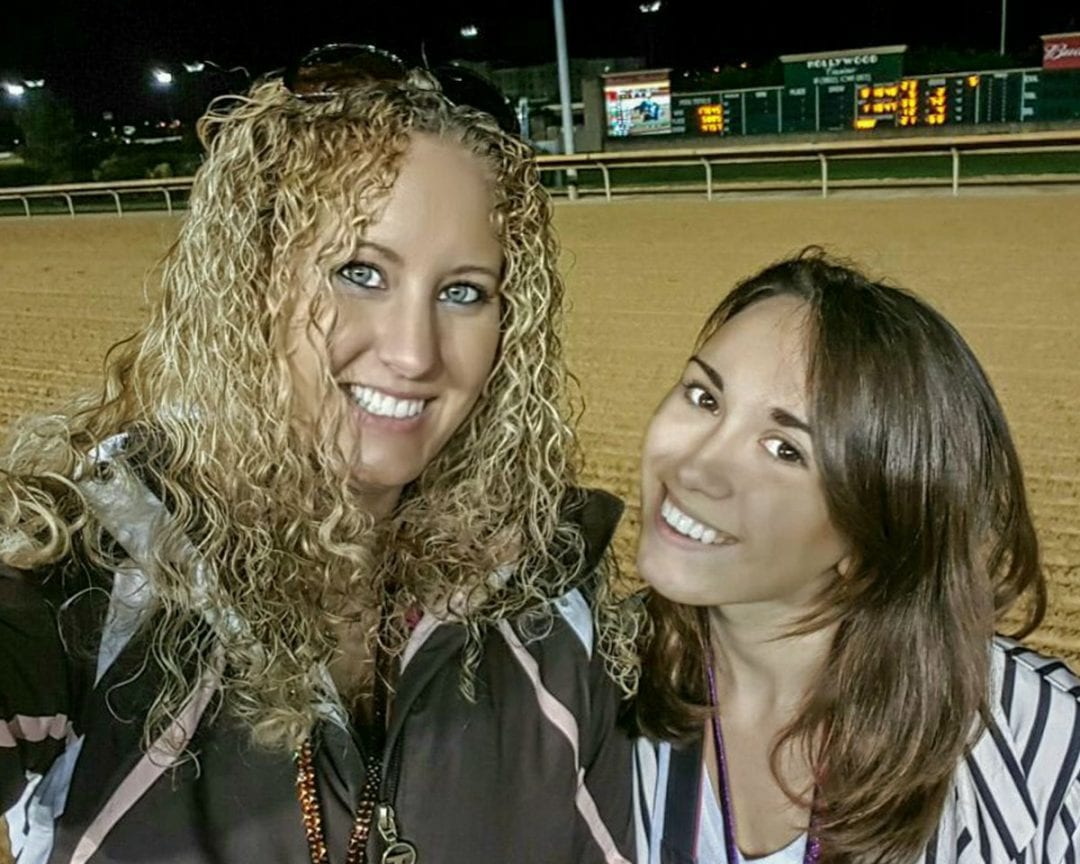 Katherine Turnbull (left) and Bethanny Roll at Charles Town. Photo by Coady Photography.
by Ted Black
At many racetracks these days, young women are prominent in front of the camera as racing analysts.
But at Hollywood Casino at Charles Town Races, two of the most prominent young women on the grounds won't be found in front of the camera. Instead, Katherine Turnbull and Bethanny Roll are behind it, working for Coady Photography as the track photographers.
Turnbull is a native of nearby Hedgesville and a graduate of Hedgesville High School and West Virginia University, where she attained both her bachelor's and master's degrees. Roll is the daughter of former local riders Michael Roll and Keturah Obed-Letts, now a trainer on the circuit. The duo have combined their youth, enthusiasm, and photography skills to capture lasting images of horses crossing the wire at Charles Town for owners, trainers, riders and fans alike.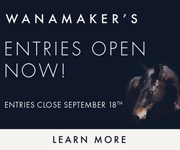 Turnbull has always had a passion for horses, admitting she's been hooked on the Sport of Kings since seeing Strike The Gold capture the Kentucky Derby in 1991 and then Hansel win the Preakness Stakes. She got her first Thoroughbred, Emo's War Lady, as a birthday present at age 10 and she has ridden horses ever since, including a stint on the Equestrian Team at WVU.
"When I saw Strike the Gold win the Kentucky Derby in 1991 I fell in love with horse racing," Turnbull said. "It wasn't long after that I got my first horse as a birthday present and I began taking riding lessons. My dad, Duane Turnbull, wanted us to grow up outside of the city, so we moved to a farm. It was out in the country, but it taught me a lot about working hard and later about horsemanship. I read as much as I could about horse racing, usually in back issues of the Maryland Horse (now Mid-Atlantic Thoroughbred) magazine, and eventually I was very involved in riding dressage."
While Turnbull gradually was introduced to thoroughbred racing from an outsider's perspective, Roll was literally born into the industry. Roll, a 2016 Musselman High School graduate now in her second year of photographing horses at Charles Town, was the daughter of two modestly successful jockeys, Michael Roll and Keturah Obed. Michael Roll won 216 races and sported career earnings of $1.75 million, while Obed booted home 116 winners from 1965 mounts and earned slightly under $1 million as a jockey during her career.
The current Obed-Letts may be enjoying greater success as a trainer, thanks in part to, Henny's Princess, who posted a 5-4-1 slate and $140,000 bankroll from 28 starts for owner James F. Miller and captured the West Virginia Triple Crown Nutrition Breeders Classics for two-year-old fillies in 2013.
Bethanny Roll has been aboard hundreds of horses during her teenage years, breaking two-year-olds and galloping horses for her mother. But she never considered a full-time riding career, citing the daily grind as more than enough of an education for her.
"I love getting aboard the horses in the morning," said Roll, 19. "But after watching what my parents did as jockeys and the type of toll racing puts on your body, I never thought about becoming a professional rider. It's very hard work and very demanding, physically and mentally. I have always enjoyed being around the horses and I always loved taking pictures, so for me combining the two was the natural thing to do. It's hard work some nights, especially if it's raining or really cold and windy or really hot, but for the most part it's a great job."
In addition to having a great working relationship, on the track and in their cozy office behind the mutuel windows out on the track apron, Turnbull and Roll have also become very good friends. They often spend days off together, and last summer they ventured to Ocean City, Maryland, to soak up the sun, sand and surf that the popular tourism attraction boasts.
"One of the best parts about this job is being able to interact with the owners and trainers and jockeys after each race and to be able to spend time working with Bethanny," Turnbull said. "She really loves the sport and she has a passion for photography. If I have to go somewhere for a night, I know she'll be able to handle everything here. She's very mature and very good interacting with the customers. She's great at remembering what horses won on a particular night and it helps that we can print pictures right here in our office. You can win a race and 30 minutes later leave the track with win pictures."
While casual racing fans might quickly point to photographs of Stanford and Game On Dude winning recent editions of the Grade 2 Charles Town Classic as the tandem's most memorable, Turnbull was quick to recall several less well-known — but sentimental — choices. Among those: Unaquoi.
In 2014, Turnbull had been tabbed by Gattopardo's owner, Michael Ueltzen, to take photographs of the stallion and his first crop of foals to hit the ground that season. Among them was a still unnamed filly out of the mare Jumelle Springs — later named Unaquoi – who made an impression that day and, two years later, cemented that impression.
"Of all the foals that I photographed, the one that stood out to me the most was the almost black filly out of Jumelle Springs, now named Unaquoi," Turnbull said. "I watched her progress and kept tabs on her training and she became the first winner for her sire [Gattorpardo] and his first stakes winner. I photographed her win in the Rachel's Turn Stakes here last September. So, to have photographed a foal and singled her out as the best from that stallion and then to photograph her first stakes win was probably the most memorable racing photo I've taken."