Different generations, same goals for Eppler, Gaudet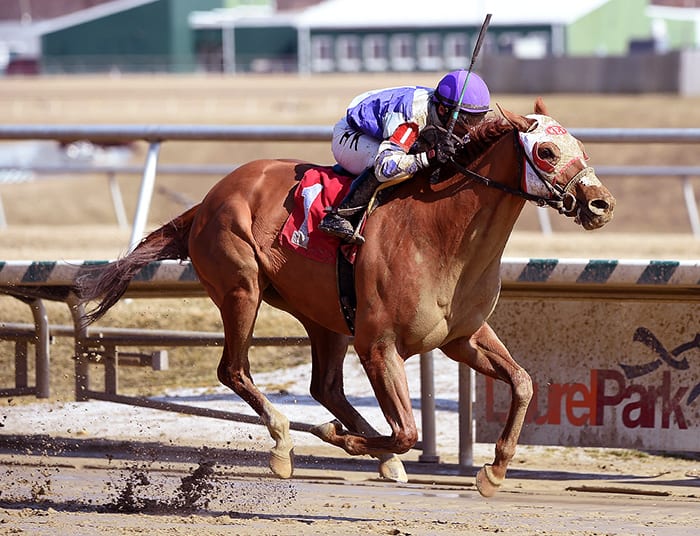 Mary Eppler's top runner, Page McKenney. Photo by Jim McCue, Maryland Jockey Club.
by Teresa Genaro
They are of different generations. They train at different racetracks. One was born into the business, the other came to it late, in the face of family resistance.
But their lives have been linked for decades, and last year, trainers Mary Eppler and Lacey Gaudet both found themselves in a place relatively new to them: the spotlight.
Increasingly over the last few years, Eppler has become a sought-after interview subject, often in the winner's circle after a win by stable star Page McKenney, who brought the trainer her first graded stakes win since 2002 when the chestnut gelding won the General George (G3) at Laurel a year ago, a race in which he may try to repeat this weekend.
But while Page McKenney had a relatively light 2016 campaign, racing just three times (two wins and a second), Eppler had anything but, setting a new personal record for earnings ($1,761,971) en route to winning her first training title at Laurel Park, the first woman to do so.
"Winning the title was really nice," said the typically understated Eppler. "It was difficult because of the type of trainers that are there, that have a lot more horses than I have and trainers that don't care about dropping down a horse to win a race."
"But," she added, "I'm not a real big person that wants to pat myself on the back."
While Eppler trains at Pimlico, which is closer to her Westminster, MD home than Maryland's other training facilities, Gaudet is 30 miles south at Laurel. And while she's been training since 2007, 2016 was a monumental breakthrough year in which she quadrupled her pervious high earnings record, ending the year with $852,763 in purses.
Lacey grew up on the backstretch in the barn of her parents, Eddie and Linda Gaudet, and she's known since she was a child that she wanted to be a trainer. As her father stepped away from the daily duties of training – he retired following the 2011 season — Lacey and her mother sat down at the end of the last year to give it a last shot on their own.
"In 2015, we had a mediocre year for the stock that we had and the number of horses we had," said Gaudet. "So we said, 'Look, we're going to give this six months. If we can't do half as good a job as my father did for 30 years, we're not going to embarrass him or ourselves. But let's give ourselves the best opportunity to do this ourselves, the way we want to.'"
They set goals and met them, exceeding them in several cases. They wanted to have a horse good enough to run at Saratoga, and they ended up running not one but two at the Spa's summer meeting. They didn't win, but they got there.
Gaudet also wanted to win two races in one day, but on November 6, she went one better, winning three races at Laurel's Claiming Crown Preview day, one of them with the consistent John Jones, who won five races for Gaudet after she claimed him mid-year, including his first two stakes wins. John Jones, currently rehabbing from a minor injury, will miss this weekend's festivities at Laurel.
Despite her pedigree and her lifelong experience at the track, Gaudet admits that she's faced some resistance on a backstretch with few other women trainers. She remembered two male trainers telling her that she had no shot at success unless she came to work as his assistant before going out on her own.
"'You're not going to get the opportunities unless you work for a trainer like me and I essentially hand them to you,'" she remembered them saying.
In another example, she recalled a jockey's agent that refused to return her phone calls…until she started winning, and now she hears from him regularly, asking if she's got anything his client might ride. The answer is always, said Gaudet, "No."
"It's comical now," she said. "But it's sad that you have to go through that."
Eppler faced a different kind of resistance as she tried to break into racing. Though her grandfather had owned Thoroughbreds, he hadn't been particularly successful, and Eppler's parents were dead-set against her getting involved with horses. Her grandfather's horses lived at the house where she grew up, and she was immediately smitten, begging for a pony, a request that was never granted.
She did end up taking a few lessons as a child, but as she got older, she befriended people who had horses just so she could be around them. Through various relationships she learned to ride and eventually to gallop, and she was given a seven-year-old retired Thoroughbred by the boyfriend of one of her friends. She was able to board him for free in exchange for doing barn chores.
"It was a dream come true," she said.
She brought that horse, Jet to Victory, back to the races and won six times with him, and after chucking her job at Blue Cross/Blue Shield, she got a hotwalking job at Sagamore Farm, eventually galloping their horses and breaking their babies at the farm before heading to Pimlico as one of their exercise riders.
She took out her trainer's license in 1980, and her parents lived long enough to see her realize that dream.
"My mom died in 1992 and my dad in 1998, and he came to live with me the last four years of his life," she said. "He was so proud of me, and so was my mother, because I did something I really wanted to and I was getting successful at it."
Their barns smaller over the winter with turf horses turned out, and others getting a break, both trainers are now seeing horses return to their barns, as well as getting young horses and horses from new clients.
And while Eppler has known Gaudet since she was a baby—their families are friends—Gaudet has appreciated Eppler's support over the last year.
"She's a wonderful person," said Gaudet. "She'll send me text messages or post on Facebook, and on Claiming Crown day when I won three races, she was waiting to give me a big hug."
The Gaudet goals for this year are to run a horse at Keeneland for the first time, and to be successful enough to bring a string to Saratoga this summer. For Eppler, Page McKenney will try to follow up his win in the Native Dancer at Laurel last month with a repeat win in the General George this weekend. So far in 2017, she's got a better than 50% top-three record (32-8-3-7).
In recent weeks, Laurel Park has featured prominently on its social channels the women of its jockey colony, with more than half a dozen women riding regularly at the track. The number of women training is more modest, perhaps, with Eppler, Robin Graham, and Annette Eubanks the only women among the track's top 20 by earnings so far in '17.
But the success of Eppler and Gaudet makes it increasingly likely that, soon enough, Maryland racing's female trainers will get their own star turn.