Eventful evening for Wesley Ho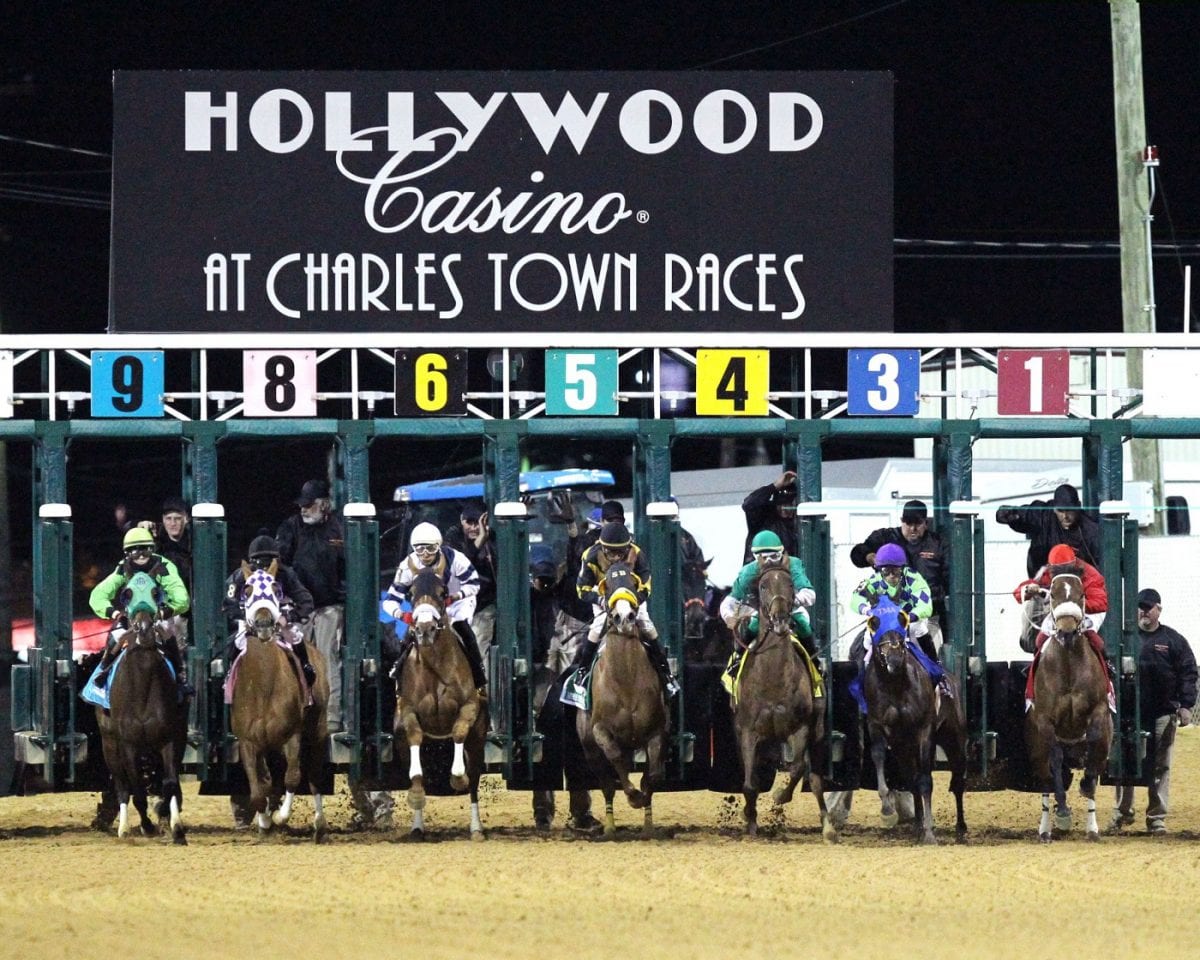 Racing at Charles Town. Photo by Coady Photography.
by Frank Vespe
Wednesday was an eventful evening for jockey Wesley Ho.
The journeyman jockey, currently third by wins in the Charles Town jockey standings with nine victories this year, looked to have a solid chance to add a win or two to his total.
In the first race, Ho had the mount on Boss Magician, who went off at 2-5.  And in the sixth, he was on Neetee Rides Again, who went off at even-money.  In between, Ho was aboard debut runner Dirty Laundry in the third and My Brother Johnny in the fifth.
But — as is often the case in horse racing — things didn't go quite as planned.
In the first, Boss Magician took a bad stumble leaving the gate, his nose going to the ground. That propelled Ho over the horse's neck and to the racetrack. Just like that — literally one stride into the race — the 2-5 favorite was eliminated.
It was a costly outcome not only for Ho but also for a bettor who, according to the Paulick Report, plunged a $100,000 show bet on Boss Magician. As a result, the runner-up, Up the Power, paid $8.40 to place — but $22.40 to show.
Fortunately, Ho was fine despite the fall and was able to continue riding.
Two races later, aboard 14-1 debut runner Dirty Laundry, for trainer Sharon Banford, Ho hustled his mount to the front and set the pace near the rail with two other runners in close attendance.  Rounding the turn in the 4 1/2 furlong maiden test, Dirty Laundry drifted out to the five path, carrying out Smokin' Seance, forcing that runner to steady, and finally causing her to fall.
Straightened away for the drive, Dirty Laundry just held off 1-2 favorite Tiz Our Time to earn the win.
But, following a stewards' inquiry, Dirty Laundry was disqualified and placed last.  Smokin' Seance was able to walk off, and her rider, Antonio Lopez went to the hospital as a "non-emergency" patient, track announcer Paul Espinosa tweeted.
That left Tiz Our Time the winner.
Ho's remaining two mounts were, fortunately, less eventful.  My Brother Johnny finished sixth of seven, and, though sent off at even money, Neetee Rides Again was a well-beaten fifth.
Ho has won 576 races in his career with purse earnings of over $11.2 million.