With Cherokee Blessing, patience — and having best horse — pay off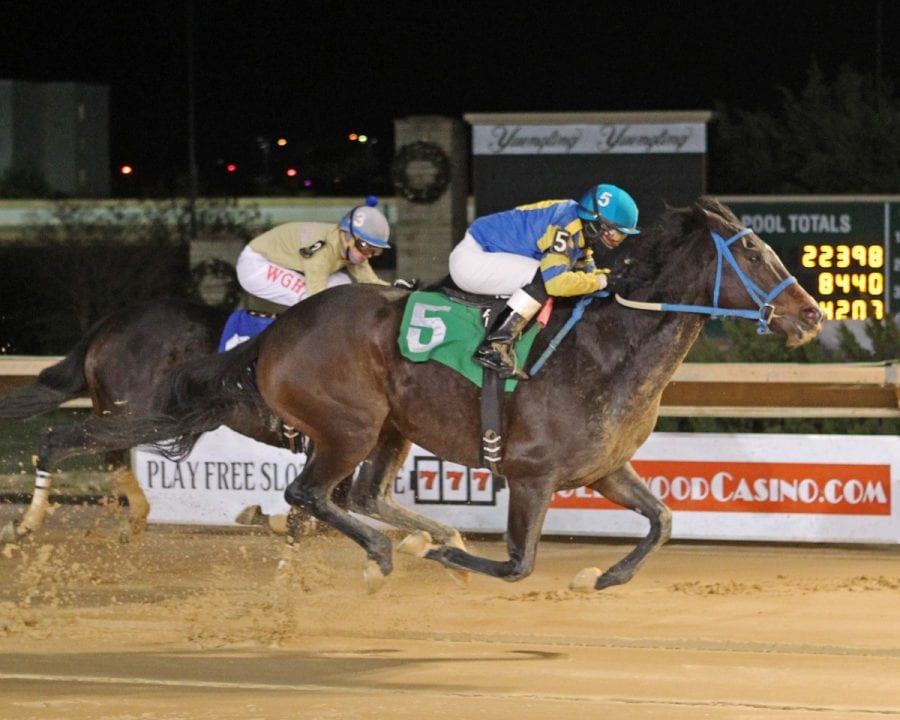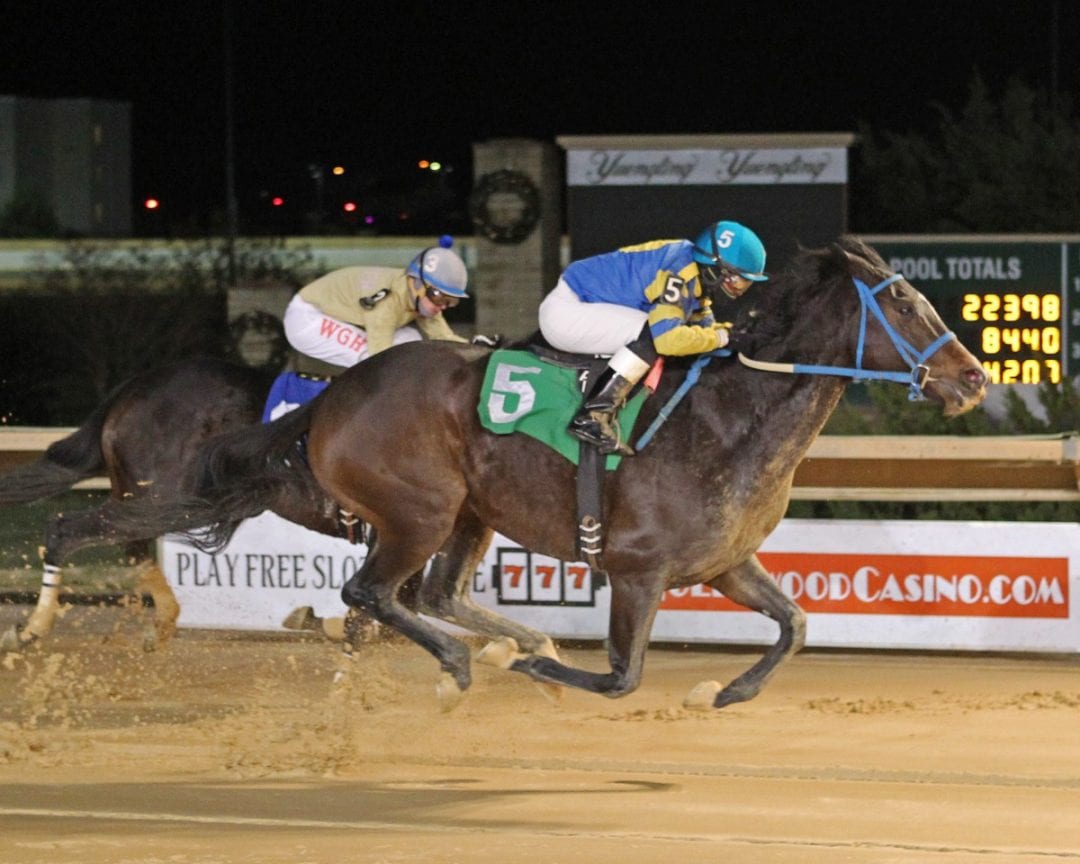 Cherokee Blessing won off a 30-month layoff. Photo by Coady Photography.

by Ted Black
Few took note when Cherokee Blessing entered the starting gate at Charles Town on December 7, 2016.
The West Virginia-bred Select Session mare was sent off at nearly 10-1 by bettors, and why not? She was, after all, running for the first time after a 30-month layoff.
But, under Antonio Lopez, Cherokee Blessing wore down Windsor's Gal in the last yards to win by a half-length to become one of the rarest of racing unicorns: a horse returning running from a multi-year layoff.
Of course, most racing fans recall the exploits of two such horses trained by Michael Dickinson, Da Hoss, who won the Breeders' Cup Mile for a second time in 1998 in his second start following a two-year layoff, and A Huevo, who returned from a 46-month absence – nearly four years — to win the Grade I Frank J. DeFrancis Memorial Dash at Laurel Park in his third start back and the West Virginia Breeders Classic at Charles Town a year later.
Such triumphs vaulted Dickinson and those horses to national prominence and near-legendary status.
It's not likely that trainer David Hussey, 55, who conditions Cherokee Blessing, will find similar acclaim.  Though perhaps the training feat is similar, the scale – a $5,000 lifetime claiming race in mid-winter – is quite a bit different.
"She's always been a sound horse and we really could never find anything wrong with her," Hussey, 55, said of Cherokee Blessing, a homebred that he trains for Little E. LLC (Ethelyn DiGregorio). "We knew that she had some minor soreness in her right shoulder, but we never really could find anything. We just gave her some time off [following her only start of 2014], and each time we were close to bringing her back to the races, she just wasn't right. But the odd part is we could never really find anything physically wrong with her."
Through her five-year-old campaign – 2013 — Cherokee Blessing had been consistent and sound. After finishing second in her career debut against maiden claimers in December, 2011, Cherokee Blessing remained busy at ages four and five. She concluded her 2012 campaign with a 1-3-4 slate and $43,160 banked from 10 starts, and she posted a 1-1-2 ledger and $31,370 bankroll from 10 starts the following season. She had garnered her diploma in her 10th and final start of 2012 against maiden special weight foes at Charles Town and eventually collected her lone allowance score in the 10th and final start of her five-year-old season.
Cherokee Blessing would finish fifth in her lone outing of 2014, a May 24 allowance event at Charles Town, but Hussey took her out of training soon thereafter. For the next two years her career teetered on the verge between revival and retirement. She did not make another start in 2014, missed all of 2015, and came within a month of sitting out her entire 2016 season.
But when she began to display signs of her past ability, Hussey opted to give her one last chance to resume her racing career.
"I guess it was sometime around last November when she started really acting like her old self," Hussey said. "I took her to the track for some light workouts and the clocker caught her going three furlongs in 39 [seconds] flat. When she made her first start back [on Dec. 7, 2016], I thought she might need a couple of races before getting back into form. I even told [jockey] Antonio [Lopez] just to take her back and make one run late and not go too hard on her because she would probably need a race or two. He let her settle early and then she just rolled by them in the lane. I couldn't believe it."
Cherokee Blessing, who has since come back to run second in a two-turn event for $5000 claimers, had performed a remarkable feat, winning her first start back after 30 months.  In a follow-up start January 26 — in her first start as a nine-year-old — Cherokee Blessing ran second.
Immediately that victory conjured up memories of Da Hoss and A Huevo, the two Dickinson trainees, the latter of whom was a West Virginia-bred.
Of course, the comparison can go too far. Even Hussey chuckled at the thought of being mentioned in the same breath with the "Mad Genius." Dickinson, who returned to training last year after an eight-year hiatus, has saddled exactly 600 winners from 2,604 starters, with purse earnings of nearly $21.5 million. His trainees have won eight Grade 1 races.
Hussey, by contrast, has recorded 25 winners – never more than four in a season — from 634 runners whose earnings are $650,000 in his career. This year, thanks to a victory by Caution High Water in a one-turn claiming event at Charles Town, Hussey owns an early 1-0 lead over Dickinson in the win column.
"The key to winning with a horse off a long layoff is simply having the best horse," Dickinson said when reached by phone at his Tapeta Farm base in North East, Maryland. "If you want to win those big races with a horse like that, you just need to have the best horse. It also helps to have owners that don't put any pressure on you to run horses too soon or in spots where they don't belong. Da Hoss was an excellent horse. He won the Breeders' Cup Mile at Woodbine [in 1996] and then he needed some time off. When he came back there was a race for him at Colonial, and then he came right back to win the Breeders' Cup Mile at Churchill Downs [in 1998]. A Huevo needed a lot of time off after his races. He won the DeFrancis Dash when it was a Grade I in his third start back after being off almost four years."
A Huevo had actually won the first four starts of his career for Dickinson and owner Mark Hopkins, including a track record-setting win in the West Virginia Breeders Classic at Charles Town at age three. But A Huevo was eventually disqualified from all purse money from the Classic for a bizarre, much-contested post race positive. A Huevo came back positive for clenbuterol following the race, and though Dickinson and Hopkins cited evidence that there may have been tampering with the sample, the disqualification stood.
A Huevo would miss all of 2000, 2001 and 2002 before returning midway through 2003 to capture the DeFrancis Dash in his third start back. He returned to Charles Town the following year to win the Classic for a second time, but one year later he failed to complete the nine-furlong distance when he fatally broke down in the early stages of the Classic.
Like Hussey, Dickinson says the horse tells the trainer when – or if – it wants to return to racing.
"The horse will tell you when he's ready to come back off a long layoff," Dickinson said. "You need to have a talented horse, and you need to have patient owners when you have a horse that's been off for a long time. But if you have the best horse in the race, that makes things a lot simpler."