Horse Industry Day aims to raise awareness in Annapolis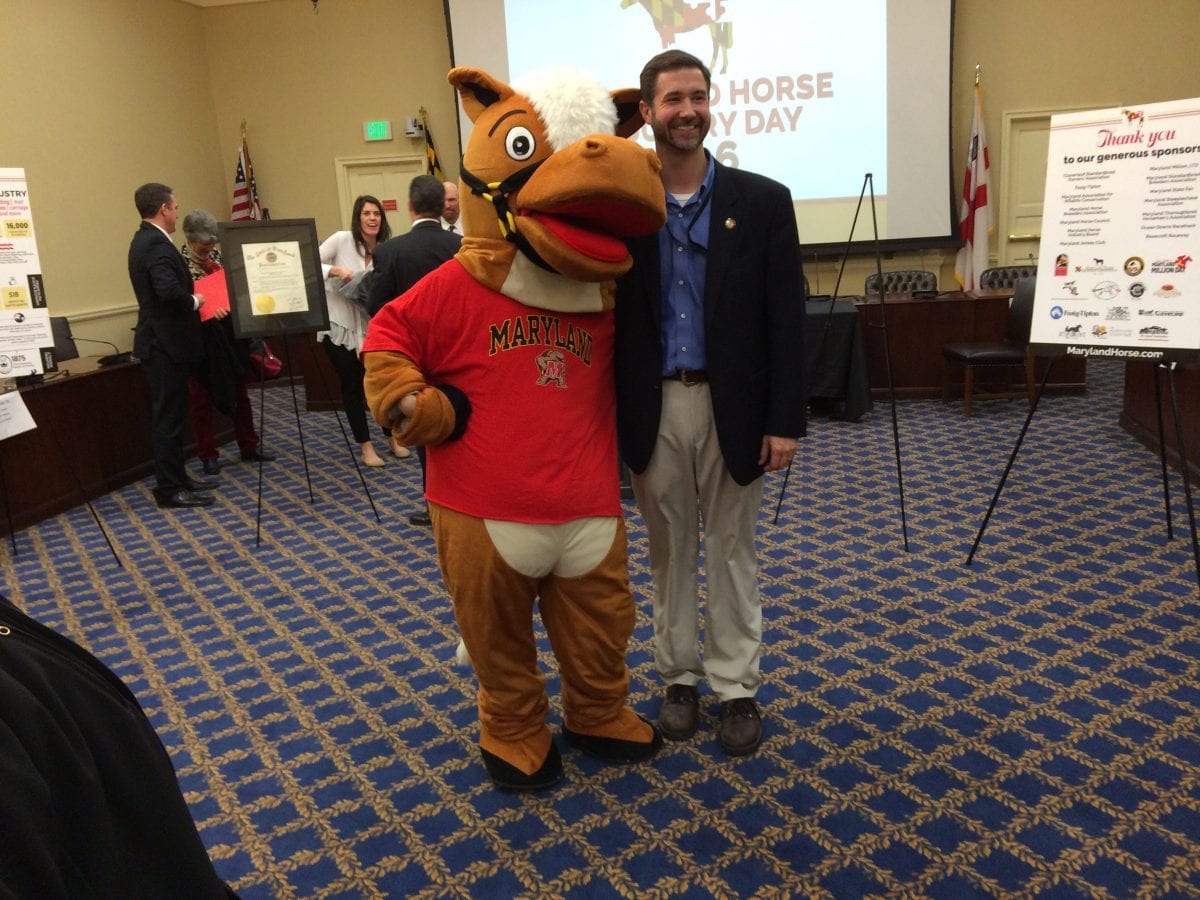 Terpretariat attended last year's Horse Industry Day. Photo by The Racing Biz.
by Frank Vespe
A year ago, Ross Peddicord says, participants in Maryland Horse Industry Day managed to visit with 70 percent of Maryland's 188 state legislators.
It's probably fair to say that Peddicord, executive director of the Maryland Horse Industry Board, would be more than pleased to see that number rise to, say, 100 percent.
"It's paramount that people show up and show that we have a vibrant, flourishing industry," Peddicord said in an interview.
The third annual Maryland Horse Industry Day is Tuesday, starting at 8:00 a.m. in the Miller Senate Office Building in Annapolis.  You can learn more here.
The event, which is presented by the Maryland Horse Council, includes meetings with legislators, an "Advocacy 101" session, and lunch with legislators and legislative staff.
"It's important that our industry is recognized in Annapolis as an important one in Maryland," said Cricket Goodall, executive director of the Maryland Horse Breeders Association, one of the event's cosponsors.  "The best way to do that is to come and meet with legislators."
Both Goodall and Peddicord believe that the horse industry has a compelling story to tell — and, in the Legislature, an audience willing to hear it.
On the Thoroughbred front, the steady drumbeat of good news has included rising handle on the state's racing product, improvements to the Laurel Park plant's front- and backsides, and a revitalized breeding industry.
And the rest of the state's horse industry has plenty to talk about, as well.  Fair Hill, for example, is a finalist for a 4-star three-day event.  The facility is in competition with just one other site, Great Meadow in Virginia, and if it receives the coveted event — just the second awarded to the United States and the seventh in the world — it would mean that Maryland and Kentucky would be the only states to host both a 4-star event and a Triple Crown race.
And Peddicord pointed to his organization's Horse Discovery Centers, horse-centered school curriculum, and other activities to emphasize the importance of the equine industry to the Free State.
"There are horses in every county, every legislative district, in the state," he noted.  That is helping to preserve 88,000 acres of farmland in a state in which development pressures are intense.
Ensuring that legislators understand these facts — and grasp the industry's contributions to the state — are what Horse Industry Day is all about.
"I think Horse Industry Day has been effective," Goodall said.  "Just about every industry has a day, and this puts us on the map as an organized industry that can make an impact."
A recent study by Sage Policy Group estimated that Maryland's horse industry has an economic impact in excess of $1.1 billion and that, after years of decline, has, with the help of the Legislature, begun to claw its way back.
"We're going to reinforce the findings from the economic study," Peddicord said.  "All the General Assembly's help has helped us to turn the corner, and we need their continued help to get back to where we were."
In the end, the goal is clear.
"This is all about making sure we have a solid, sustainable industry going into the future," Peddicord said.