Shades of Alysheba in Chrome-Arrogate rematch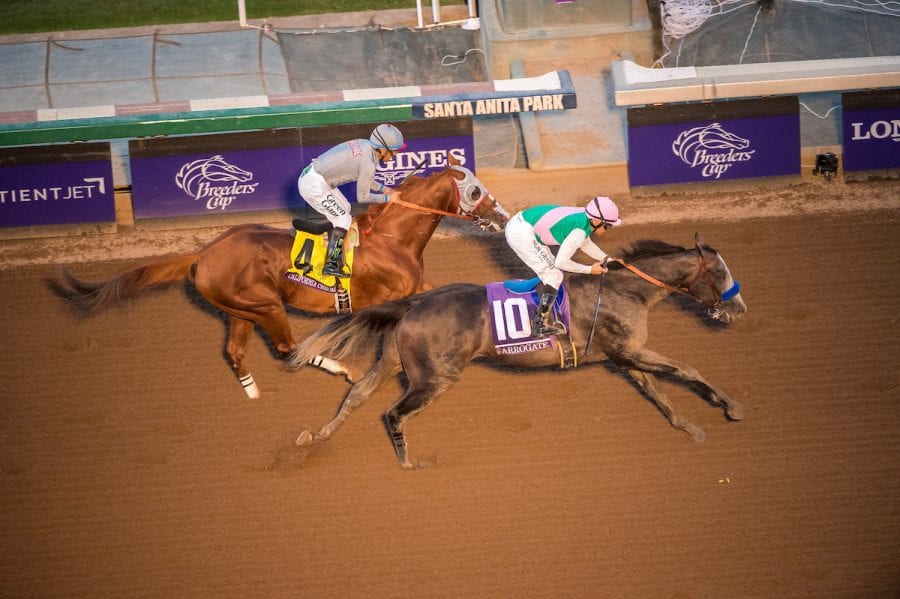 Arrogate ran down California Chrome late to win the 2016 Breeders' Cup Classic. Photo by Michael McInally/Eclipse Sportswire/Breeders Cup.
From a Breeders' Cup release
Saturday's rematch between last year's Breeders' Cup Classic top two finishers, Arrogate and California Chrome, in the inaugural 1 1/8 mile, $12 million Pegasus World Cup at Gulfstream Park has striking similarities to the rematch of two champions from the 1987 Breeders' Cup Classic, Ferdinand and Alysheba.
California Chrome, the runner-up in last November's Classic, is the 6-5 morning line favorite in the $12 million, Grade 1 Pegasus World Cup.  Arrogate, who bested his older rival in their last meeting, is 7-5.  Keen Ice is the third choice at 12-1; every other horse is at least 20-1.
Nearly thirty years ago, in a battle of Kentucky Derby winners on Nov. 21,1987 at Hollywood Park, the 4-year-old Ferdinand defeated the 3-year-old Alysheba by a nose in the $3 million Breeders' Cup Classic, which at the time, was the world's richest horse race. Ferdinand, ridden by Bill Shoemaker and trained by Charlie Whittingham, was later voted Champion Older Horse and Horse of the Year. Alysheba, ridden by Chris McCarron and trained by Jack Van Berg, was voted Champion 3-year-old.
Alysheba's jockey, Chris McCarron, the Hall of Fame rider and three- time Eclipse Award winner, who retired in 2002 with 7,141 wins, and captured the Breeders' Cup Classic five times, remembers it this way.
"It was a devastating defeat at Hollywood Park in the Classic," began McCarron. "It was heart-wrenching to ride him. Alysheba was still a little immature and wasn't always focused on running. He would idle once he got past a horse. We were in the last sixteenth of a mile and I was seeing dollar signs, but sure enough there was Ferdinand's nose in front (at the wire). It was hard to get over."
When Alysheba turned into his 4-year-old season, McCarron finally noticed some maturity in the Kentucky bred bay son of Alydar, owned by Dorothy and Pamela Scharbauer.
Van Berg brought Alysheba back to the races on Feb. 7, 1988 in the 1 ¼-mile Charles Strub Stakes at Santa Anita.  With sharper focus, Alysheba won by a widening three lengths. "The Strub and the Super Derby (the previous year) were the only races that Alysheba drew off and won by daylight," said McCarron. "He was such a fresh horse when he won the Strub that he didn't think about pulling himself up."
Meanwhile, Ferdinand debuted in his 5-year-old season with a rallying second-place finish behind Judge Angelucci in the San Antonio Stakes on Feb. 14, carrying 128 pounds.
That led to their first rematch, in the March 6 Big 'Cap.
The 1988 Santa Anita Handicap had just four starters in Alysheba, Ferdinand, Judge Angelucci and Super Diamond. The race plan according to McCarron, was simple: "Just stay in front of Ferdinand at all times."
Alysheba stayed in third a head of fourth-place Ferdinand right through the end of the backstretch before the two champions passed the leaders and set sail for home. Alysheba never let Ferdinand get closer than a half-length and kept that margin at the wire, completing the 1 ¼ miles in 1:59:4/5.
Alysheba and Ferdinand met twice after the Big 'Cap. Alysheba defeated Ferdinand by a nose in the San Bernardino Handicap at Santa Anita in April, and they finished second and third respectively to Cutlass Reality in the Hollywood Gold Cup in June.
Alysheba went onto win the 1988 Breeders' Cup Classic, with McCarron up, in his final race before being retired. The following year, McCarron won the Classic at Gulfstream Park aboard Sunday Silence, defeating his Triple Crown rival Easy Goer. McCarron rode Alphabet Soup to defeat Cigar in the 1996 Classic and won back to back editions of the race with Tiznow in 2000 and 2001.
Ferdinand, meanwhile, did not win a race after his 1987 Classic victory.
Like Ferdinand going into the 1988 'Big Cap, the older horse, the 6-year-old California Chrome, is reigning Horse of the Year, yet he was defeated by Arrogate by a half-length in last year's Classic at Santa Anita.
This week, the 2016 Breeders' Cup Classic was named the World's Best Horse Race in the Longines and International Federation of Horserace Authorities (IFHA) rankings, and Arrogate (134) and California Chrome (133) earned the top two positions in the Longines World's Best Racehorse rankings for last year.
If the $12 million purse didn't provide the Pegasus enough intrigue of its own, McCarron says that having Arrogate drawing the No. 1 post position under Mike Smith and California Chrome, with Victor Espinoza aboard, situated in the extreme outside post 12, only adds to the drama.
"Both riders are going to have to be aggressive breaking from the gate to establish position," said McCarron. "Victor, on the outside into the first turn, is going to have to assure that he gets away well, because if he doesn't' he's going to hung about seven deep."
It's a different set of circumstances for Smith aboard Arrogate.
"Mike is going to have to make sure that Arrogate stands calmly and collectively when the rest of the field is loaded because he is going to stay in the gate for the longest period of time. He's got to make sure that Arrogate is alert because I am predicting that Arrogate is going to get outrun into the first turn so he may be covered by four or maybe five horses, and Mike is going to figure out a way to get Arrogate into the clear down the backside and get some running room because he's a big long-striding horse.
"You can have a horse tolerate dirt coming back in the face around the first turn and if he's climbing and resenting the dirt that's when it's vital for the jock to get the horse on the outside. Mike's going to have to ease him out to a place where he can get into his beautiful rhythmic stride."
McCarron favors California Chrome's chances for victory.
"I am so looking forward to seeing this race and I think Chrome is going to win. I think he's quick out of the block and if Victor rides him like he did in the (TVG) Pacific Classic, where he got out fast and left him alone and doesn't fight him and take a hold of him, then I think he's the winner."