Some hips to watch at Fasig-Tipton sale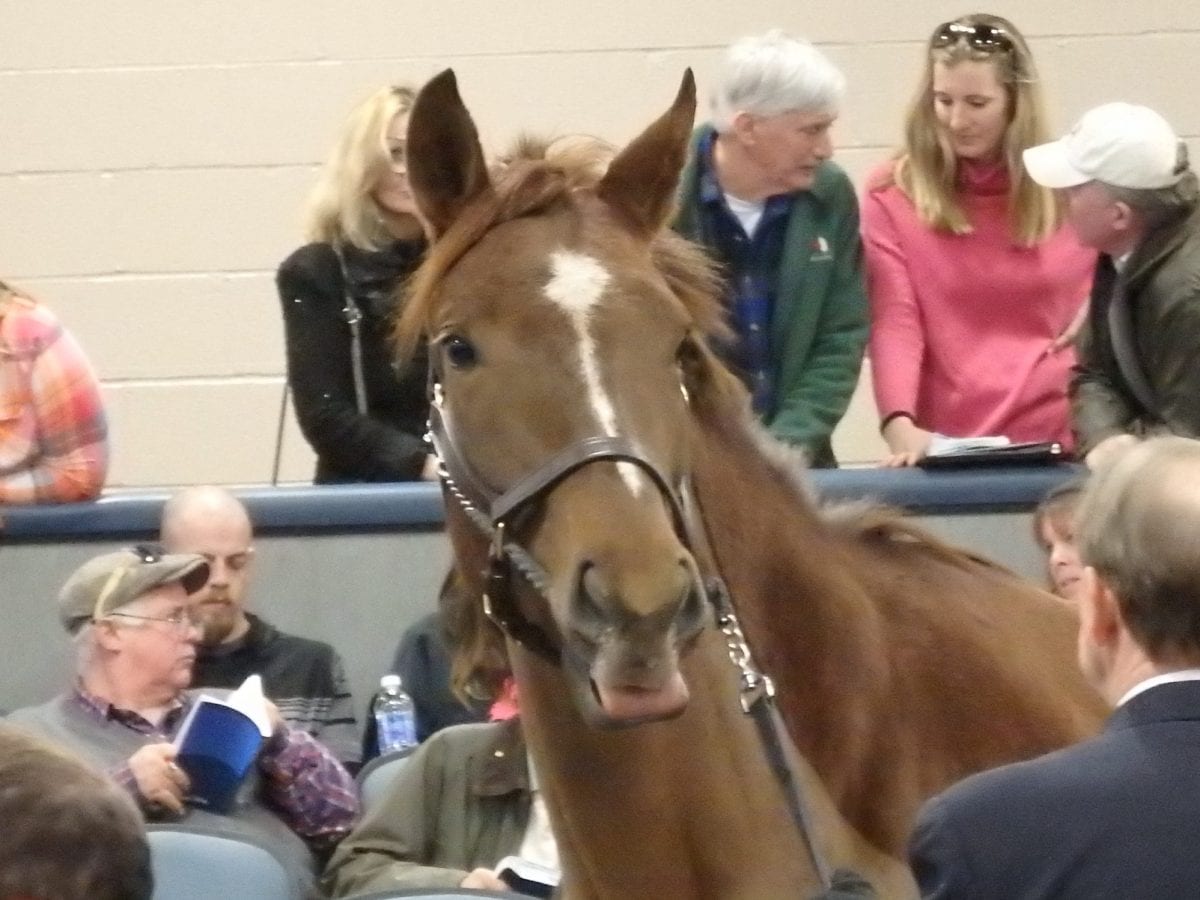 A horse at last year's mixed sale checks out the crowd. Photo by The Racing Biz.
by Frank Vespe
We talked with several consignors bringing horses to sell at Sunday's Fasig-Tipton Mixed Sale.  Overall, the mood is one of cautious optimism and an assumption that good horses will continue to draw solid money — and less desirable ones will struggle.
Here are the hips they're excited about.
LEGACY FARM
Larry Johnson's Legacy Farm is scheduled to bring seven broodmares, one broodmare prospect, and one racing/broodmare prospect to the sale – a bit of a culling of his 30-mare herd.
Of the broodmares, three are in foal to Street Magician, three to Seville, and one to Despite the Odds.
"I'm taking mares over there to sell," Johnson says. "But I'm not taking one mare over there that I'm just dumping. Every one has either a decent race record or a decent pedigree, and some have both."
Perhaps the group's standout is Hip 77, Hear Our Prayer. A modestly successful racer, the daughter of Songandaprayer is in foal to Street Magician, and Johnson says her yearling colt, also by that sire, is "very, very nice." Hear Our Prayer is a half-sister to Grade 1 winner Illuminant and hails from a solid regional family.
Johnson says he's curious to see how the market responds to Seville. He's offering three in foal to the new sire, among them Hip 47, Any Other Name. A Flower Alley mare, she won $42,000 on the track and comes from a good family that includes millionaire Real Dandy.
He's also offering Hip 108, No Wonder At All, an E Dubai mare also in foal to Seville. She earned $72,000 racing, is a half-sister to the stakes-placed Sir Rockport, and comes from the family of numerous good stakes horses.
BECKY DAVIS, AGENT
Consignor Becky Davis has a 25-horse group that includes 14 selling as broodmares or broodmare prospects. The remaining 11 are all Maryland-bred yearlings.
Among the mares, Davis is particularly high on Chickasaw Gal (Hip 57), an Indian Charlie mare who is in foal to Grade 1 winner Imagining. "We've had the first imagining foal born and she's a big, strong, gorgeous filly," Davis says.
Another mare in foal to Imagining is Lady of Summer (Hip 87). The stakes-placed Lady of Summer is an El Corredor mare who already has produced one $100,000 earner.
Hip 62, Derwin's Lady, by Langfuhr, is the dam of stake-winner Jonesin for Jerry. She's in foal to new sire Seville, a European Group 1-winning son of Galileo expected to be a strong turf sire.
Among her yearlings, Davis is high on Hips 126 and 134, both fillies by Tritap and both descried b Davis as "beautiful." The latter hails from the female family of champion Silver Charm.
BILL REIGHTLER CONSIGNMENT
Reightler has the largest consignment in the sale with 62 horses.  These are his notes:
Hip # 48 Baby Love is by Not For Love from the family of Include MGSW.  Baby Love now has produced a graded stakes-placed runner — G3 Jerome runner-up Bonus Points — and a total of 4 horses that have earned over $100,000.
Hip # 6 Read All About It A racing broodmare prospect with earnings of $103,307, she is half sister to Uncle Otto $226,160 SP. She hails from the family of Jeweler's Choice and Royal Edict.
Hip # 67 Elegant Breeze is offered as a racing/broodmare prospect. She is an attractive daughter of Rock Hard Ten and half-sister to G3-placed War Plan. She is from the family of Champion Banshee Breeze, MGSW of $2,784,798.
Hip #84 Justlookatmenow is offered for sale as a broodmare prospect. She is a winning daughter by Old Fashioned out of Officerandalady $200,795 SW. She hails from a deep family of Gotaghostofachance GR3 SW $408,150 and I'mtoogoodtobetrue SW $348,936.
Hip #96 Maryland Bird Selling as a broodmare prospect, she is by Summer Bird out of a Grand Slam mare. She comes from the family of Oatsee SW, Broodmare of the Year and dam of Shackleford MGRSW $3,090,010 Preakness, etc.
Short yearlings
Hip #149 Super Ninety Nine – Baby Love A filly from Super Ninety Nine's first crop. Note updates to pedigree (Hip 48, above).
Hip # 174 Dialed In colt out of Her Lady Grace He is a big, attractive and well-balanced son of a leading first-crop sire. This Pennsylvania-bred is from the family of Halory Leigh MGSW $672,872.
Hip #140 Pop's Joy A superb daughter of Morning Line out of Whirl, by Curlin, and from the family of Shag SW $348,074 who produced Strike A Deal MGW $1,013,259.  Morning Line's first crop of two-year-olds will start this year.
BECKY MERKEL, AGENT
Longtime regional consignor Becky Merkel is bringing a dozen over to the Big T for Sunday's sale, but visitors will notice something different. Merkel herself is stepping away from the business, and in her stead will be daughter Sarah and Sarah's husband, Carlos Estrada, both 28, who are taking over the sales business.
"They've helped us the last number of years," says Merkel's husband, Glenn Brok. "They're looking to build a clientele of their own."
They'll start with a group that's heavy on yearlings; 10 of the 12 in the consignment are yearlings, and all but two of those were bred in Pennsylvania.
"I'm hoping that we can be the big fish in a little pond, bringing outside sires with the Pennsylvania-bred stamp," says Brok. "I'm hoping the individuals we have will stand out."
Among those is Hip 142, a Mucho Macho Man colt out of the Don't Get Mad mare Yeardley. Breeders' Cup Classic winner Mucho Macho Man's first foals are yearlings this year, and this colt is the first foal out of Yeardley, a multiple stakes-winning earner of more than $500,000.
Also on the docket is Hip 170, by Breeders' Cup Juvenile runner-up He's Had Enough, a son of Tapit. This colt is out of the stakes-winning Bertrando mare Gentle Charmer and is a half-brother to stakes winner Flat Out Charming and Indirectly A. P., who was stakes-placed.
MARSHALL SILVERMAN
Marhsall Silverman will bring one of the sale's largest consignments to Timonium this weekend; he's scheduled to sell 28.
The longtime sales participant says that the recent poor results at Keeneland's horses of all ages sale are a concern but that, because this sale draws primarily a local group of buyers, he remains hopeful. "I'm hoping that they come with the idea of buying horses and not just tire-kicking," he says.
Though only four of his group are short yearlings, Silverman calls them all "pretty nice." They include a pair of Maryland-bred Bandbox fillies, a Posse colt, and a colt by Trappe Shot. The last of those, Hip 153, is one he's really excited about. The colt, with a good female family behind him, is out of the Broad Brush mare Broad Sound and is a half-brother to two six-figure earners, including the multiple stakes-placed Brimstone Island, who earned over $300,000.
Among his broodmares and broodmare prospects, Silverman is offering several maiden mares, whom he calls "horses that could be usable on a five-year plan."
The most enticing of those, he says, might be Hip 83, Just a Glance Away. A five-year-old Exchange Rate mare, Just a Glance Away earned over $70,000 at the racetrack. Though she is from a modest family — second dam Mingling Glances, who was graded stakes-placed, is the highlight — Silverman calls her "beautiful," adding, "If she had a little better pedigree, she'd be worth a fortune."
Hip # 163 Sexy Selfie Temple City out of Donnatale A superb looking Maryland bred daughter of Temple City. She is a big, strong filly from deep family.
Hip # 179 Jump Start colt out of Jim's Prospect He is by leading Mid-Atlantic sire Jump Start and out of Jim's Prospect SW $94,560. This tall, correct and leggy Maryland-bred colt has much quality.
Hip #185 Flat Out filly out of Littlebitabling She is from the 3rd crop of the Flat Out and out of the stakes winning Carson City mare Littlebitabling. The deep family includes Too Much Bling MGSW $509,674.
Hip # 121 Can The Man colt out of Saint Dinorah He is a big, attractive gray colt by Can The Man, by Into Mischief. His dam is from the family of Baltimore Bob SW $381,577 and Baltimore Belle SW $373,114.
Hip #115 Seville colt out of Precious Tax This colt is from the first crop of Seville by Galileo. He hails from the family of Tax Dodge SW $345,026 by Seattle Slew and Mr. Nickerson MGRSW $596,306.
Hip #116 Bandbox colt out of Prime Quest, by Coronado's Quest From the first crop of Bandbox, he is half brother to Channel Quest $139,050 SP and from the family of Prime Directive GSW $429,359.
Hip # 152 Revolutionary filly out of Brief Encounter She is from the second crop of Revolutionary and half sister to recent Ladies stakes-placed Chorus Line $125,472. She hails form the Smitten Farm family of Applause SW $362,437.
Hip # 155 Tritap out of Bushel and a Peck He is from the first crop of a son of Tapit. A Maryland-bred colt out of a Numerous mare from the family of Ghostofachance MGSW $408,150 and SW I'mtogoodtobetrue $346,936.
Horse of Racing Age
Hip #217 Count Flanker Offered as a horse of racing age in the sale, this attractive colt by Outflanker is a half-brother to Lotsa Mischief SW $135,270 and from the family of Champion Countess Diana MGSW $1,117,185.
Hip #229 Cal Nation filly out of Noble Maz (SW $327,340) First foal out of a Storm Boot mare currently in training.