Sellers hoping for the best in Fasig-Tipton mixed sale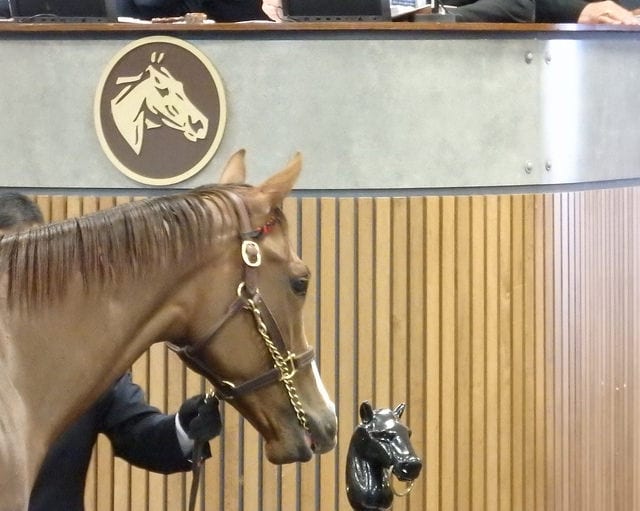 by Frank Vespe
With gross sales at Keeneland's recently completed Horses of All Ages Sale down nearly 20 percent, and day one at the ongoing Ocala Breeders Sale off by more than a third versus the first day last year, it's safe to say that the Fasig-Tipton Midlantic Winter Mixed Sale this coming weekend is sailing into some headwinds.
That said, there's also reason for optimism, and consignors said they're hoping for the best.  The sale is slated for Sunday, starting at 11:00 a.m. at the Timonium fairgrounds.
Last year's mixed sale – switched from its typical December date to a late January slot – saw an eight percent drop in its gross, but that was on a book 27 percent smaller than the prior year's.  Driving the solid results was an exceptionally low buy-back rate; just 16 of 120 horses to enter the ring (13.3 percent) failed to sell.
"We had no no-bids on the mares," recalled Fasig-Tipton Midlantic sales director Paget Bennett.  "And we had such a low buy-back rate overall – it was amazing."
And sellers seem inclined to reward the company for the switch.  This year's catalog has 229 numbered hips, prior to late additions and scratches; that's an increase of 37 percent from the 167 in last year's book.
"I think last year we had a pretty good sale there," said Bill Reightler, whose 62-horse consignment is the event's largest.  "I'm looking forward to this one."
Horse racing being horse racing, there is some muttering among sales participants about the Sunday time slot. Sunday is a day of live racing and also happens to be the day after the inaugural running of the $12 million Pegasus World Cup at Gulfstream Park, an event pulling some in racing to south Florida.
But Marshall Silverman, whose 28-horse group includes a mix of short yearlings, horses of racing age, and broodmares and broodmare prospects, doesn't think timing should be an issue.
"If people are looking for mares, it doesn't matter if it's Sunday," he said.  "The people that are looking to buy horses, they'll be there."
Silverman said that the Timonium mixed sale tends not to draw heavily from the pinhooking or out-of-town crowd, leaning more towards end users and locals.  Either way, what will likely matter most is what always matters most at horse sales.
"All these sales always come down to the quality of the horses," pointed out Reightler, who said he is optimistic based on what he's been hearing from potential buyers.
With a much bigger book, buyers are likely to find more quality and more depth on offer.  Bennett says that she believes that the so-called short yearlings are the "key to the sale."
There are 86 of those scheduled to be offered.  And while the majority are by local stallions, there is also a smattering of higher profile studs represented, including Breeders' Cup Classic winner Mucho Macho Man, Florida Derby winner Dialed In, Warrior's Reward, and Creative Cause, who ranked seventh on the first crop sire list in 2016.
Another factor driving optimism among consignors is the strength of regional breeding programs and the ongoing racing renaissance in Maryland.
"When you look at our business in Maryland," Reightler said, "everything is heading in a positive direction."
That's true, but Pennsylvania-based Glenn Brok, whose wife, Becky Merkel, is selling a dozen, mostly yearlings, was quick to take up the flag for the Keystone State.
"Our [state-bred] program is the best in the region," he said.  Pennsylvania's incentive program is far larger than those in other mid-Atlantic states.  Though it has been troubled by uncertainty and intermittent legislative raids in recent years, breeders there are hopeful that a recently struck agreement can put the program on the sure footing breeders need to commit to the state in the long run.
In the end, all of the consignors share the hope of Larry Johnson, whose Legacy Farm is scheduled to sell nine broodmares or broodmare prospects.
"I'm hopeful that a decent horse brings a pretty good price," he said.