The challenging journey of Dominic Garibaldi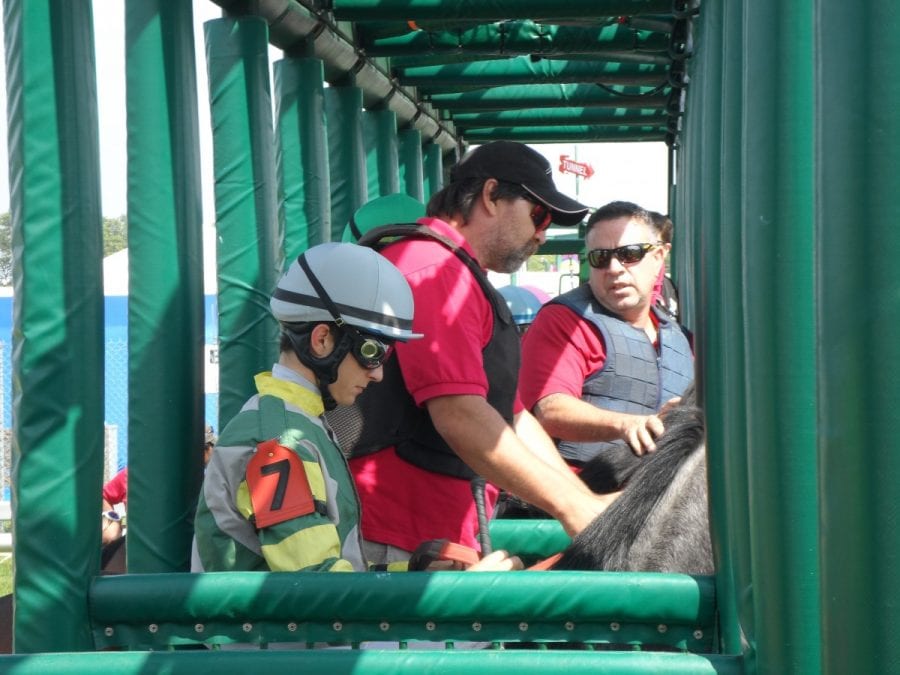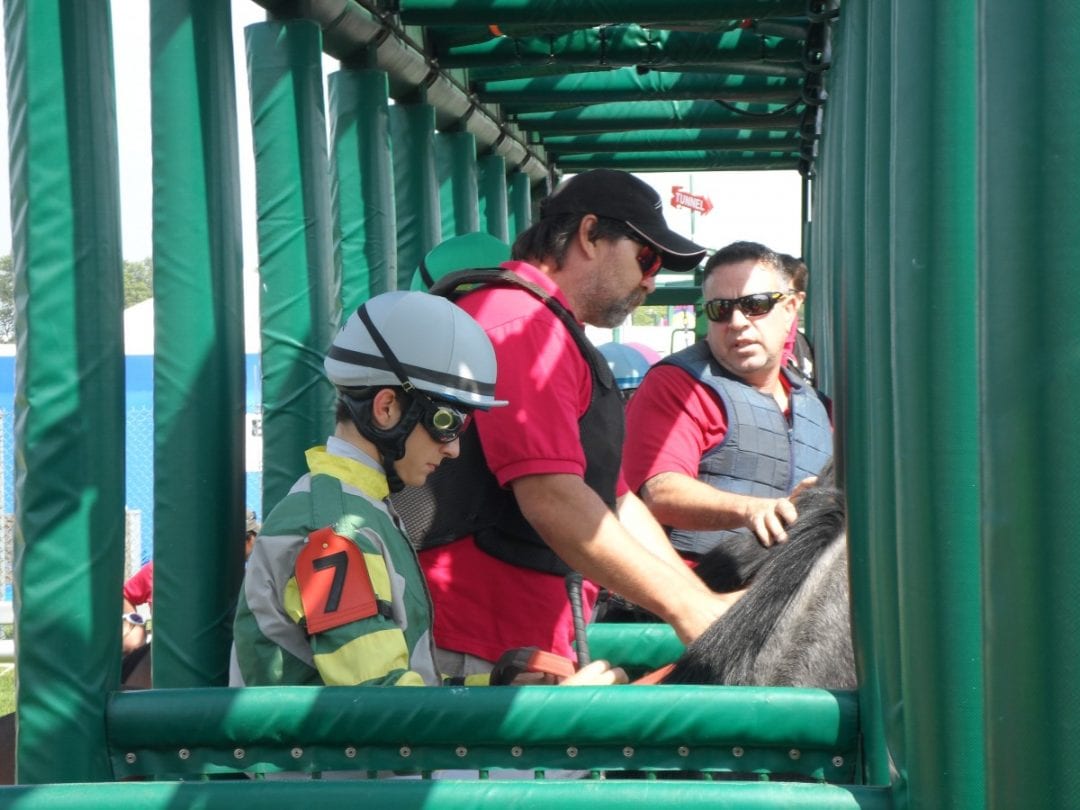 Dominic Garibaldi (facing) in the Pimlico starting gate in 2013. Photo by Teresa Genaro.
by Teresa Genaro
One day last August at Saratoga, Dominic Garibaldi was hanging out by the walkway that leads from the paddock into the clubhouse. In between races, especially when races start in front of the grandstand, it's the place you'll always find the gate crew, sitting on or leaning against the handrail, whiling away the minutes to post time.
In past years, Garibaldi, a long-time assistant starter at Saratoga, was dressed much like the crew was that day: red shirt, safety vest. On this day, though, he was dressed like the civilian that he's been for the last two years, enjoying a day at the races before taking his place behind the bar at Sperry's, a local restaurant, that night.
Garibaldi's life had been the peripatetic one so common in the racing industry: winters in Florida, at his Ocala home with his family; springs in Maryland; summers in Saratoga. But in March of 2015, that lifestyle came to an abrupt end.
That was when his roommate, an occupational therapist whom he described as "up on medical stuff," suggested that he take advantage of the Affordable Care Act to get caught up on routine preventive care. He'd recently turned 50, so as he prepared to leave Ocala and head to Maryland for spring racing, he got a colonoscopy.
He got the bad news in the recovery room: though the diagnosis wouldn't be confirmed until a biopsy was complete, his doctor was pretty sure that he had colon cancer.
"My daughter about hit the floor," said Garibaldi. "The Affordable Care Act saved my life."
So instead of preparing to work the gate at that year's Preakness—American Pharoah's—Garibaldi instead prepared for surgery and chemotherapy. The cancer had been caught relatively early, and by the end of 2015, treatment was complete. He was ready, in 2016, to resume his old routine.
But within weeks of his having completed treatment, out on his motorcycle one day in December, his plans evaporated when he lost control of the Harley. He woke up a month later.
"I lost six or seven weeks of memory," he said. "Everything was gone."
He had broken bones in his neck and his face and suffered from bleeding on the brain. Florida law doesn't require motorcyclists to wear helmets, and Garibaldi wasn't wearing one.
He came to at one point, and without talking to anyone, took off his neck brace, removed his IV, catheter, and breathing tube, and tried to leave his hospital room to go home. His doctors quickly put him back into a medical coma until he could breathe on his own.
"And then they strapped me to the bed for a week," he said.
Nearly two months after the accident, and close to a year since he'd first been diagnosed with cancer, Garibaldi went home. But he was hardly in any shape to resume his old professional life.
As Garibaldi was finishing his chemo treatments, trainer Tom Morley, who with his then-girlfriend, now wife Maggie Wolfendale had shared a house in Saratoga with Garibaldi, had given him some horses to train to get back on his feet. But a broken body and physical therapy put working with horses—or riding motorcycles—out of the question.
"He did some work for us last winter with our division in Ocala," said Morley. "He worked with my assistant Sarah O'Brien and basically fulfilled foreman duties, helping with young horses at the starting gate. His knowledge and experience were huge for us."
"He is a man who would drive halfway around the world with his last dollar to get you out of trouble," Morley added. "He has a heart the size of a lion."
Garibaldi had been working with horses since he was a teenager in New Jersey, getting his start as a hotwalker at Monmouth Park. He was a groom and an assistant trainer; he galloped horses. Ultimately, he found his spot working with horses in the gate.
"That was my passion," he said. "I liked the excitement. I like knowing that I'm there to help the horse to break good, and to help the riders."
At loose ends as the summer approached, he accepted the offer to bartend at Sperry's, not without some trepidation.
"I was nervous," he said. "I was scared. I'd never done anything besides horses."
And though he had lived most of his life on the road, since his cancer diagnosis he had stayed home in Ocala, near his children and grandchildren.
"I'd gotten really comfortable," he said. "I was scared to pack up and leave."
But as it has been for so many people for centuries, Saratoga proved therapeutic for Garibaldi.
"Physically and mentally, I got my confidence back," he said. "It pushed me to do more. The summer was a great boost for me, seeing all of my friends: trainers, riders, gate people. It was really good."
In the months since, he's needed to draw that on confidence, as he contemplates possible surgery on his neck and mulls returning to employment after two and a half years without regular work. He's done stints at some of the major farms in Ocala, including Stonestreet and Sequel, and with a friend he's trying to establish a new business, Breaking Good Stable, working with young horses, doing sales prep, boarding mares and foals, and working with layups and turnouts.
He hopes to return to both Maryland and Saratoga this year, but he's also content staying at home and playing with his grandchildren, even as he worries about what will happen with his insurance.
"I'm more of a Republican, and all my friends hate [the Affordable Care Act]," he said. "I can't say that. It's a headache, but if I didn't have that, I'd have nothing."
He doesn't know if he can return to working on the gate; as much as he'd like to, he knows that that's up to his doctors, and he doesn't want to be there if his body isn't ready. But Sperry's awaits this summer, and the horses in Ocala are starting, he said, "to trickle" in to his nascent business.
"Hopefully," he said, "by September, we'll be up and running."