Casey family affair looks set to thrive for years to come
Russell Road rallied late to nail Lucy's Bob Boy and score his third West Virginia Breeders Classic win in 2014. Photo by Jeff Brammer.
by Ted Black
Although their pursuit of equine excellence began over 50 years ago on a very small scale, the Casey family legacy has taken hold at Charles Town over the last 30 years, and the tradition appears set to continue for decades to come at the historic Jefferson County oval.
Family patriarch James W. Casey, who will turn 87 on March 11 and is still an active trainer, admits that his late wife was the horse person in the family. Although Casey's father was a veterinarian, the elder statesman of Charles Town racing and breeding commended his late wife, Eleanor Casey, for steering him and the family fortunes in the right direction.

"Eleanor was really the horse expert," Casey said. "Her family had horses when she was younger and after her father died when she was in the first grade, her family grew up dirt poor. But she always maintained her love of horses. She knew more about caring for horses and she had an eye for a good horse. She was always good at everything she did."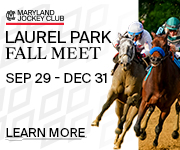 Casey and Eleanor, who passed away nearly 12 years ago, brought Taylor Mountain Farm into local prominence on the heels of the success that their homebred runner, Taylor Mountain, brought them courtesy of consecutive victories in the West Virginia Breeders Classic.
Taylor Mountain, a Dancing Czar horse, concluded his career with an 8-8-9 slate and career earnings just shy of $170,000.
While many owners, breeders and trainers might have been content to have one runner, especially a homebred, as good as Taylor Mountain, for the Casey family he was the beginning of a long line of success. Horses owned, bred or trained by a member of the Casey family continued to highlight the list of state-bred champions, especially on West Virginia Breeders Classics night.
But the family's success in racing and breeding began more as a hobby than as a livelihood.
"I taught and coached at James Woods High School for 32 years, so we really didn't get too involved in racing until after I retired," said Casey, who has saddled 1,022 winners from nearly 5700 starters whose career earnings are just shy of $18 million. "We had a horse win the Tri-State Futurity in 1963 and we got $39,000 for winning that race. That was almost eight times what I made teaching. So, we've been awful lucky in this game. You never know what's going to happen, but we've been lucky to have good stallions, good mares and good racehorses."
CASEY RUNNERS
Not long after Taylor Mountain propelled the Casey family into the forefront among local owners, trainers and breeders at Charles Town, other horses with family ties soon followed suit. It became commonplace to see a Casey trainee in the winner's circle following the featured Classic on West Virginia Breeders Classics night, with both sons, James M. Casey and John A. Casey, quickly enhancing the family legacy.
In fact, James M. Casey saddled his first Classic winner in 1991 when Nice Ainit scored, providing the bridge from Taylor Mountain's success to the next stage of the Casey family's triumphs. John Casey owned Nice Ainit.
On the '91 undercard, though, was a horse who would soon have a much larger impact for the family. Coin Collector won that year's Breeders Classics night two-year-old stake – then called the WV Lottery and Department of Tourism Breeders Classic, now the Vincent Moscarelli Memorial.
The Weshaam gelding would go on to take the big race, the Breeders Classic, in each of the next two years at ages three and four in 1992 and 1993. He concluded his career with a 12-5-5 slate and nearly $330,000 bankroll from 43 lifetime outings. Coin Collector won smartly in his June 9, 1991 career debut at Charles Town then won the Primers Breeders Cup at Laurel Park before finishing third in the Grade 2 Saratoga Special at the Spa.
"Coin Collector was a very good horse," said James M. Casey, a former jockey who rode his first winner on July 4th and later, as a trainer, saddled his first stakes winner on July 4th. "He won his first two starts easily and then finished third at Saratoga. He did really well as a two-year-old and he was still good at three and four. He helped get Weshaam noticed as a sire for my dad."
Coin Collector would not be the last talented runner that John Casey owned and despite his success, likely not the one with which he will always be linked. Down Town Allen, a Windsor Castle mare who dominated the distaff ranks at Charles Town for four years before eventually being euthanized following a racing injury two years ago, concluded her career with 25 wins and just over $1 million banked from 42 lifetime outings.
Down Town Allen was owned, bred and trained by John A. Casey. His girlfriend, Kristy Petty, a former jockey who won 181 races in 1,916 mounts in her career, was her exercise rider.
"Ever since my dad and brother got me involved in the business, I've done most of my work at the farm," said John A. Casey, a trainer, breeder, outrider and blacksmith who is still recuperating from open heart surgery in November. "I like being the hands-on part of the operation. I always enjoyed being a blacksmith. After my heart surgery, I'm probably three months behind breaking my two-year-olds. But they're coming along. Our family has done great up here. We always had horses growing up and it taught me a lot about this business."
While Down Town Allen dominated the local distaff ranks, another Casey runner took the measure of the West Virginia Breeders Classic field three times in a six-year span.
Russell Road, a Wheaton gelding who competed in nine seasons until being retired at the age of 10 last summer, vaulted to the head of the class in that category for trainer James W. Casey and owner Mark Russell. Russell Road won the Classic in 2009, 2011, and 2014, the last in determined fashion at age eight when he overhauled longtime rival Lucy's Bob Boy in the late stages to win by a half-length, He concluded his career with 31 wins from 62 starts and earnings of slightly more than $2 million.
"There was one West Virginia-bred that made more money," Casey said, referring to Soul of the Matter, a Grade I winner for trainer Richard Mandella and owner-breeder Burt Bacharach who earned $2.3 million and was second to Cigar in the inaugural Dubai World Cup. "But that horse never raced at Charles Town. Among the horses that raced here, none of them made more than Russell Road. He was a remarkable horse. He kept racing at a high level even at an old age."
In 2015 Russell Road may have passed the torch to stablemate Charitable Annuity for Casey and Russell when the latter won the WV Breeders Classic at age three in his first attempt beyond seven furlongs. Charitable Annuity, a son of the late Charitable Man, has won 13 of 22 starts and banked over $650,000 for Casey and Russell, including a second-place effort behind Slip The Cable in the 2016 Classic last fall.
"Mr. Casey has not only been a trainer for me for almost 20 years, he's been a great friend and a great teacher," Russell said last Saturday at Laurel Park when Charitable Annuity made his 2017 debut in the $75,000 Native Dancer Stakes won by Page McKenney. "We didn't have much luck early, but that changed quickly when Russell Road came along. We never expected to have one as good as him, but he was an amazing horse. Of course, we never thought we could win the Classic with anyone else and then along comes Charitable Annuity. He should have another good year this year. I've got his two-year-old full-brother, Eagle Pride, at the farm and we're hoping he's going to do well."
Russell Road was retired last summer and Charles Town held a brief retirement ceremony for the Wheaton gelding during the West Virginia Breeders Classics card, fittingly since the Casey trainee had run in the Classic seven consecutive seasons, from 2009 to 2015, finishing second twice in addition to his three wins. Charles Town has also named a stakes race in honor of Russell Road, an open event on the undercard of the Grade 2, $1.25 Charles Town Classic slated for April 22 this year. It was an honor that both his owner and trainer found exceedingly complimentary.
"Russell Road won races at several tracks and at several different distances," Casey recalled. "When we brought him back from Mountaineer Park, we thought we might have to stop with him. We thought about running him one more time on Classics night, but we didn't want to take a chance. That horse was so good to me and Mark Russell, we figured it wasn't worth the risk… It probably wasn't easy for him to retire from racing, but we felt like we had to stop with him."
"It's great that they named a race for him," Russell said. "It's quite an honor and I know we're already looking forward to being there for that race. Mr. Casey always did right by that horse and that's why he raced so well for so many years. The Caseys have done very well over the years. They mainly breed and race their own, and it's been enjoyable for me to be a part of their success."