Best description of Cathryn Sophia? Racehorse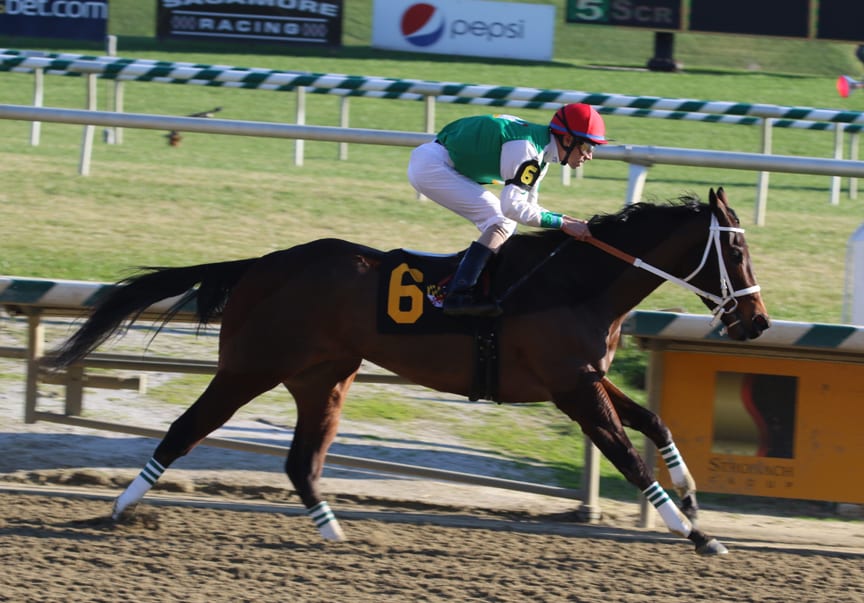 Cathryn Sophia's first stakes win came in the Gin Talking at Laurel Park. Photo by Laurie Asseo.
by Frank Vespe
Before anything – before the Davona Dale, before the Kentucky Oaks, before she was named Mid-Atlantic Thoroughbred/The Racing Biz Top Midlantic-bred of 2016, before the impending date with Pioneerof the Nile – Cathryn Sophia was just another decently-bred filly with a little bit of talent.
"I don't think you'll be disgraced if you come" to see her run in her career debut, trainer John Servis told Chuck Zacney, whose Cash Is King LLC owned Cathryn Sophia during her racing career.
Zacney came and definitely was not disgraced.  Cathryn Sophia won her career debut, at Parx Racing, by 12 ¾ lengths.
"Before she ran, I thought she'd run very well," Servis said recently.  "I had no idea she was going to be as good as she was."
"She was an incredible racing talent," agreed breeder Bob Manfuso.  "But it's hard to measure how much they want to be a racehorse."
With Cathryn Sophia, the answer was that she very much wanted to be a racehorse.  "As competitive as can be," Manfuso called her.
"Very gritty," Servis added.  "A true campaigner."
Cathryn Sophia made nine starts in her career – seven of them in 2016 – and never finished worse than third.  She won the nation's premier event for three-year-old fillies, the Grade 1 Kentucky Oaks, and a pair of Grade 2 events, and she earned more than $1.2 million.
Not bad for a Maryland-bred Street Boss filly.
Cathryn Sophia's dam, Sheave, by Mineshaft, was unraced.  But it's clear that the talent of her second dam flowed all the way through to her.  Belterra, by Unbridled, won the Grade 2 Golden Rod as a juvenile and finished third in the Grade 1 Ashland Stakes in 2001, behind the very good Take Charge Lady.
Manfuso sold Cathryn Sophia at the Fasig-Tipton Midlantic Fall Yearling Sale in 2014 for $30,000, a deal he says he does not regret at all because "that's our business."
While some Manfuso-bred runners, like multiple Grade 2 winner International Star, were bred in other states to take advantage of their lucrative state-bred programs, Cathryn Sophia was bred at home, at his and Katy Voss's Chanceland Farm in West Friendship, MD.
Manfuso says that is a direct result of recent developments in Maryland, including the state's muscled-up Maryland-bred program and improvements that the racetracks have made.
"The reason this filly is Maryland-bred is what's going on here," he said.  "You have to have end users."
"I was looking for a Maryland‑bred horse in 2014," Zacney said after winning the Kentucky Oaks.  "Went to the Fasig‑Tipton sale and picked her out. She wasn't a big filly, but she was athletic. And we got her for $30,000. And what a bargain today!"
Indeed.
Prior to that race, there were questions of whether Cathryn Sophia could successfully navigate the Oaks distance of 1 1/8 miles.  Her two prior graded wins – in the Grade 2 Forward Gal and the Grade 2 Davona Dale – had both come at one-turn distances at Gulfstream Park, seven furlongs in the former and one mile In the latter.
In her first two-turn try, in the 1 1/16 mile Grade 1 Ashland Stakes at Keeneland, Cathryn Sophia had made a bold move to the lead entering the stretch but tired to finish a close-up third.
She went off In the Oaks at 4.70-1, the second choice in the field of 14.  But Servis, her trainer, was confident.  He'd had prior success on Derby weekend, conditioning Smarty Jones to win the 2004 Kentucky Derby.
"Her week leading up to the Oaks was like Smarty's week leading up to the Derby," Servis recalled.
On Oaks day, Cathryn Sophia surged to a dominating 2 ¾ length victory, one that secured her spot in the top rank of her division.
"Winning the Kentucky Oaks is an incredible thing," Manfuso said.  "Winning the Kentucky Oaks, she's got to be the number one horse [he has bred] to win that kind of a race.  Servis and his team did an incredible job."
For Servis, it was his first Oaks win – and his first Oaks starter.  "It was pretty awesome," he said.
Cathryn Sophia made three more starts following the Oaks, sandwiching third-place finishes in the Grade 1 Acorn and Grade 1 Cotillion around a romp in the $150,000 Princess of Sylmar Stakes at Parx Racing.
But the Cotillion was a disappointment to Servis and the filly's connections.  She was beaten a dozen lengths by winner Songbird and a half-dozen by runner-up Carina Mia.  It wasn't the way Servis wanted to head into the Breeders' Cup, and so the decision was made to sell her at Fasig-Tipton's Kentucky Fall Mixed Sale this past November.
Chuck Zacney's $30,000 purchase had turned into a millionaire, and then a $1.4 million sale.  New owners SF Bloodstock are sending her to be bred to Pioneerof the Nile.
Servis called Cathryn Sophia the second-best horse he has trained, behind dual-classic winner Smarty Jones.
"She carried some issues with her," he said admringly.  "She ran through a lot.  She was a racehorse."