Page McKenney set for comeback in Native Dancer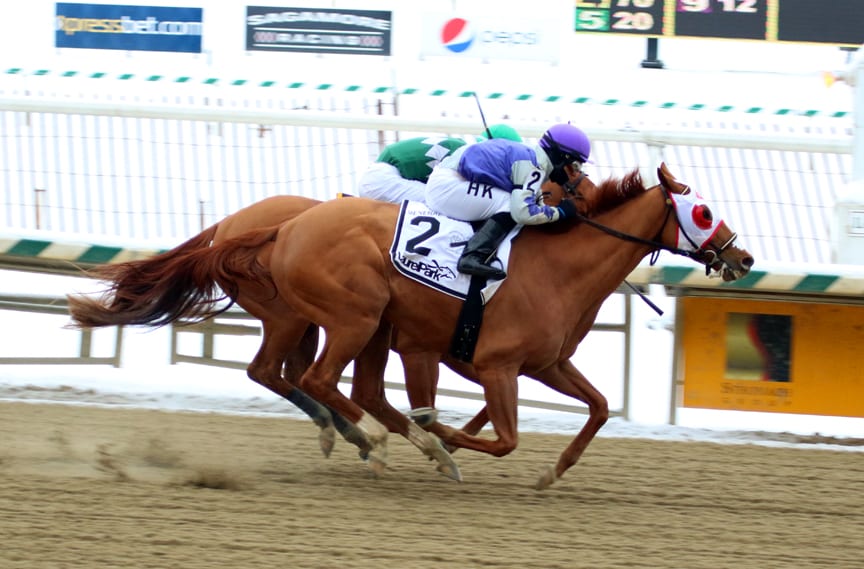 Page McKenney's most recent win came in the 2016 Grade 3 General George. Photo by Laurie Asseo.
From a Maryland Jockey Club release
Grade 3-winning gelding Page McKenney, one of the most popular and successful horses on the Mid-Atlantic circuit, will make his 44th career start and first in nearly nine months in Saturday's $75,000 Native Dancer at Laurel Park.
The 50th running of the Native Dancer for 4-year-olds and up at about 1 1/16 miles is one of four stakes worth $300,000 on the nine-race program, joined by the $75,000 Frank Whiteley Jr. and $75,000 Marshua for sophomores and the $75,000 Nellie Morse for fillies and mares 4 and older.
Now 7, Page McKenney has been steadily working his way back from swelling in a tendon that forced trainer Mary Eppler to scratch him the morning of the Pimlico Special (G3) last May. He raced only three times in 2016, winning the Native Dancer and General George (G3) and finishing second in the Charles Town Classic (G2).
He underwent ultrasound shock therapy on his leg and spent two months using an aquatred at Nor Mar Farm in northern Maryland before returning to Eppler's barn in October. Page McKenney has breezed seven times since late November, most recently going five furlongs in 1:01.40 at historic Pimlico Race Course.
"He's been the same as he always is. He's a very laid-back horse," Eppler said. "He's been doing the aquatred several different times since I've had him. He's used to it and he's used to that farm. Sometimes between races I'd send him up there. One of the things I like about the aquatred is that you can come back and pick right back up with them."
Co-owner Adam Staple said the swollen tendon was actually the byproduct of a hip issue that developed following the race at Charles Town.
"Our chiropractor discovered after his tendon kind of flared up a little bit that all the heat and all the pain was coming out of his hip, so it changed his gait leading up to the Pimlico Special and trickled down," he said. "If you think about it, when your hip's out or your back's out, it changes the way you walk.
"The vets put it on a scale of two out of 10 as far as severity. It wasn't like it was a fully bowed tendon, it was just inflamed and that's the worst it ever got," he added. "The treatment was great. There wasn't a speck or trace of any kind of damage at all. We couldn't have been luckier."
Claimed for $16,000 out of a sixth-place finish July 20, 2013 at Penn National, Page McKenney has gone on to win 15 races, nine of them in stakes, and $1.38 million in purse earnings from 30 starts. He has finished first, second or third in 24 consecutive races dating back to May 2014.
"We feel like the way his attitude is and the way he's been healthy, physically and mentally, the entire time that this could be a Ben's Cat all over again, as long as we're careful where we place him when he gets older," Staple said. "He's one of those horses that doesn't want to be at the farm. He wants to be at the track. He loves the attention, he loves to watch training. He's a unique individual that way.
"It's so exciting to have him back," he added. "If we could get the same Page McKenney back, that's what we're hoping. It may not be in this race, but it is a chance to get him started again and give him a foundation. We've already been very lucky with him and we consider ourselves the luckiest people on earth to have him."
Eppler has been pleased with Page McKenney's training leading into the Native Dancer but is unsure what to expect first time out. The longest gap between races under Eppler was 4 ½ months from December 2013 to April 2014.
"I don't know, because I've never given him that long a layoff and he is older, but it's great to have him back. I'm glad he's back and he's doing well," she said. "It think it's been very uplifting for the whole barn."
Page McKenney will 120 pounds including carry regular rider Horacio Karamanos from Post 4 in the field of eight.
Also making a comeback in the Native Dancer is Vina Del Mar Thoroughbreds and Black Swan Stable's multiple Grade 3 winner Kid Cruz, unraced since finishing fifth in the Birdstone Stakes last August at Saratoga.
Trainer Linda Rice gave the 6-year-old son of Lemon Drop Kid some time off before bringing him back, and he shows four works over Belmont Park's training track for his return, including two sharp breezes this month.
"We gave him a break from training. He just wasn't up to par so we turned him out for 90 days. I felt like he was a little dull and I thought it would be good to turn him out and have a freshener," Rice said. "We're pretty pleased with his return. I think he's going to need a race, but hopefully he'll put in a good performance and we'll move forward from there."
Kid Cruz's last win came in the Excelsior (G3) last April at Aqueduct. He also won the Dwyer (G3) in 2014 during a 3-year-old campaign where he won the Private Terms and Federico Tesio in Maryland and was eighth in the Preakness (G1). In addition to the Private Terms, Kid Cruz won the John B. Campbell Stakes last February in his only career starts at Laurel.
"He's run well on that track and it's part of the reason why we wanted to run him there and get him started, because he has raced quite well at Laurel," Rice said. "We realized that there was a chance when we stopped on him that maybe we wouldn't get him back going again but from what I've seen in the morning I've been pretty pleased with the way he's training. It would be exciting to see him going another year."
Maryland's leading rider in 2014 and 2016, Trevor McCarthy will be aboard Kid Cruz from Post 7.
Grade 3-placed Bodhisattva, the 2015 Tesio winner that also ran eighth in that year's Preakness; multiple stakes winner Charitable Annuity, a winner of two straight and five of his last six; stakes-placed Jeezum Jim, on a three-race win streak; Red Dragon Tattoo, unbeaten in three career starts; Warrioroftheroses, third in last year's Native Dancer; and Cosmic Destiny complete the field.