Irish War Cry carries Haskell line to Marylander win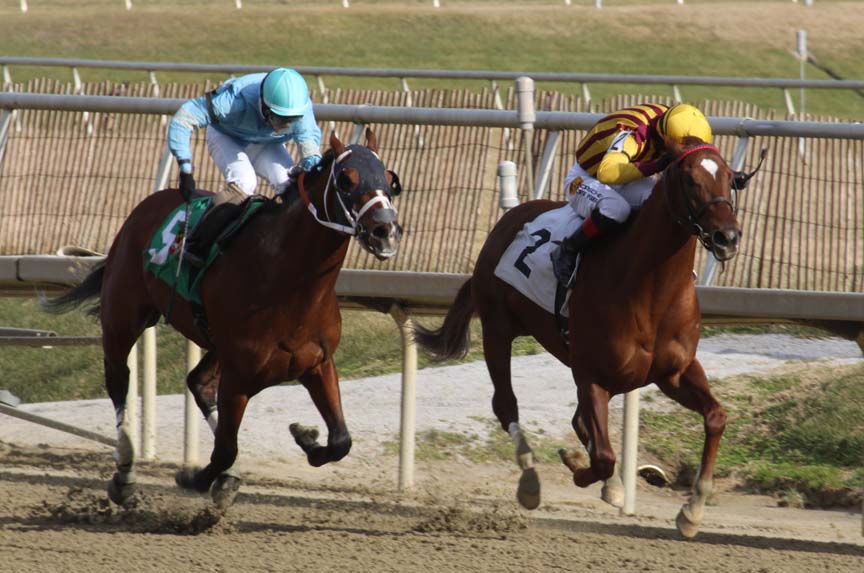 Irish War Cry (inside) outdueled O Dionysus to win the Marylander Stakes. Photo by Laurie Asseo.
by Frank Vespe
The phone rang, then stopped.
Then it rang again.
Isabelle Ellis, clutching the winner's plate in the Laurel Park winner's circle, laughed.  Her aunt, Isabelle Haskell de Tomaso, was calling from Florida, and calling again.  Isabelle de Tomaso, 86 years young, had important — and urgent — business to discuss with her niece, representing the family in central Maryland.
Irish War Cry, a fancy two-year-old son of Curlin she bred and owns, had just outdueled O Dionysus to win the $100,000 Marylander Stakes at Laurel Park.  Irish War Cry, trained at Fair Hill by Graham Motion, now has two wins from two starts.
And the sky appears to be the limit.
"He's open to a lot of improvement," said jockey Feargal Lynch.  "I've rode a lot of Grade 1 horses, and he's right up there."
Irish War Cry cruised to a four-length win over maiden special weight rivals at Laurel Park in his debut, in November.  That impressed bettors enough to make him the 3-10 favorite in the Marylander.
But Irish War Cry had benefited from an outside bias in that win, and the company he was facing here — including stakes winners Undulated and O Dionysus and the stakes-placed Two Charley's — figured to provide a substantially stiffer test.
Irish War Cry broke sharply to contest the early lick of Undulated.  Those two raced heads apart through a quarter mile in 23.90 seconds, with O Dionysus — winner of Parx Racing's restricted Christopher Elser Memorial Stakes prior to a disappointing fourth in the Maryland Juvenile Futurity — perched in a perfect spot in third.
Rounding the turn, Irish War Cry disposed of Undulated, the second choice in the compact field of five.  But soon after, O Dionysus loomed a threat to his outside.
Those two fought it out for the entire stretch, and then had to await a lengthy review of the photograph before Irish War Cry was named the winner, by a nose.  It was 10 lengths back from O Dionysus, in second, to Undulated, who held third.  Running time for the seven furlongs was a sharp 1:22.71.
"He did have to work hard today," said assistant trainer Adrian Rolls.  "But I think he just got in front a little bit, started idling a little bit, [and] it took that other horse to come to him to make him dig in a little bit. It was a good effort."
A good effort — and one that's the product of generations.
Irish War Cry is one of just 117 registered New Jersey-breds of 2014 and is staking a claim to be the best of those.  While breeders have been deserting the Garden State in recent years — there were 401 registered New Jersey-breds as recently as the foal crop of 2007 — there are good reasons for Isabelle Haskell de Tomaso and her sister, Hope Haskell Jones, to remain there.
"Their father was Amory Haskell," explained Isabelle Ellis.  "They really believe strongly in racing in New Jersey."
Amory Haskell was the founder and first president of the Monmouth Jockey Club, which kickstarted New Jersey racing in 1946.  Haskell today is mostly remembered through the annual running of his namesake race, the Grade 1 Haskell Invitational.
Irish War Cry is the product of generations of Haskell breeding.  She is out of the Polish Numbers mare Irish Sovereign, who was out of the Beau Genius mare Irish Genius, who was out of the Saint Crespin III mare Irish Trip — all three of whom were bred by Isabelle de Tomaso.
All in all, something of a New Jersey royal family affair.
Though the Haskell family no longer has a farm in New Jersey, they continue to foal their horses at Overbrook Farm, in Colts Neck, NJ, Ellis said.
How big an operation do they have?  "No comment," said Isabelle Ellis with a laugh.  "Too many [horses] to be commented upon."
"I can hear her shouting here," Ellis continued, speaking of her aunt.  "I think at this point she's just enjoying the fact that she has an undefeated two-year-old."
And one, perhaps, to carry the Haskell banner in major races in 2017.