Jevian Toledo on brink of second straight meet title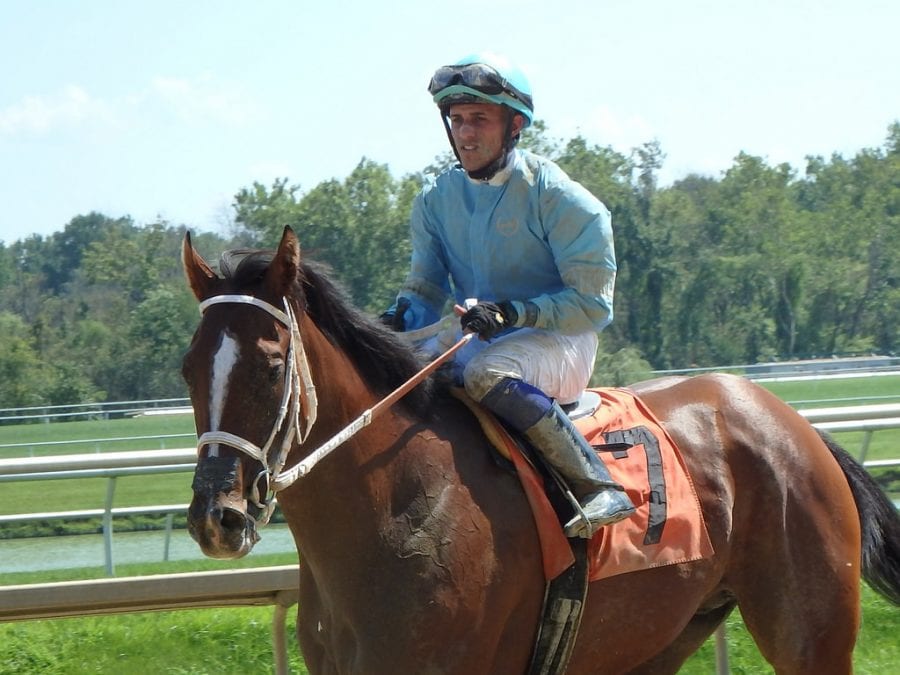 Jevian Toledo and O Dionysus. Photo by The Racing Biz.
From a Maryland Jockey Club release
Jockey Jevian Toledo's progression as one of Maryland's elite riders will be recognized again this weekend when he is formally crowned with his second straight meet title at Laurel Park.
Toledo, a 22-year-old native of Puerto Rico in just his fourth year riding professionally in the U.S., holds a 64-51 lead over Trevor McCarthy at Laurel's 52-day fall meet which concludes Saturday, Dec. 31.
It is the third career riding title for Toledo, Maryland's leading jockey with 141 wins in 2015. He led Laurel's summer stand that preceded the fall meet with 29 wins, and also captured Laurel's 2015 fall meet with 48 victories.
"It's been a very solid year for him," said Toledo's agent, Marty Leonard. "He's just a hard worker every single day. He goes out and works and never complains. He loves riding and he's got a great attitude, and people like him."
Attempting to defend his overall riding title, Toledo trails McCarthy by eight wins, 164-156, in Maryland this year. Toledo has already reached career highs in wins (187) and purse earnings ($5.69 million).
"This is my best year ever," Toledo said. "It is only my fourth year riding and I had a really good year. I had so many opportunities. I rode in the Preakness this year and rode in a few graded stakes. I had really good chances and the horses all ran good. I'm thankful for the owners and trainers that gave me those opportunities.
"I have to thank God because without him we wouldn't be here," he added. "My agent did a great job for me. I feel really blessed to have a great meet like that. When you ride a lot of horses and you know the track and you know the horses, you feel good and I think you ride with more confidence. It's been going good so hopefully we can keep it going."
Toledo's stakes wins at the fall meet came with Proper Freud in the Claiming Crown Express Preview and Name Changer in the Richard W. Small. He is named in five of nine races Friday and all nine on Saturday's program that includes five stakes worth $475,000 in purses.
He is named on O Dionysus (9-2) in the $100,000 Marylander, Sonny Inspired (20-1) in the $75,000 Jennings, Squan's Kingdom (4-1) in the $100,000 Gin Talking, Little Cyclone (20-1) in the $100,000 Thirty Eight Go Go and Chief Lion (5-2) in the $100,000 Dave's Friend.
"I am lucky to ride every race and I have a few good chances," Toledo said. "[O Dionysus] didn't run good last time but before that he won a stake at Parx and he's a pretty cool horse. He always tries. [Chief Lion] looks like a pretty nice horse, too. Hopefully we get lucky and cross the wire in front."