2016 in review: Two steps forward, but…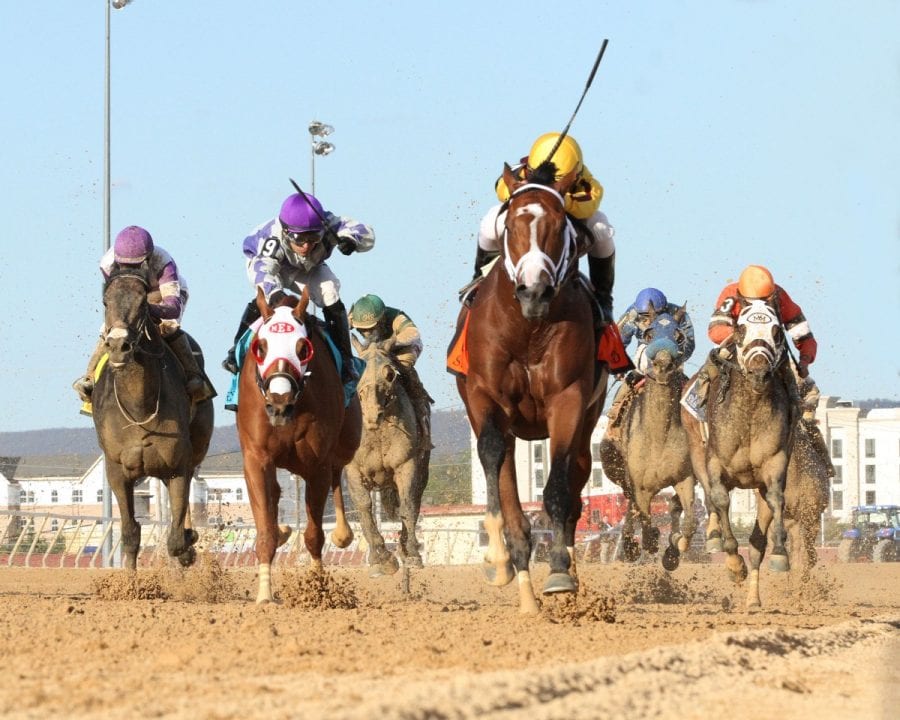 Stanford (center) leads them home in the Charles Town Classic. Photo by Coady Photography.
Herewith, the second of our four-part Year in Review in Mid-Atlantic horse racing, a look by turns personal, quirky and bemused at the year that was.
by Frank Vespe
Mid-Atlantic racing began to heat up in the second quarter of 2016, though in some ways it was a strange "two steps forward, one step back" lurch.
IN APRIL
In early April the Maryland Jockey Club issued a press release trumpeting trainer Marcus Vitali's decision to move his main operation to Laurel Park for the spring and summer – a decision that almost immediately became a liability. Vitali, trainer of multiple graded stakes winner Valid, turned out to have a bushel-full of pending positives from Florida and decided simply to surrender his Florida license.
In early May, the Maryland Jockey Club told Vitali they would not accept his entries unless he returned to Florida to face the music, and it wasn't much after that that Vitali – this time, with no accompanying press release – shifted his operation back to Florida. That ended the mid-Atlantic portion of his saga, though the tale continues.
Speaking of trainers with troubles, Ramon Preciado was busy in April. He appealed three different rulings against him. Two, totaling $7,500 in fines and 270 days worth of suspensions, were as a result of his horses testing positive for clenbuterol. The third was his appeal of Parx Racing's decision to eject him for three years.
Jockey Jevian Toledo completed one of the more unusual racing days in recent memory on April 9. The rider, who was at the beginning of what's turned into a career year, was in the midst of controversy in both the Federico Tesio Stakes – which granted automatic entry to the Preakness – and the Weber City Miss, which likewise provided the winner a free pass to the Grade 2 Black-Eyed Susan Stakes.
In the Tesio, Toledo, aboard Alan Goldberg trainee Awesome Speed, grabbed the early lead, retained command into the stretch and set sail for home. Governor Malibu, with Horacio Karamanos up, ranged up to collar him late, bumping him near the wire, before getting the late head bob. But following an objection by Toledo, the stewards took Governor Malibu down – he still has not won a stake, though he's now finished second in four of them – and placed Awesome Speed in the top spot.
That gave Toledo one stake win for the day, and one berth in a graded race over Preakness weekend.
Later on that same card, Toledo guided In the Navy Now to a win in the Weber City Miss, seemingly giving him two stakes wins and two graded berths.
Not so fast.
Under left-handed rousing by Toledo, In the Navy Now drifted out repeatedly in the stretch, herding the rallying A P Majetstic out in the process. After a length review, the stews decided to take In the Navy Now down and grant the win to A P Majetstic.
That meant that in two important stakes on the same day, Jevian Toledo won one via disqualification after finishing second – and lost the other via disqualification after finishing first.
"I guess everything happens the first time in life," the rider said.
Not all April results were so indistinct.
In the Grade 2 Charles Town Classic – the highlight of the racing season for Hollywood Casino at Charles Town Races – Todd Pletcher trainee Stanford teamed up with jockey Javier Castellano for a comfy, front-running score by two lengths over the popular Pennsylvania-bred, Page McKenney.
Stanford, loose on the lead, was able to carve out modest fractions en route to the winner's share of more than $700,000.
"Fantastic trip," said Pletcher. "He broke very well and got to the position we hoped for going to the first turn. He was on cruise control from there."
The business results for Charles Town's big day were also pretty clear. The all-sources handle of $4,424,047 was the second-highest in the track's history, trailing on the 2015 Classic program.
Speaking of business, a pair of moves designed to strengthen Maryland racing's future business prospects took place in April. A bill to revitalize the Washington, DC International – rebranded the Maryland International – galloped through both houses of the legislature with nary a neigh vote (sorry about that one).
"Laurel will never be completely back until we get the International back," said Tim Ritvo of the Stronach Group, which owns Laurel Park and Pimlico. If all goes according to plan, the first revived International – the former Grade 1 race was a staple of the national calendar from 1952 to 1994 – will take place in the fall of 2017.
In the same month, the Maryland Racing Commission agreed to a study by the Maryland Stadium Authority to analyze the current state of the Pimlico site, determine options for how to make it a viable long-term home for racing in general and the Preakness in particular, and to "guide the state in the extent of its potential support for renovating" Old Hilltop, according to Commissioner Bruce Quade.
"In my judgment, this is probably one of the most important items we'll be engaged with going forward," then-chairman John McDaniel said.
Finally, to close the month, the Congressional Horse Caucus called a meeting almost entirely comprised of supporters of HR 3084, the Thoroughbred Horseracing Integrity Act, which would create a "Thoroughbred Horseracing Anti-Doping Authority" funded by the racing industry and with vast and largely unfettered powers over the industry.
Not surprisingly, all of the proponents of the bill agreed that passing it was of the utmost importance. Also not surprisingly, the bill – opposed by the both major national horsemen's groups – didn't make much headway.
"I saw all kinds of crazy stuff," Rep. Ted Yoho (R-FL), a member of the Horse Caucus and veterinarian by trade, told the gathering.
Perhaps the craziest of all: imagining that consensus could be created by speaking only to those already in agreement.
THEN IN MAY…
For the most part, May's crazy stuff was limited to the racetrack.
Maryland-bred fan favorite Ben's Cat kicked off the month in style when he won a $52,000 allowance contest by a neck at Laurel Park. That win prompted King Leatherbury – Ben's Cat's octogenarian owner-trainer-breeder to proclaim, "He's back. The Cat is back!"
He was, too, at least for one more race. Ben's Cat doubled up in May, rallying through a seam on the rail to score a "had to see it to believe it" win in the Jim McKay Turf Sprint on Black-Eyed Susan day at Pimlico Race Course, a score that gave longtime race watchers chills. It also stands – for the moment, anyway – as perhaps the final of the 10-year-old's 32 career victories.
"It brings tears to my eyes when he runs a race like that," Leatherbury said after the race, and it brought an enormous smile to rider Trevor McCarthy's face.
Another Maryland-bred brought big smiles to the faces of her connections, too. Cathryn Sophia, a daughter of Street Boss bred by Bob Manfuso, posted an impressive victory, by nearly three lengths, in the Grade 1 Kentucky Oaks on the first Friday in May. It was her third graded win of 2016 and her first against Grade 1 rivals.
"I was looking for a Maryland-bred horse in 2014," owner Chuck Zacney explained. "Went to the Fasig-Tipton sale and picked her out. She wasn't a big filly, but she was athletic. And we got her for $30,000. And what a bargain today!"
The very next day, Nyquist won his eighth win without a loss in taking the Grade 1 Kentucky Derby in ultra-impressive fashion. That gave him not only roses but also what felt like a legit shot at a Triple Crown.
"He's a special horse," said trainer Doug O'Neill, prior to the Preakness. "When you get here in the morning, and you walk down the shedrow and you're able to look in his eye, you know you're right alongside greatness."
What we couldn't know, of course, was what came next. Nyquist, cooked in the early speed duel, faded to third in the Preakness on the third Saturday in May. Faced with similar circumstances in the Grade 1 Haskell at Monmouth Park in July, he was fourth. And in the Grade 2 Pennsylvania Derby in September, he was an indifferent sixth. The horse who began his career with eight straight wins, most in impressive fashion, limped to the finish line with three straight losses.
The primary beneficiary of his May travails was Exaggerator. The closer, held at bay by Nyquist in the Kentucky Derby, splashed past that rival near the head of the lane in Baltimore and went on to win going away by 3 ½ lengths. It was a triumph of brotherly tolerance for trainer Keith Desormeaux and jockey Kent Desormeaux, Keith's brother, who piloted Exaggerator.
It was also Keith's first return to Old Hilltop since he'd last had a string there in 1993, and the feeling were, well, complicated.
"I haven't really been around much yet," he said a few days before the big race. "But I'm getting a little flood of emotions I haven't figured out yet."
Also complicated was Preakness day itself. It attracted an announced crowd in excess of 135,000 and all-sources handle of more than $94.1 million.
But two horses died early on the card. First race winner Homeboykris, a nine-year-old Grade 1 winner who'd made his way down to the bottom but had been flourishing in starter allowance company for trainer Fran Campitelli, had a heart attack and died just after posing for the final win photo of his admirable career.
Three races later, promising four-year-old Pramedya was euthanized after breaking down on the track. It marked a stunning – and saddening – turn of events for Pramedya's owner, Roy and Gretchen Jackson's Lael Stables. Ten years earlier, their barn star, Barbaro, had come to Pimlico with Triple Crown aspirations of his own after romping in the Kentucky Derby but tragically broke down in the Preakness and eventually was euthanized.
Two major developments took place in the business of racing in May. The Stronach Group introduced Belinda Stronach, president and chairman of the board of the Stronach Group, at a series of events around the Preakness. There, she unveiled plans for the company's $12 million Pegasus International, which will take place at Gulfstream Park.
She also field questions from The Racing Biz about the state of Maryland racing, and her company's plans for the future.
Maryland is "really important to us," she explained. "Tim [Ritvo] is our key person on the job, our COO, and this is where he is spending the majority of his time to make sure we're running the best show that we can given the current facilities that we have. I know Tim has lots of ideas of how to make improvements here [at Pimlico] and also at Laurel."
And, following the Preakness, Fasig-Tipton's annual two-year-olds in training sale took place at the Timonium Fairgrounds. The sale – after a sluggish opening day – rallied to post record gross sales of $23,136,400.
"Today is what we had hoped yesterday would be," said Fasig-Tipton Midlantic Sales Director Paget Bennett near the end of the sale. "It was great, a lot more horses getting done."
Mid-month, longtime owner-breeder William Backer passed away. The 89-year-old Virginia resident bred and owned many good horses but was more widely known as an advertising industry titan – he penned many of the most memorable advertising jingles of the 1970s and 1980s – and champion of environmental causes.
And late in the month, a titan of an entirely different sort – 26-year-old Not for Love – also died, euthanized after a bout with colic. The son of Mr. Prospector was for many years the leading sire in Maryland and the mid-Atlantic.
AND IN JUNE…
The business end of racing took center stage in June in the mid-Atlantic.
In early June, West Virginia's Bill Cole, the Senate President who also was the Republican candidate for Governor, suggested slashing subsidies to horse racing. Cole's ultimate reward: he was thrashed in the general election by Democrat Jim Justice, who, sources say, has promised repeatedly and publicly to protect the racing industry.
In May and June, trainers in Maryland and Delaware received a spate of positives for glaucine, an alkaloid found in the tulip poplar tree that reportedly has bronchodilator and anti-inflammatory effects and is not on the permitted medications list of the national uniform medication program in effect in both states.
Trainers claimed that they had no idea where the glaucine came from, and the investigations by the state Racing Commissions and testing labs went on for some three months, prompting trainers to accuse the Commissions of foot-dragging. Eventually, all of the cases were ruled to be environmental contamination, allowing the winning connections to keep the wins and the purse money.
"They did the right thing," one of the affected trainers said after the Maryland Racing Commission's decision. "It's sad it took them four months, but I'm glad it all worked out."
Finally, at month's end, perhaps the year's strangest legislative fight of all began to brew in Pennsylvania. Legislation to reform the state's horse racing commissions passed earlier in the year had made changes to statutory language regarding payments of breeder bonuses, but those changes, the state Department of Agriculture said, left it unable to pay any bonuses at all.
A proposed legislative fix which passed a committee of the House of Representatives June 27 would not only have restored those payments but also increased them. But it encountered stiff opposition from an unexpected quarter: the Pennsylvania Horse Breeders Association, which maintained that the changes would bankrupt the breeding fund.
On the racetrack, speedy sophomore filly Catch a Glimpse took on the boys in the Grade 3 Penn Mile, and those boys barely caught a glimpse of her, as she rolled to a two-length win under Florent Geroux.
Apprentice rider Ashley Castrenze kicked off her career in style in April, winning on the first four mounts of her career. By mid-June, she'd racked up 11 wins from 28 starts – and also earned her first suspension.
"I know there's still a lot for me to learn," Castrenze said then. "I'm getting to know the other jockeys, and they let me know if I'm doing something wrong. I know I can't expect to keep winning at the pace I have thus far, but I feel if I keep working hard and paying attention, I can develop into a solid professional…"
Meanwhile, veteran rider Feargal Lynch, accused of race-fixing and passing along inside information when riding in Britain in the mid-2000s, was in the process of making, along with his brother, trainer Cal, Maryland his home and establishing himself among the upper echelon of Maryland riders.
Lynch finished fourth by wins during the Pimlico spring meet, just four victories behind meet leader Trevor McCarthy. He later was second in the Laurel Park summer meet, behind Jevian Toledo, and will likely end up third in the Laurel fall meet behind Toledo and McCarthy.
"I think there's big opportunities here," Lynch said. "Maryland is going the right way."
[su_box title="
SERIES TIMELINE
" style="glass"]
[/su_box]