Jockey Whitacre looking at long road back after spill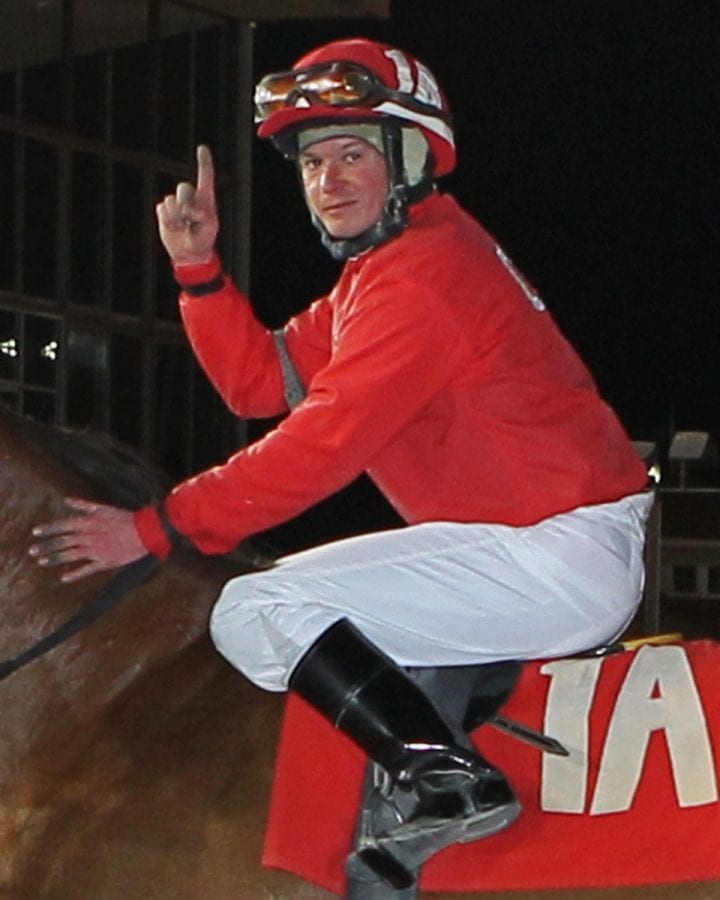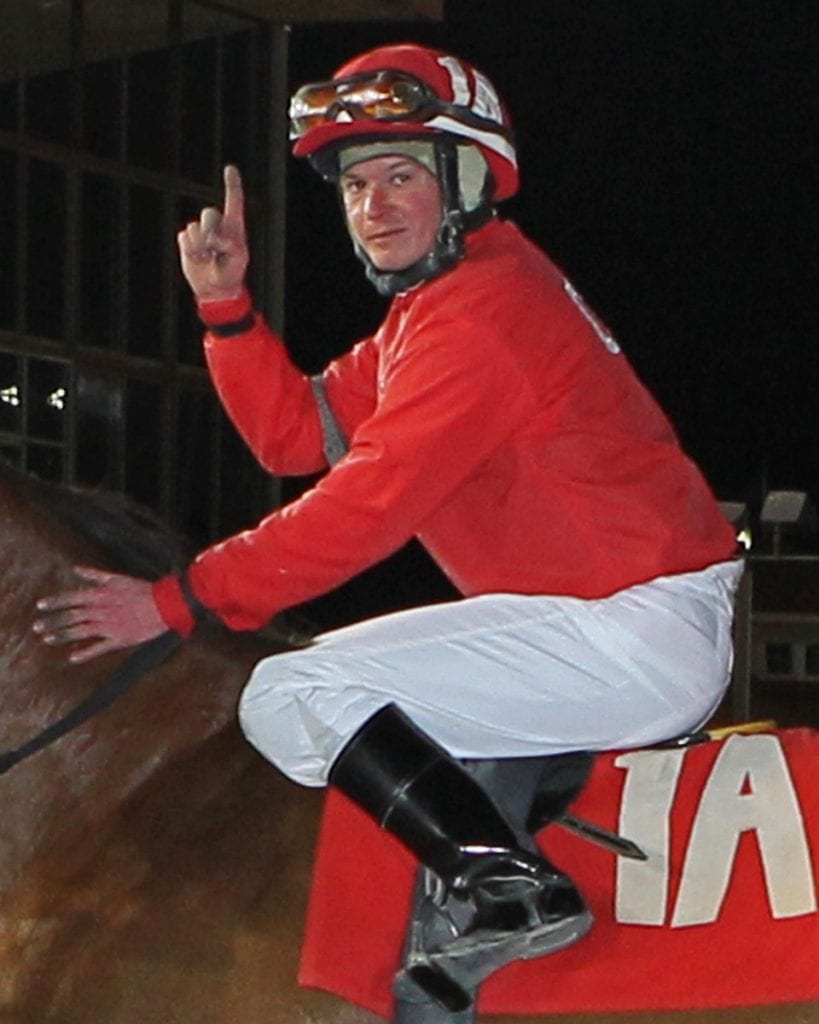 Brandon Whitacre. Photo by Coady Photography.
by Ted Black
Just over a week ago, jockey Brandon Whitacre and agent William Hurtt were already mapping out their respective plans for the winter, which would likely include racing at Charles Town and Mahoning Valley until the spring meet begins at Mountaineer Park.
But all of their preliminary plans were immediately curtailed after the running of the fourth race at Charles Town on Saturday, December 10, when Whitacre was injured in a spill turning for home when his mount, Army Bell, fell over Ullapond (Jan Batista), who went down shortly after clipping heels with leader and eventual winner Purer Than Silk.

Whitacre, who had booted home 56 winners from 615 mounts on the year with earnings just over $640,000, was immediately transported to Jefferson Memorial Hospital, where he was diagnosed with three cracked ribs, a damaged T-5 vertabra in his back and a punctured lung.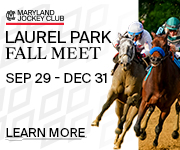 Whitacre hit the racing surface with such force that he was actually unconscious for 10 minutes, but he was not diagnosed with a concussion. He was kept at Jefferson overnight but left the next day to begin a recovery process that will likely keep him out of action until March.
"I'm looking at two to three months," Whitacre said in a phone interview on Saturday. "It will take me two months to really heal and then another month to get back into racing shape. I know that I can compete if I'm at least 80 percent healthy. But it's tough because your muscles dip to nothing pretty quickly when you stop using them regularly."
Whitacre, who won seven races at the recent Turfway Park meet, had actually recorded one of his first wins of 2016 when he guided Purer Than Silk to a length victory in a one-turn maiden special weight event for state-bred three-year-old fillies at Charles Town on Feb. 6 for owner-trainer Cynthia O'Bannon. Purer Than Silk had not won in 11 starts since, but she edged clear to score last Saturday after Ullapond clipped heels and fell in front of Whitacre's mount.
"I don't know if (Batista) tried to get through a hole that wasn't there, but that horse went down awkwardly," Whitacre said. "I didn't have enough time to get around her. My horse went down and I got thrown. If you look at the replay it looks like my horse flips and basically sits on top of me. I think she just missed me."
Batista was able to resume riding almost immediately.  Ullapond, Batista's mount, rose and completed the course, though, of course, without her rider.  Eventually, Army Bell also rose and was unsaddled.
Hurtt had already begun seeking to secure mounts for his two riders, Whitacre and apprentice Eder Martinez, at Mahoning Valley during the winter and then at Mountaineer Park in the spring. In fact, Hurtt was not on hand at Charles Town on the night of the spill, but was in touch with Whitacre soon after.
"When I heard about the spill I knew that it was pretty serious," Hurtt said. "But I was not able to watch the replay because they had already taken it down from the site [it has since been reloaded]. When I talked to Brandon he told me it was three cracked ribs and a small hole in one of his lungs. I was glad that it wasn't far more serious. He'll be out three months, but I know he'll be ready when he comes back."
Whitacre, 32, has won 706 races and his mounts have earned over $10.6 million from 6.207 starters since his career began in 2003. His best year occurred in 2004 when he booted home 141 winners from 918 mounts with earnings surpassing $2.4 million. Three years ago he recorded 92 wins from 837 mounts and $1.3 million in earnings, making 2013 his second best season as a jockey.
"I had a really good year in 2013, but the next year I got hurt in the starting gate at Mountaineer Park," Whitacre said. "The horse lunged forward to hard that my knee hit the gate and it tore through the silks and the long johns and tore the skin off to the bone. Ever since then I've been wearing cycle pads on my knees."
Brandon's younger brother and fellow journeyman jockey Grant Whitacre, who has won 35 races in 350 mounts this year and booted over just over 450 winners from more than 4,000 mounts on his career, is perhaps slightly more famous than his older brother since Grant had a cameo appearance as apprentice jockey Paul Feliciano, Jr., in the Disney movie "Secretariat" in 2010.
Feliciano had finished fourth aboard Secretariat in his career debut after being soundly bumped from both sides at the start. Feliciano then guided Secretariat to his first career victory in his very next start, although the movie implies that he was replaced by trainer Lucien Laurin, played by John Malkovich, and owner Penny Chenery, played by Diane Lane, by jockey Ron Turcotte after his career debut setback.
"I always kid Grant about that," Brandon said. "I tell him he must be pretty bad if he got Secretariat beat. But that was pretty amazing. He got to be in the same scene with Diane Lane and John Malkovich. Not too many people can say that."