Now what? When Sleepless was cheekpieceless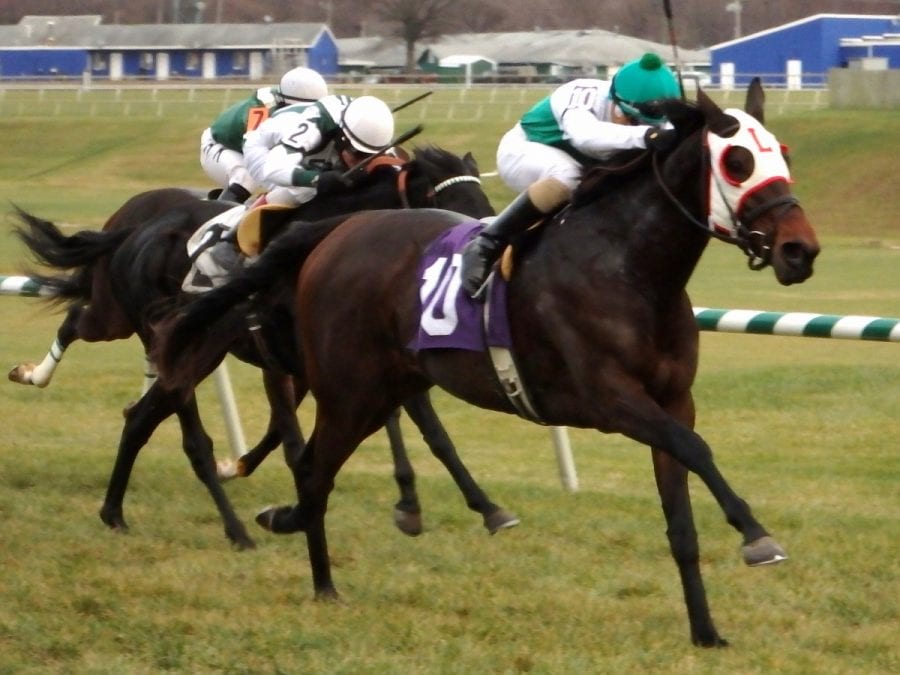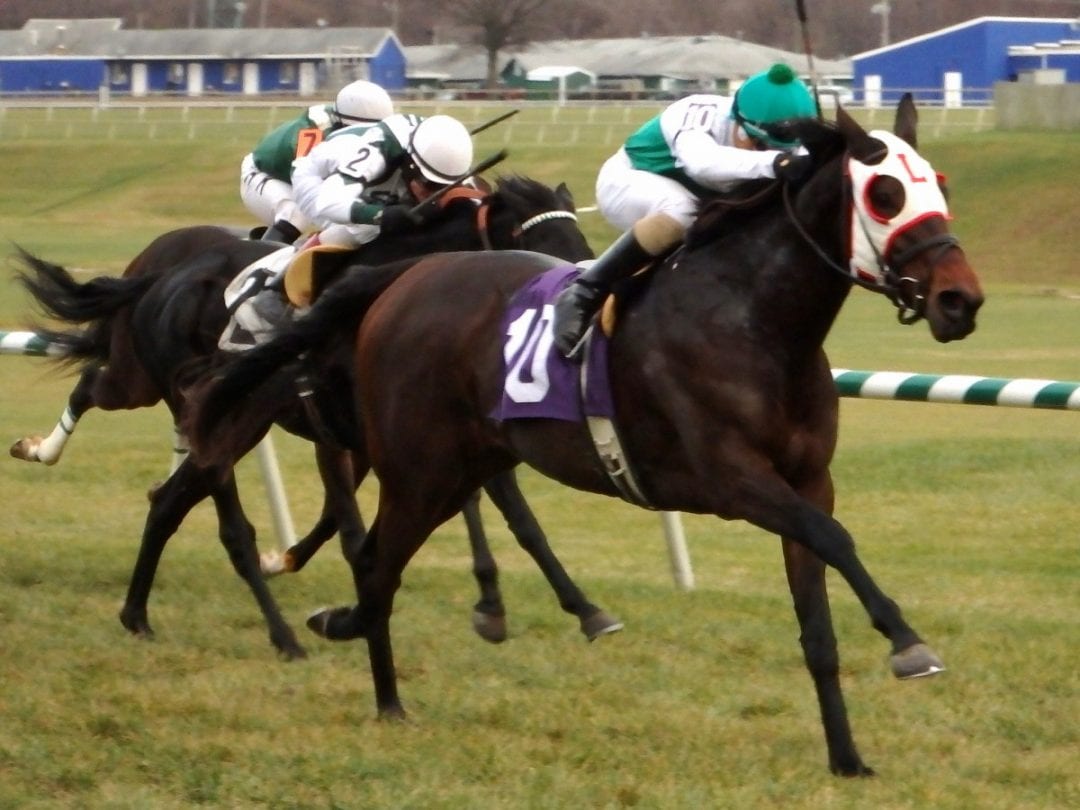 Why does Sleepless, a horse trained by Michael Dickinson and owned by Augustin Stable, wear blinkers with an 'L' on them? Funn you should ask. Photo by The Racing Biz.
by Frank Vespe
Call this one: why wouldn't the addition of blinkers be in the program?
Or: when is a cheekpiece a blinker?
Or: sometimes Plan B is better than Plan A.
Either way, it's what we learned this weekend at Laurel Park.
Two-year-old Sleepless, a Quality Road filly trained by Michael Dickinson, made the second start of her young career yesterday at Laurel Park, and she made it a winning one, breaking her maiden by 1 1/4 lengths under jockey Alex Cintron.
She's clearly a filly with some talent. In her debut, against the boys back in August, she was a near-miss second to Undulated.  Since then, Undulated has won one stake and placed in another one.  And yesterday, Sleepless was clearly best in taking down a field that included favored I Got the Boy, a Graham Motion trainee who was third in her debut.
Sleepless did not wear blinkers in her debut and was not listed as having them in the program for yesterday's race either.  But, a little before the race came the announcement that she would, in fact, wear blinkers.
Why?
It turns out that she was scheduled to wear cheekpieces, which are strips of sheepskin that are attached to the side of a horse's bridle.  They partially obscure the horse's rear vision, thus acting in a similar manner to blinkers.
But although Sleepless — based at Dickinson's Tapeta Farm — and Dickinson himself arrived at Laurel Park in good order, the horse's cheekpieces did not.
In Maryland, decisions to add or subtract blinkers (or similar equipment, like cheekpieces) from a horse's equipment must be approved first by the starter and then by the stewards and declared at the time of entry.  So when Sleepless was also cheekpieceless, her trainer could either scratch her or run her, at the stews' direction, in blinkers.
Blinkers it was, and the resultant win was certainly the outcome Dickinson and owner Augustin Stable was hoping for.  Next time? Well, the blinkers sure did the trick Sunday.