Bug rider Ocasio making quiet Eclipse bid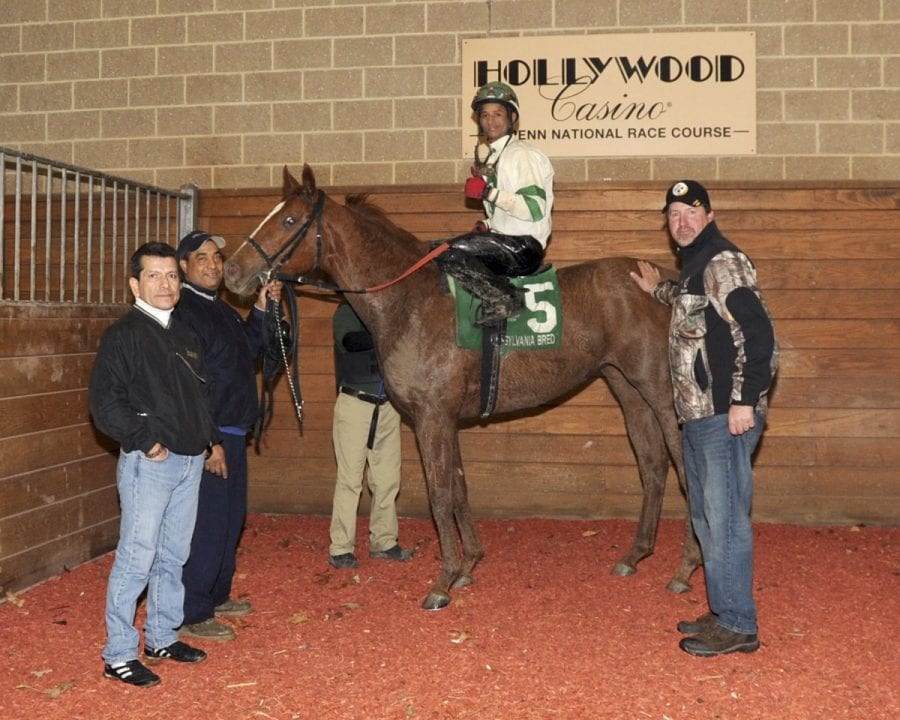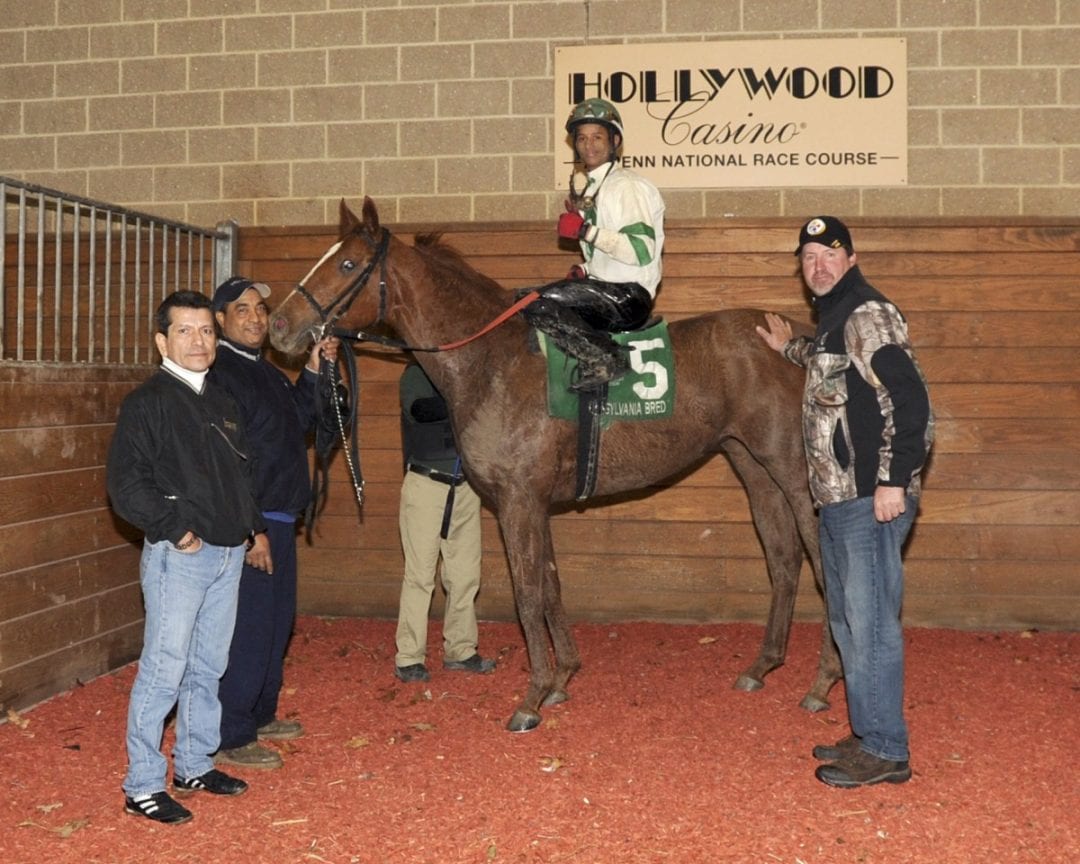 Luis Ocasio at Penn National. Photo by B & D Photography.
by Linda Dougherty
While he's still learning to master the English language, Luis M. Ocasio is letting his riding skills do the talking – and they're doing so pretty loudly.
Ocasio, 19, is one of the favorites to earn the 2016 Eclipse Award for outstanding apprentice jockey. Through racing of November 30, he's won 92 races from 517 starters, including 65 seconds and 76 thirds, and earnings of $2,413,899.
His nearest competitor, Lane J. Luzzi, has 85 winners from 687 starters through the same period, with 84 seconds and 87 thirds, and $2,124,417 bankrolled.
Luzzi, the son of veteran jockey Mike Luzzi, racked up those wins despite missing six weeks this summer with a broken collarbone. Based in South Florida, Lane Luzzi has won three stakes this year, while Ocasio is still looking for his first added-money victory.
A native of Canovanas, Puerto Rico, Ocasio does not hail from a family involved in horse racing. He was discovered at Hipodromo Camarero, where he began riding after graduating from Escuela Vocacional Hipica, Puerto Rico's state-run jockey academy, the same school from which top New York riders Irad Ortiz Jr., his brother Jose Ortiz, and Manuel Franco graduated.
"My father, who works at Camarero, told me about Ocasio," said Gersom Rodriguez, the bug-boy's agent. "Ocasio came to this country with me in March, and despite his late start he now has the most wins of any apprentice in the country."
Ocasio, who speaks little English but is now being tutored, lives with Rodriguez in Bensalem, Pa., not far from Parx Racing, where he has been doing the bulk of his riding by day. At night, Rodriguez has been booking him on mounts at Penn National, hoping to pad his lead over Luzzi. And soon, the pair hopes to make an impact during Aqueduct's inner-track season, once the big-name riders depart for Florida.
Rodriguez has been a driving force in the careers of many notable young Puerto Rican riders over the last 13 years, beginning with J. D. Acosta in 2002. The duo came to the United States and began riding at Delaware Park, sleeping on the floor in a backstretch room. Other apprentices he's jump-started include Angel Quinones, Jevian Toledo and Luis Garcia.
Acosta and Toledo, also graduates of Escuela Vocacional Hipica, both had their first Triple Crown mounts in this year's Preakness Stakes. Toledo is currently the leading rider at Laurel Park and was the second-leading rider at this year's Pimlico meet, while Acosta has posted 123 wins this year while splitting time among Charles Town, Parx Racing, and the Maryland tracks.
Another apprentice that Rodriguez has guided to success is Arnaldo Bocachica, who was an Eclipse Award candidate in 2007 and was the leading rider at Charles Town that year. Currently, he's the second-leading rider at the West Virginia oval with 142 wins.
Rodriguez also held the book of Luis Garcia as an apprentice, and he's gone on to win nearly 1,500 races and $32 million in purses, including two graded stakes. Angel Quinones, who was an Eclipse Award finalist in 2004, also was guided early by Rodriguez.
"I've had my share of really good bug-boys," said Rodriguez. "But this is the first time, with Luis Ocasio, that I have a really good shot at the Eclipse Award."
Asked to compare Ocasio with the other riders he's brought from Puerto Rico, Rodriguez said, "Acosta, Cruz, Toledo – they are all very strong finishers. Ocasio is different. You can't compare him to those guys. Style-wise, I'd say he reminds me of Ramon Dominguez. He's calm, not nervous or desperate during a race. He wins races in the first half-mile and his sense of timing is amazing. He gets good position, and saves his horse for the stretch drive."
While Rodriguez had initially targeted New York for Ocasio, who'll have his "bug" until April, after Parx Racing was set to shut down in late December, those plans changed once Parx indicated that, in a change from the last two years, it would not cease racing for several weeks but run three days per week in January and February (the exact schedule yet to be confirmed by the Pennsylvania State Racing Commission).
Rodriguez got a bit of a scare Nov. 4 when Ocasio was thrown from his mount, Bullheaded Boy, during a turf race at Aqueduct. Subsequent X-rays showed no broken bones, and Ocasio was back in the saddle the next day, winning his first race in New York when he booted home Will Did It in a starter allowance for owner/trainer David Jacobson.
"We'll stay in Pennsylvania for now," said Rodriguez. "We have a lot of business here, and we want to get as many wins as possible towards the Eclipse Award. Ocasio is very hard-working and the Eclipse would be a great boost to his career. I consider myself very lucky to have his book."