Wayson, Algeo to join Maryland Racing Commission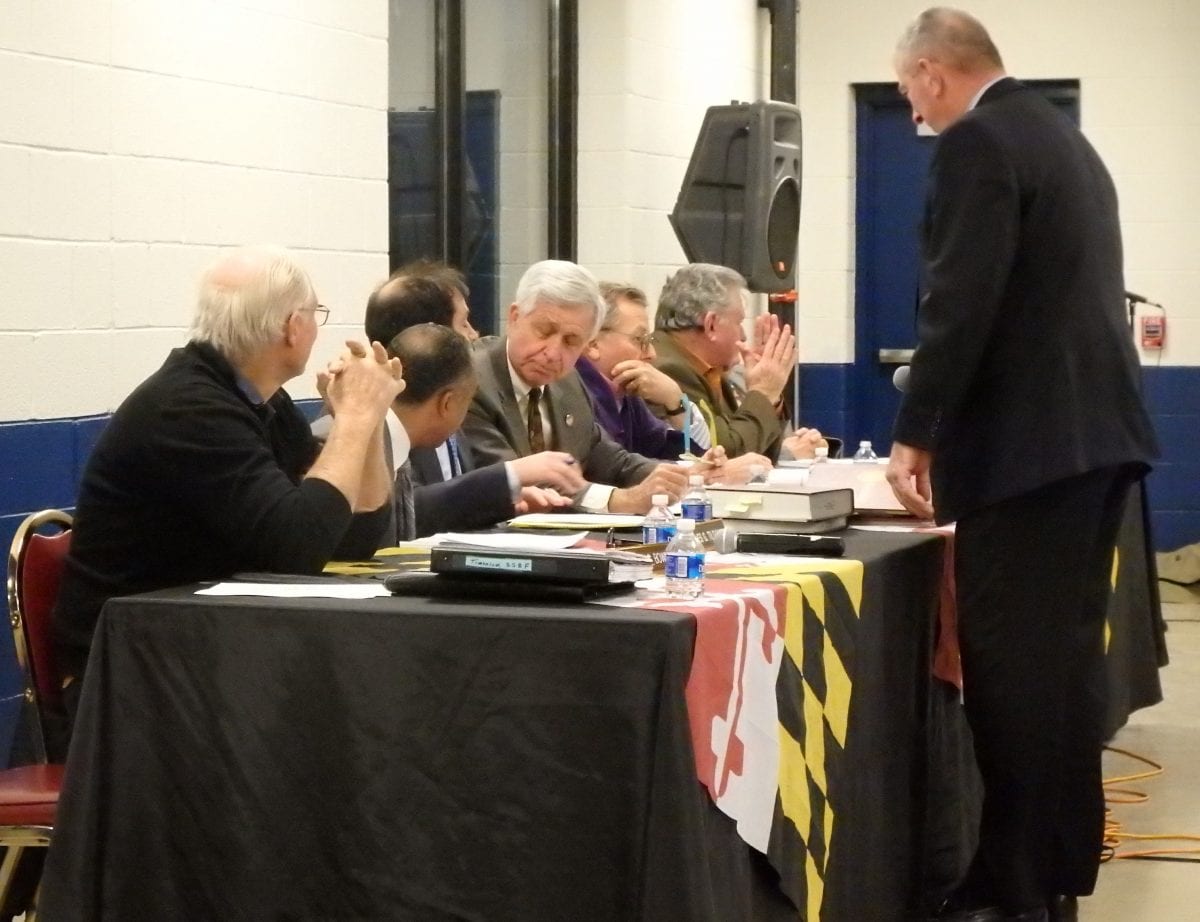 Maryland Racing Commission at work. Photo by The Racing Biz.
by Frank Vespe
Change is afoot on the Maryland Racing Commission.
Multiple sources told The Racing Biz Wednesday that Governor Larry Hogan (R) will shortly announce the appointment of horseman Konrad Wayson and retired judge Michael Algeo to the Commission.
Those appointments were confirmed by Commission Executive Director J. Michael Hopkins.
Wayson and Algeo will replace Commissioner Mary Louise Preis and Chairman John McDaniel, Hopkins said, with Algeo stepping into the Chairman's position in his first term on the Commission.
The moves mark another step in a significant alteration in the composition of the Commission.
McDaniel, the Chairman, was the longest currently serving member of the Commission, with a tenure spanning some 30 years.  Preis, a former state delegate, had served on the Racing Commission since 2008.
Former chairman Bruce Quade and commissioner Chuck Tildon also recently came off the Commission.  McDaniel and Quade, in particular, received plaudits from most of the state's Thoroughbred industry for their work to broker the 10-year agreement between the state's racetracks and its horsemen.
Wayson, a lifelong resident of Anne Arundel County, has owned horses since 2000, according to Equibase, winning 27 races from 199 starts, with over $700,000 in purse earnings.  He has attended several recent Commission meetings and on occasion expressed dismay over a condition book he claimed made it hard to find races in which to run his horses.
Formerly the president of Childs Landscape Contractors of Arnold, MD, Wayson has been on numerous boards, including the Anne Arundel County School Board, on which he served from 2002-2007.  The Baltimore Sun in 2002 described his family as having "deep, sprawling roots in Anne Arundel County."
Algeo served as an associate judge for the Montgomery County (MD) Circuit Court, 6th Judicial Circuit, from December 30, 2005, to June 30, 2014.   Before ascending to the bench in 1999, Algeo had served as team leader of the Felony Trial Unit in the Montgomery County State's Attorney's Office for 11 years, and also spent time in private practice with the District of Columbia law firm, Jordan Coyne and Savits.
A Vietnam veteran, Algeo has received numerous awards, including the Washington College of Law (American University) Distinguished Alumnus Award.