Trainer Delacour "can't wait for school to start"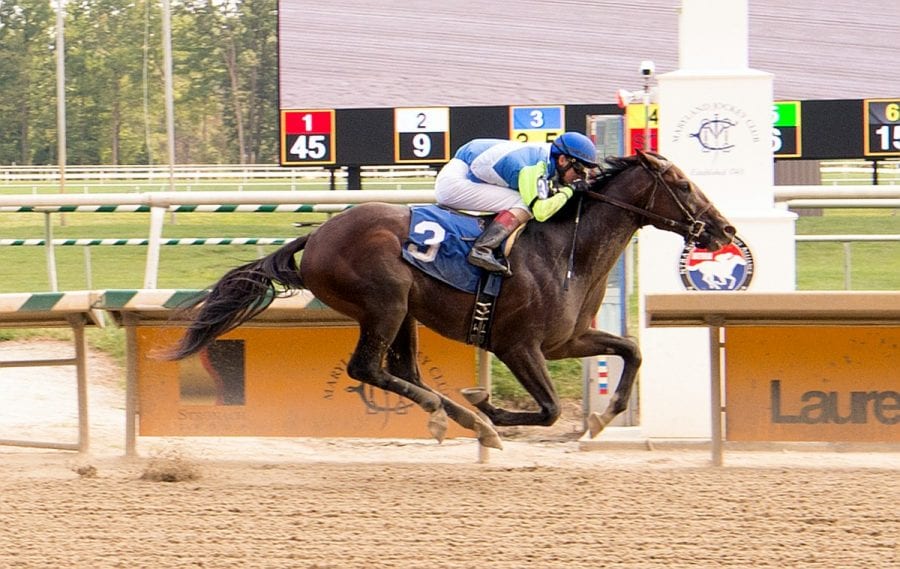 No Dozing won an allowance race at Laurel Park in September. Photo by Jim McCue, Maryland Jockey Club.
by Doug McCoy
Arnaud and Leigh Delacour began their public stable in 2007 with Leigh as the program trainer. Arnaud started as trainer of record in 2013. During that time the Delacour name has come to be synonymous with top-quality horses managed and trained with the emphasis on doing what's best not for the pocketbook but for the long-term health and well-being of the animal.
In the last three-plus seasons the Arnaud Delacour stable's win and earnings totals have risen steadily. In its second year, 2014, Delacour runners cracked the million dollar mark, earning $1.4 million while winning 36 of 183 starts for nearly a 20 percent strike rate. Last season the stable won 57 races, and their runners earned $2.2 million in purses. This year has been the best yet, with the stable having won 75 races while earning $3.2 million in purses with six weeks left in the year.
They also captured their first two Grade 1 victories, with the talented A. P. Indian taking both the Alfred G. Vanderbilt Handicap and the Forego Stakes.  For the season, A. P. Indian won four graded stakes and stamped himself one of the nation's top sprinters.
The Delacours first came to public prominence with Divining Rod, winner of the 2015 Lexington Stakes and third to Triple Crown winner American Pharoah in that year's Preakness Stakes, and with multiple Grade 3 winner Ageless.
But as much success and exposure as their older runners have given the operation, it's young horses who dictate the future of any stable, and it's the youngsters who have the Delacours excited.
"When we came back from Florida this spring, our stable totaled 70 horses and approximately 80 percent of those were young horses. It was by far the largest group of babies we've ever had." Delacour reported from his headquarters at Fair Hill late last week.  "We assessed them all and decided that we were going to give about half of those more time before putting them in training. In some cases it was to allow them to fill out physically, in others it was a case of them needing more time to mature mentally. And in some cases it was a mix of both.
"Just like people, every horse is different and you just have to let them tell you and show you how they're progressing," the horseman added.  "If you see one of our horses racing at two, you can assume he or she was a quick learner and had few interruptions in their training, or we wouldn't have brought them to the races."
Such was the case with No Dozing. The Union Rags colt won his first two starts at Delaware Park and Laurel Park in eye catching fashion then finished fourth behind the eventual winner of the Breeders' Cup Juvenile, Classic Empire, in Keeneland's Grade I Breeders' Futurity after a trip that had to be seen to be believed.
First No Dozing didn't get away in good order. Then he wound up well wide while moving up quickly through the first turn into the backstretch with his first move. The colt made a second move, again outside through the second turn and approaching the quarter pole was right on the flank of Classic Empire when that one went to the lead. Eventually the slow start, wide position and the labors of the premature move took their toll and No Dozing weakened in the drive to wind up fourth.
It was one of those races trip handicappers salivate over, and Delacour admitted No Dozing showed him a lot of gameness to carry on the fight as long as he did.
"You never know how young horses are going to handle going two turns, and as it turned out the race produced a Breeders' Cup winner," the trainer said.  "He was wide much of the way and didn't have a clean trip, so all things considered, I felt he showed he has the talent and determination to race with stakes level competition."
No Dozing returned to Fair Hill after the Keeneland race and his trainer says the colt has continued to mature and has been training forwardly.  "I really think he could be a special individual," Delacour said.  "I hope I'm right."
No Dozing will get his next test Saturday in the Grade 2 Remsen at Aqueduct and then head to Florida, Delacour said.
Delacour had a 3-year-old filly of exceptional quality this season in Dark Nile. The daughter of Pioneerof the Nile won four of her first five starts in 2016, topped by a game tally in the Grade 3 Delaware Oaks.  That win prompted her connections to give her a chance against Songbird and Grade I competition in the Alabama Stakes. Dark Nile faded badly in that race to finish seventh, and it was later discovered she had chipped a bone during the running of that race.
"She's at Winstar now and is doing well," Delacour reported, "We saw her when we were at Keeneland last month, and she looked great. Hopefully, she'll be back with us at Tampa and will be back racing mid-winter sometime."
Another filly who looks like she may have a bright future is Armoire. The Artie Schiller filly was a very impressive winner in her debut at Tampa last December but came out of that race with a small chip that required surgery to remove. Off until October of this year, Armoire returned to action at Keeneland in an allowance route going a mile on the turf and earned an 86 Beyer speed rating while posting a game head victory.
"She's still learning and gaining more seasoning but she certainly has talent," Delacour said of his charge, who most recently finished eighth in an allowance at Aqueduct after a rough trip.  "If she matures a bit more, I think she'll turn out to be a very nice horse."
Delacour said there are several babies among the group that will accompany the stable to Florida whom he feels could turn out to have bright futures.
"There's nothing like seeing young horses evolve and develop into successful, exciting race horses," the horseman admitted.  "I think we've got some horses with a lot of potential, now we'll go to Florida and see if that potential translates into success. I'm like a teacher with a class full of precocious children. I can't wait for school to start."