Tom Howard's epic month culminates in De Francis win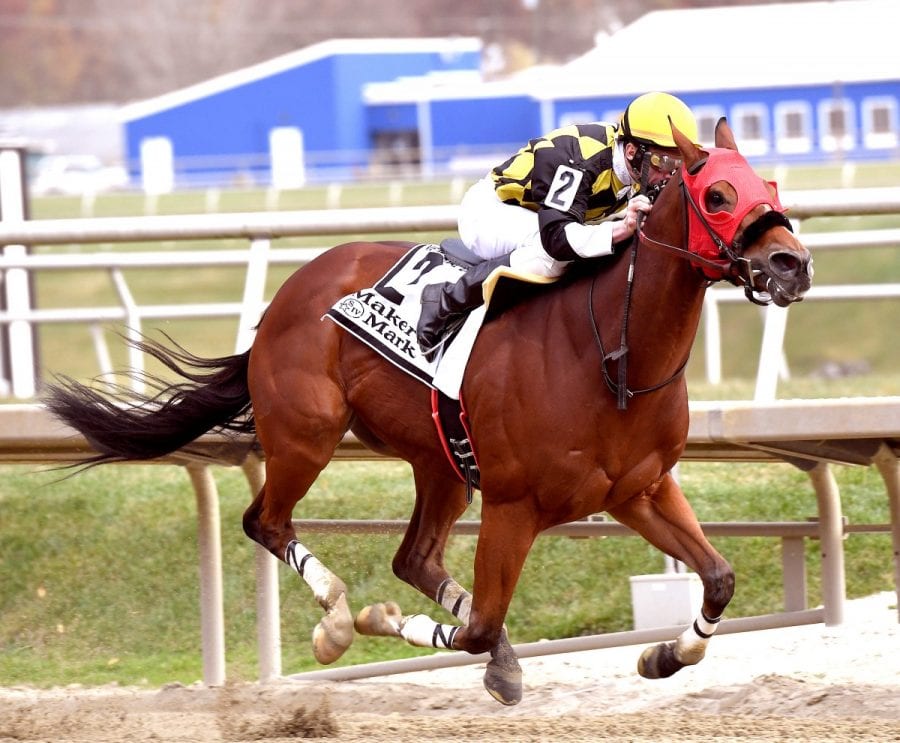 Ivan Fallunovalot won the G3 De Francis Dash today at Laurel Park. Photo by Jim McCue, Maryland Jockey Club.
by Frank Vespe
It's been quite a month for W. T. "Tom" Howard, and it didn't start well.
In mid-October, the 68-year-old received some bad news.
"On the 14th, they found cancer in one of my kidneys," he said.
But by this afternoon, 35 days after that dark diagnosis, Howard found himself all smiles in the winner's circle at Laurel Park.  Ivan Fallunolvalot, a six-year-old gelding he trains for Lewis Mathews, Jr., romped to a 4 1/2-length triumph in the Grade 3, $250,000 Frank J. De Francis Memorial Dash at Laurel Park.
It was just the second graded win of Howard's training career, which he said began in the mid-1970s, with quarter horses.  He debuted as a trainer of record for Thoroughbreds in 2003 and scored his prior graded win in the 2011 Grade 3 Arlington-Washington Lassie Stakes with Rocket Twentyone.
Despite its significance, though, the win might not have been the best news Howard received during the month.
Howard underwent an operation to remove the affected kidney.  He said doctors believe he's now cancer-free, and, "Everything looks great."
In fact, the cancer barely slowed him down.  He said he took just a week off from training for the operation.
"Quick as they took the catheter out, next day I got in my car and went to Oaklawn," the trainer said.  His horses, currently stabled at Remington Park, will soon be headed to Oaklawn, in Hot Springs, AR.
So, he's down a kidney — but up a horse he says may well be the best "of my life."
Ivan Fallunovalot, a Texas-bred by Valid Expectations, now has won four consecutive races and six of seven overall.  His lone defeat during that stretch came in last year's Grade 1 Breeders' Cup Sprint, in which he finished ninth after breaking a step slow and being steadied near the half-mile pole.
He came into Howard's barn back in March 2014, when Howard dropped a claim on him for $25,000 on behalf of owner Lewis Matthews, Jr.  Matthews asked Howard to take a look at Ivan Fallunovalot, and if the trainer liked him, drop the claim.
"He had shipped in the night before, and all the horses down at Oaklawn, the weather had been real nasty, cold," Howard recalled.  "They had hair, looked like bears. He comes in, he's sleek. He looked like he'd just come from the show ring."
He looked pretty good today, too, and he broke alertly to press just to the outside of the early pace of 1-5 favorite X Y Jet.  Those two led the field, sliced down to six after three scratches, through a quarter-mile in 22.34 seconds and a half in 45.79.
But Ivan Fallunovalot, under the recently unretired Calvin Borel, simply had too much for his rival, and surged away to win easily while running into a stiff late afternoon wind.
Local runner Rockinn on Bye made a spirited late run to grab second in the final jumps with X Y Jet holding third.  Running time for six furlongs was 1:10.07.
Borel had been Ivan Fallunovalot's regular rider until his abrupt retirement this past March.  In his last ride aboard the horse, the duo teamed up to win the King Cotton Stakes at Oaklawn Park, their second straight win in that event.
The De Francis was Borel's first win in a Thoroughbred stake since his return to riding in late August and first in this event, as well as his first visit to Laurel in a long time.
"It's been awhile since we were at Laurel," the veteran rider said.  "I told my girlfriend I think it was (2012) when I was last here."
If all goes according to plan, Borel and the horse they call Ivan will try for a King Cotton hat trick January.  That would be a good start to '17 for Howard's small barn, which he said typically numbers between 10 and 15 horses.
"I don't want more than that," he explained.  "I'm old and I don't like to work."