Claiming Crown preview builds (some) excitement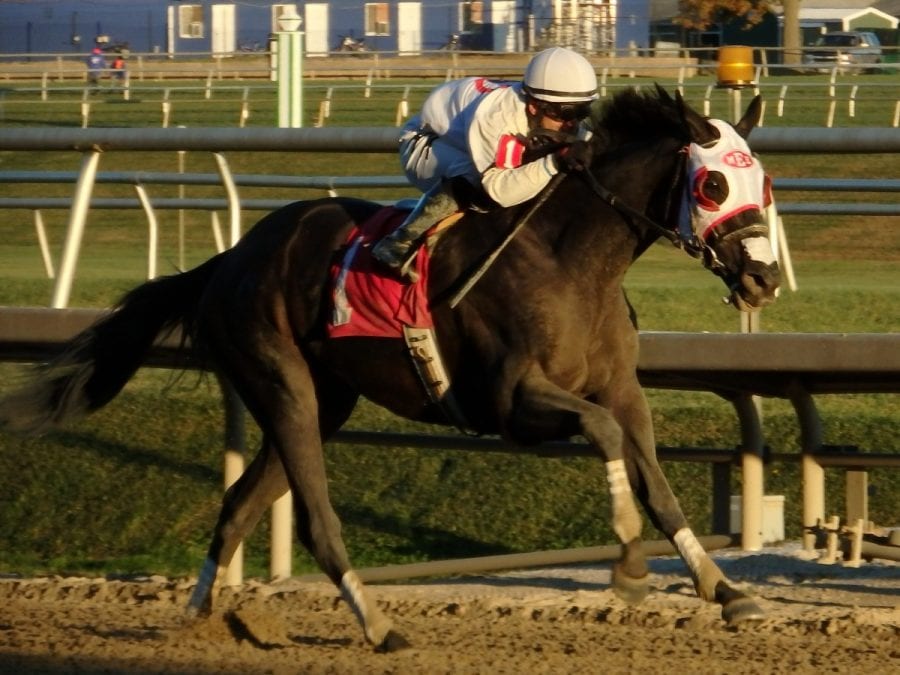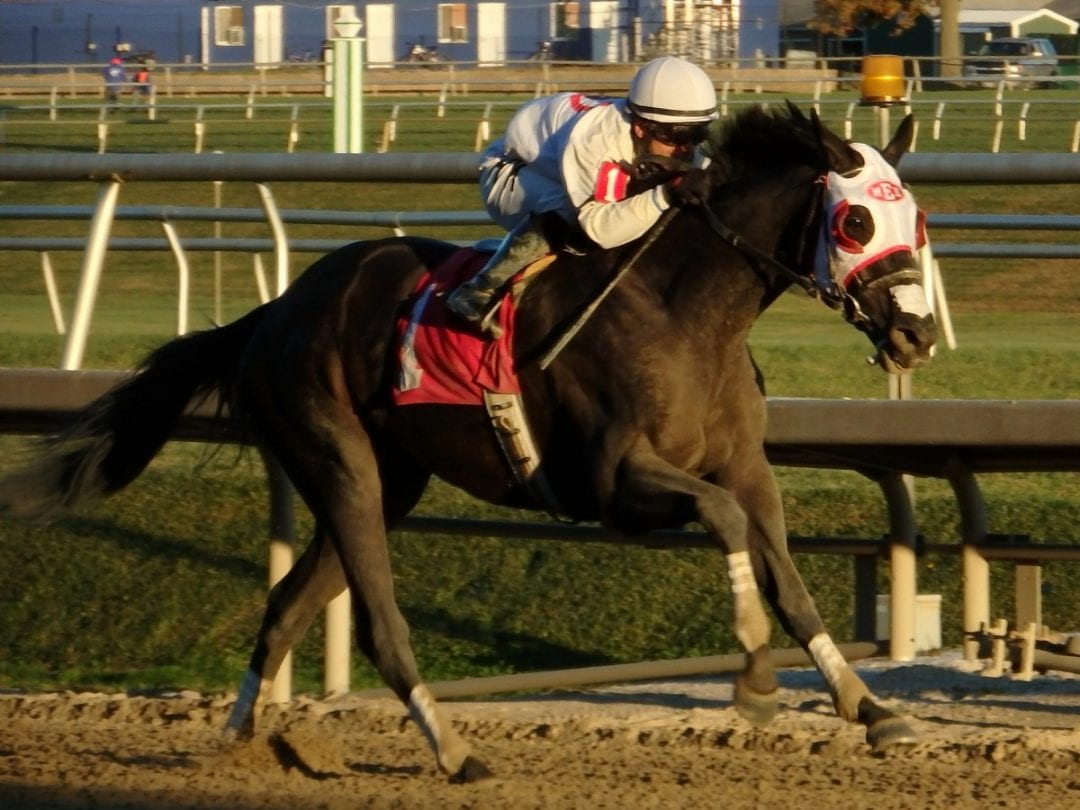 Double Whammy won for trainer Mary Eppler Sunday but probably won't head to Florida for the Claiming Crown. Photo by The Racing Biz.
by Frank Vespe
The Sunday crowd at Laurel Park was modest, and so was handle – off more than 10 percent in dollars wagered per race from the week before even though it was Claiming Crown Preview day.
But Eric Hamelback, chief executive officer of the National Horsemen's Benevolent and Protective Association (HBPA), which along with the Thoroughbred Owners and Breeders Assocation operates the Claiming Crown, was excited all the same.
"It's really helped racing in general," Hamelback said of the Claiming Crown.  "And for the horsemen that partake, it's become a special event."
The Claiming Crown, which began at Canterbury Park in Minnesota, will be held December 3 at Laurel's Stronach Group sibling Gulfstream Park. Sometimes known as the "blue collar Breeders' Cup," the Claiming Crown is a nine-race card of starter allowances with purses ranging from $110,000 up to $200,000.  As a result, it gives hard-knocking horses with ordinary connections the chance to run for stakes-level purses.
Sunday's preview day, the second at Laurel Park, offered automatic Claiming Crown entry and free shipping to Gulfstream for the winners.  Hamelback said that the "Win and You're In" model is starting to bear fruit for the event.
"It's built a tremendous amount of excitement," he said in the winner's circle following one of the races. "I can say that simply because we now have other racetracks that are wanting to do the same thing."
Hamelback said Kentucky Downs hosted two automatic berth races during its short turf meet this year and that two other tracks, including original host Canterbury Park, are interested in hosting "win and you're in" races.
"The interest in other racetracks now wanting to host a 'Win and You're In' for the Claiming Crown, that again shows what an event this has become," he added.
Trainer Lacey Gaudet certainly saw it that way.  She won three times on the card, with the suddenly-very-good John Jones taking the day's feature, a 1 1/8 mile dirt test with a $60,000 purse.  She said that all three of her winners were Florida-bound, if all went according to plan.
"Maybe this horse is just getting into himself," she said of John Jones.  "I can't really credit it to anything other than my team and the great work they've done — they've made him a very happy horse."
She added, "I think it's a sign that somebody wants me down in Florida for the winter."
Maybe so, but trainer Mary Eppler, whose Double Whammy took the nightcap by six lengths, wasn't feeling the same tug.
"Probably not," she replied when asked if her runner would be Florida-bound for the Claiming Crown.  Eppler, whose Page McKenney ran second in a Claiming Crown race a couple of years ago, said that Double Whammy just doesn't like the heat.  She added that it had led her to send him to the farm for a few weeks during the summer "just to get out of the heat.  He just didn't handle it."
He certainly handled the perfect fall weather on Sunday, grabbing the lead nearing the quarter pole and motoring home well clear of his opposition.
"I just wanted to see him run good, and he did," she noted.
As for what's next for Double Whammy, Eppler said she might consider a return to allowance company for him, or perhaps tackling starter allowance foes, where he has the look of a category killer.
"I have choices," she said with a laugh.
And what's next for the Claiming Crown?
Hamelback said the event has just renewed a three-year contract to remain at Gulfstream Park, with which he said his organization is "very happy."
And he said he hoped that Preview day would remain at Laurel Park.
"We want to keep it at Laurel," he said.  "I believe as long as they're [the racetrack] able and willing to continue doing it with the horsemen here, it will continue."