PA-bred Finest City delivers "everything" in Filly and Mare Sprint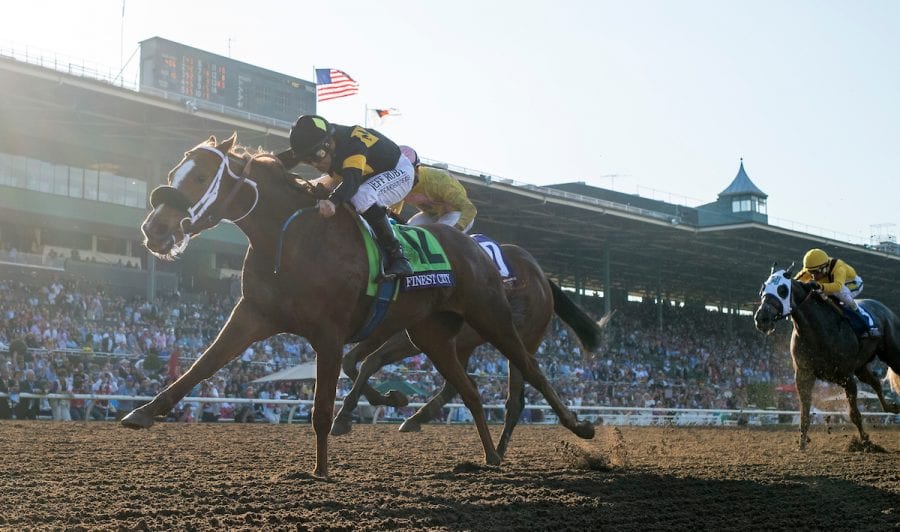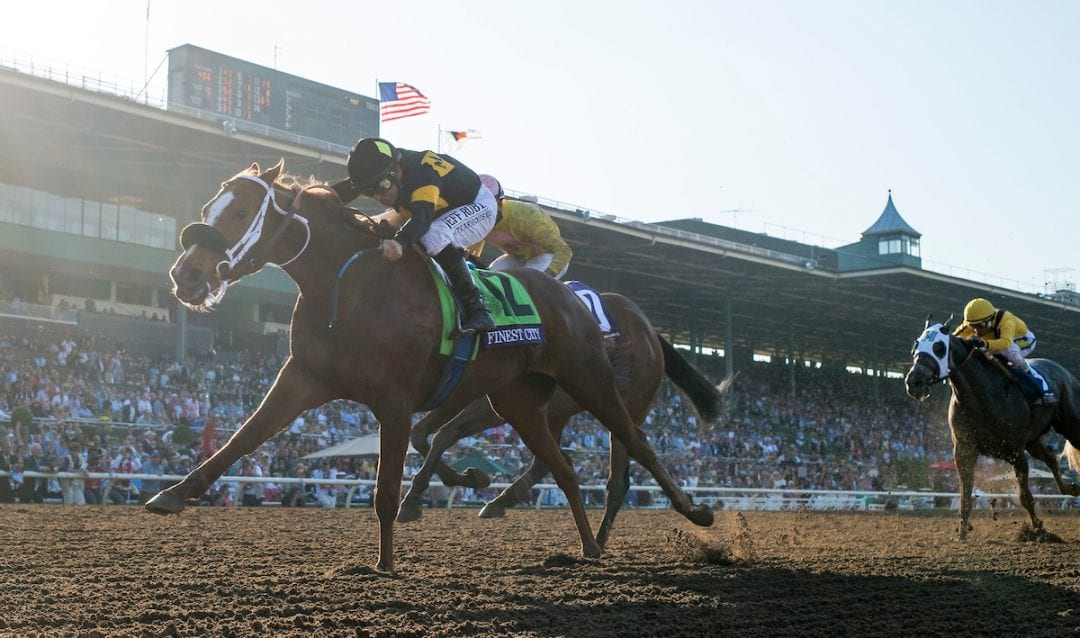 Finest City and Mike Smith win the Breeders' Cup Filly & Marie Sprint during day two of the 2016 Breeders' Cup World Championships at Santa Anita Park.  Photo by Alex Evers/Eclipse Sportswire/Breeders Cup.
by Frank Vespe
Bettors weren't overly impressed with Finest City's credentials going into Saturday's Grade 1, $1 million Breeders' Cup Filly and Mare Sprint.  The Pennsylvania-bred daughter of City Zip went off at odds of nearly 9-1.
But a closer reading of her past performances suggested she rated a legit shot in the field of 13 runners.  In her last two tries on dirt, she'd won a Grade 2 race at Los Alamitos and then run a very good third in the Grade 1 Vanity Mile over the same Santa Anita strip — finishing just behind Beholder, winner of yesterday's Breeders' Cup Distaff, and Stellar Wind, who twice defeated Beholder.

And perhaps that was the key to the story.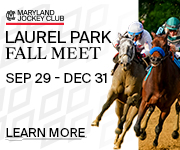 In today's Filly and Mare Sprint, Finest City pressed the early pace while wide out on the course under jockey Mike Smith, pounced to the lead at the head of the lane, and went on to hold off the late run of Wavell Avenue, the defending champ in this event, to win by three parts of a length.
"She jumped very well today," said Smith.  "I was able to just kind of put my hands down."
Finest City was part of a three-horse scramble for the early advantage and was widest out of the three.  Gloryzapper, along the rail, led through a quarter mile in 21.98 seconds and a half in 44.82, with just a length separating the top three.  Paulassilverlining, between horses, was second after the half mile.
But Smith said he wasn't worried.  His mount's last three races, two on the turf, had all come at a mile or longer; she had won the Grade 2 Great Lady M in her prior sprint try.
"Once they go a mile and an 1/8th, they learn to relax," Smith explained.  "She was well within herself. I knew she had her air in her being that she was running the distance.  So it was just a matter if we could hold them off, and she did a great job of doing that."
Running time for the seven furlongs was 1:22.73.  Finest City paid $19.40 to win.  The exacta, with 13-1 Wavell Avenue in second, was worth $216.40 for a $2 wager.  Paulassilverlining, 15-1 at post time, held third.  Carina Mia, the tepid 3.10-1 favorite, was never much involved en route to a ninth-place finish.
"To get a Group 1 for a filly is everything you can do in this game, especially on this stage," said trainer Ian Kruljac.  "There's nothing more you can dream for. So I'm very happy for her."
For her, and likely for himself.  Kruljac, training on his own for just a year, has only four wins to his name, just two this year — both with Finest City.
Four-year-old Finest City was bred by Hank Nothhaft, who purchased her dam, Be Envied, by Lemon Drop Kid, in foal to City Zip and thus carrying Finest City.  He sold Finest City — then named City Envy — as a weanling in the Keeneland November sale.  Despite his hopes that she would bring six figures, bidding topped out at $50,000.
"As you can imagine, an animated 'debrief' ensued after the sale," said Nothhaft.  The bottom line: an OCD that showed up on the x-rays had scared off many potential buyers.  Nothhaft said that, had he realized that, he'd have kept the filly and raced her.
Among the buyers not scared off, however, was Cobra Farm, who bought her for $50,000 and, 10 months later, sold her for $85,000 to Seltzer Thoroughbreds, for whom Finest City is the first graded stakes winner.
"Last night when I couldn't sleep, I went upstairs to my office in my house, and I found a mug from the first time I ever attended a Breeders' Cup when I was 11 years old," said Tyler Seltzer.  "It was November 1st, 1986, 30 years ago this month here at Oak Tree at Santa Anita. And I came with my mom. My mom's no longer alive. And her initials are on the back of our silks. She's been deceased for about nine years now. But I fell in love with horseracing at a very young age. To be back here 30 years later at a place like this in a race like this, with people like this and a horse like that, is just beyond belief. It's really — I'm probably going to get too emotional, but it's really special to be here. And I have my wife, my kids, in-laws, family friends, it's a fantastic day."