"Powerful, aggressive" A. P. Indian enters Sprint with one thing left to prove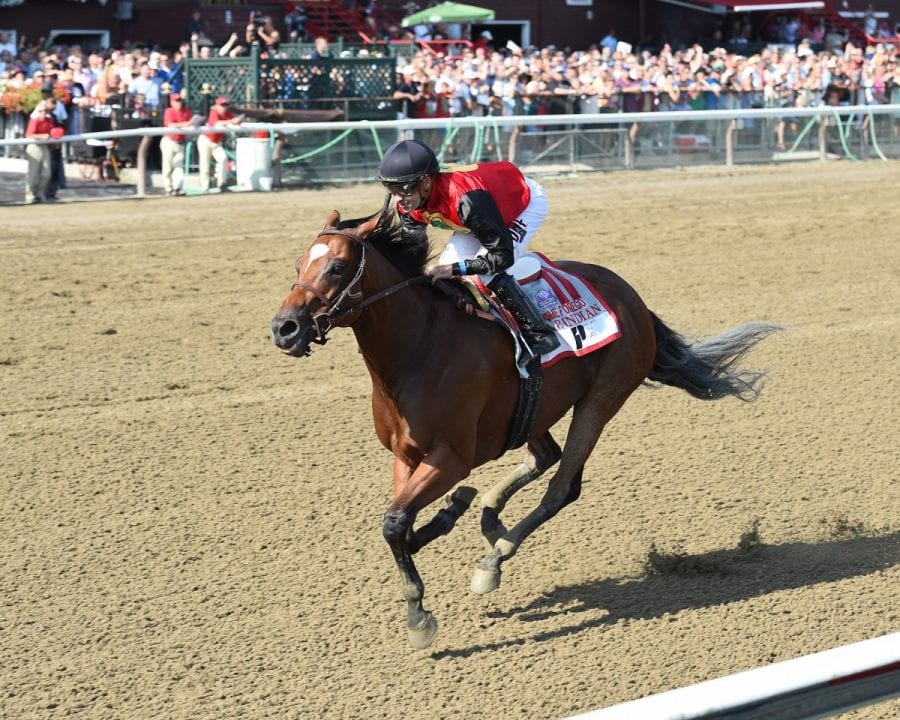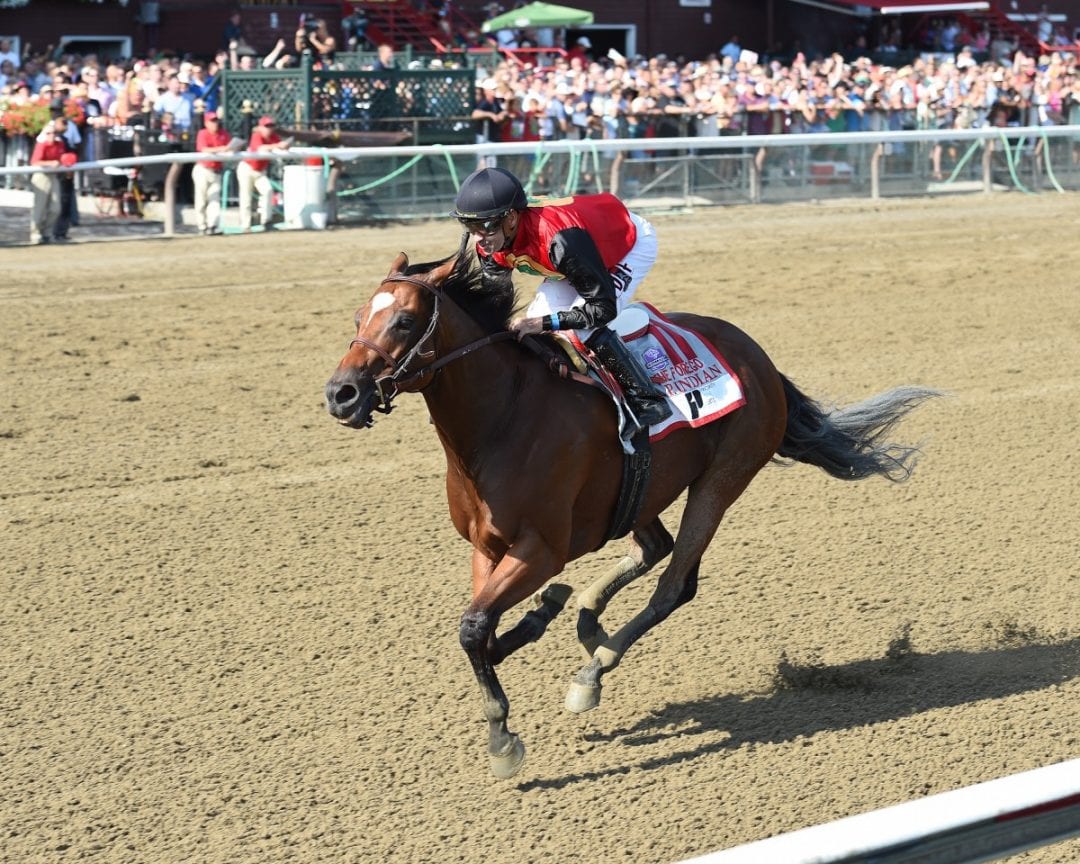 A. P. Indian won the Grade 1 Forego Stakes at Saratoga this summer. Photo by Chelsea Durand/NYRA.
By Doug McCoy
Saturday the pride of Mid-Atlantic racing will attempt to write his name in the history books when A. P. Indian, a tough, aggressive warrior who thrives on work and competition, goes to the post in the Grade I $1.5 million Breeders' Cup Sprint.
A. P. Indian came to the barn of Arnaud Delacour late in 2014 and had been off more than a year when he made the first start for his new trainer at Tampa Bay Downs in February of 2015. He dusted an optional allowance field that day, and his 1:15 4/5 clocking was just two-fifths off the 6 1/2 furlong track record.
Since then A. P. Indian has gone on to win eight of his 11 starts. He has taken two Grade I sprints, the Forego and A.G. Vanderbilt. He has won over six different surfaces, has carried up to 124 pounds and he comes into Saturday's race on a six-race winning streak.
In short A. P. Indian has only one thing left to prove: that he's the top sprinter in the land.
A. P. Indian made his first trans-continental flight Tuesday, arriving on the west coast at approximately 8:00 p.m. He was vanned to Santa Anita where he settled in for the evening, and then Wednesday morning A. P. Indian galloped a mile over the Santa Anita main track. Delacour supervised the exercise and reported his charge was more than ready to unlimber after his long flight.
"He (A. P. Indian) was a little edgy when we brought him to the track but we had come out after the break and there was a good bit of traffic. He settled down once he got going," the horseman observed. As to the surface Delacour's initial observations were favorable. "The track was fast of course but it seemed to have a good cushion. The horses' hooves hitting the ground didn't make much noise which is good so it didn't seem to be too hard or unforgiving."
Because A. P. Indian is a robust, powerful individual with a personality like a stud horse, Delacour has employed a somewhat different approach to the training program and racing schedule for his star. A. P. Indian raced four times between June 18 and August 27, winning all four, and even though there was only a three week gap between the Grade 3 Belmont Sprint and the Grade 1 Vanderbilt at Saratoga, Delacour worked A. P. Indian a sharp five furlongs at Fair Hill between those races. It was a marked departure from Delacour's normal deliberate training approach but as he had explained earlier this season, A. P. Indian is a horse who required a different tack.
"This horse thrives on work, he's a powerful individual with an aggressive nature," his trainer explained, "When I worked him between those two races, it was so he could tell me where he was at mentally and physically. If he hadn't shown he was more than ready to come back that quick, we would have moved his next race back."
Delacour asked the same questions of A. P. Indian when he sent him out for his final Breeders' Cup tune-up at Fair Hill Saturday. A. P. Indian worked five furlongs in 1:00.2 and according to his trainer, gave all the signals he was ready to rumble.
"He started off eager like he usually does, then he settled down around the three eighths pole and went about his business," Delacour recounted. "He was strong through the lane and he galloped out really well. When he came back to the barn, he had that look like 'let's do it.' He's still got that drive and that forceful nature to compete. He's ready."
It's worth noting that Delacour will have an undefeated team going to the post along about 4:25 local time on Saturday. Veteran jockey Joe Bravo and A. P. Indian have won their last five races in a row since they were partnered for the first time in Donald Levine Stakes at Parx this past June. It's also worth noting A. P.Indian has posted Beyer Speed ratings of 102,107,107, and 104 en route to his last 4 victories, all with Bravo aboard. Delacour said the pair seemed to click, and he thinks Bravo's personality is much like his mount's.
"Joe is a very confident in A. P. Indian, and he rides him that way," the trainer said. "He knows the horse well, he knows what he's capable of doing and there's a lot to be said for not doing too much on a horse when you're confident that when you asked them they'll give you all they've got."
Delacour has a great deal of respect for his competitors and knows one of his chief competitors, favored Masochistic (2-1), will be racing over their home surface. But Delacour isn't worried about that.
"He's won over six different surfaces since we got him, so I think he'll be fine with the footing Saturday," he concluded. "It's a great honor to race with the best on racing's best day. I know our horse has the heart and courage of a champion. If the A. P. Indian I know races Saturday it'll be a great horse race."