Midlantic Breeders' Cup notes: November 4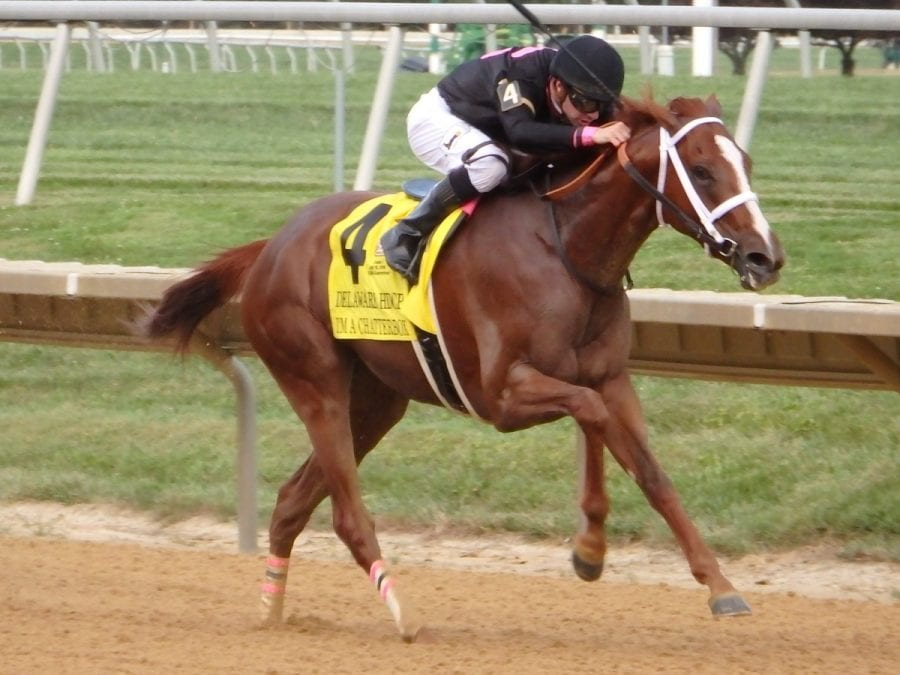 I'm a Chatterbox. Photo by The Racing Biz.
During the coming week, we'll keep a weather eye on Breeders' Cup contenders with connections to the mid-Atlantic region. Our source for this article is Breeders' Cup.
The 4yo Munnings filly I'm a Chatterbox, ridden by her trainer Larry Jones, went to the track at 7:50 a.m. for an easy 1m gallop and then visited the paddock for the third straight day.
Jones is seeking his first Breeders' Cup victory, but did found success with two other fillies he brought to the event. In 2007, Proud Spell finished second in the Juvenile Fillies before winning the Kentucky Oaks the next spring and in 2011, Havre de Grace finished fourth against the males in the Breeders' Cup Classic en route to Horse of the Year honors. When asked how I'm a Chatterbox stacked up against those two fillies, Jones replied, "She's always been an overachiever. She was overlooked at the sales, maybe because she was from the first crop of Munnings and her dam hadn't produced much. But she always tries so hard and definitely matches up to them."
The only time I'm a Chatterbox was worse than second this year was when she was fourth behind Cavorting in the Personal Ensign Stakes (G1) at Saratoga in late August. She then was a dominant winner of the Spinster Stakes (G1) at Keeneland in her last race.
"If there was a bias that day at Saratoga, it definitely worked against us," Jones said. "No one was going to catch the winner. We feel our filly has only gotten better since then. But, this is tough race. There's going to a Grade 1 winner finishing sixth in here."
OTHER NEWS AND NOTES
Chadds Ford Stable's Dancing Rags galloped 1 1/2m at Santa Anita Thursday morning in preparation for a scheduled start in Saturday's Juvenile Fillies.
The Maryland-bred daughter of Union Rags broke her maiden at Laurel in her second lifetime start before springing an upset in the Alcibiades at Keeneland Oct. 7.
"I could not have predicted the Alcibiades," trainer Graham Motion said. "I didn't know I had that kind of filly two months before that. The Alcibiades was a really open race, and I felt we had to take a shot. She won very impressively."
The manner in which Dancing Rags has advanced with each start has given her trainer confidence that she is ready to take another step up in the Juvenile Fillies.
"She's just a filly that's improved. Sometimes 2-year-olds continue to improve and sometimes they go the other way. I've had them both ways," Motion said. "She's a filly that's improved with everything I've done with her…"
Green Lantern Stables' A. P. Indian galloped 1 1/4m on the main track under exercise rider Moises Nava Thursday morning as trainer Arnaud Delacour looked on from the grandstand steps.
"He was really sharp yesterday and he is sharp today but a lot more settled," said Delacour, whose previous Breeders' Cup starter, Ageless, finished fourth in the 2014 Turf Sprint at Santa Anita. "We came out a little earlier today because there are a lot more horses out here at 8 o'clock."
The Sprint usually comes down to a battle of East Coast speed vs. West Coast speed and Delacour thinks A.P. Indian, based at Fair Hill, can step out right with the California runners.
"He is a fast horse," Delacour said. "He broke two (lengths) in front in the Forego and Joe (Bravo) let the other speed go. A lot will depend on the break Saturday…"
Trainer Graham Motion's Fair Hill-based duo of Mile-bound horses were on the track Thursday.  The Club Racing and Allen Rosenblum's Miss Temple City galloped 1 1/2m Thursday at Santa Anita for a scheduled start in the Mile.
The 4yo daughter of Temple City recorded her second triumph over males this year in the Shadwell Turf Mile at Keeneland Oct. 8 after scoring in the Maker's 46 Mile at Keeneland in the spring.
"She's the best filly I've ever trained. I never had a filly that could beat the boys. I never would have even considered it," trainer Graham Motion said. "I guess I have to thank Tepin for that. I never would have tried it. I never had a filly that I would have considered running against the boys."
Instead of running Miss Temple City against defending Mile champion Tepin in the Jenny Wiley for fillies and mares at Keeneland last spring, Motion opted for the Maker's 46 Mile. He opted for the Shadwell Turf Mile instead of running his filly in the First Lady in the fall. The Mile will be the first meeting between Miss Temple City and Tepin, who was upset by Photo Call in the First Lady.
"We have to face the music and I think this is the right time to do it. It goes beyond Tepin. It's a very deep race but she's still the horse to beat," Motion said. "I have the utmost respect for Tepin. She's got one chink in her armor and that was last time out. She probably got caught up in what was an awkward pace scenario, an awkward pace. Even the best can get caught up in that."
Miss Temple City is an imposing specimen who obviously can handle the physical demands of doing battle with males.
"Physically, she is a very strong horse, but she is just very good. She's very fast. She's got an incredible turn of foot. At the end of the day, it's just talent. It's just happened that the days she's shown it came when she was running against the boys," Motion said. "Really, with better scenarios she could have won any of those other races. She got beat (a neck) in the Diana and a jump after the wire she was in front."
St. Elias Stable and West Point Thoroughbreds' Ring Weekend also galloped 1 ½m Thursday morning.
The 5yo son of Tapit, who won the Kilroe Mile at Santa Anita in March 2015 before being sidelined by a foot infection for 10 months, has run only four times this year, including a victory in the Bernard Baruch at Saratoga in September.
"He loves this turf course. He's a very talented horse. I told Terry (Finley of West Point Thoroughbreds) at the beginning of the year that this was the race I wanted to run him in, so it's not like we did this at the last minute," Motion said. "How we got here is a little bit unorthodox, but the thing I like is that he's lightly raced. I like coming here with lightly raced horses at the end of the year. I think that helps you…"
Kenneth and Sarah Ramsey's Mike Maker-trained last-out Grade I winner Al's Gal left Barn 56 at 7 a.m. and proceeded to gallop a mile around the Santa Anita main track under exercise rider Joel Barrientos and then school in the gate…
Stellar Wind went through her usual 5 a.m. routine of standing quietly before a 1 1/2m gallop Thursday.
"She'll school in the paddock between races this afternoon," trainer John Sadler said of his Virginia-bred star.
Sadler is undecided about what Stellar Wind will do Friday morning, the day of the race.
"She might jog, or she might just walk," Sadler said.
Asked what it would take for Stellar Wind to win, Sadler said: "She needs a good trip. I don't know what that trip is, but just a nice, smooth one and she should do well…"
Loooch Racing Stables et al.'s Breeders' Cup Classic runner War Story left Barn 69 at 7:45 a.m. with a pony and galloped an easy mile for Parx-based trainer Mario Serey Jr.