At 11, No Brakes isn't slowing down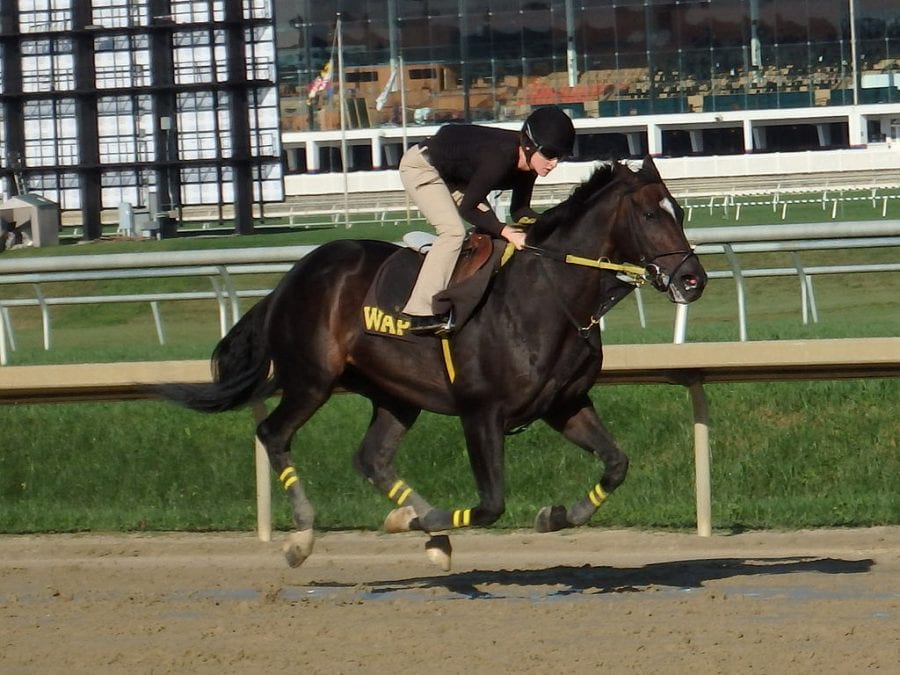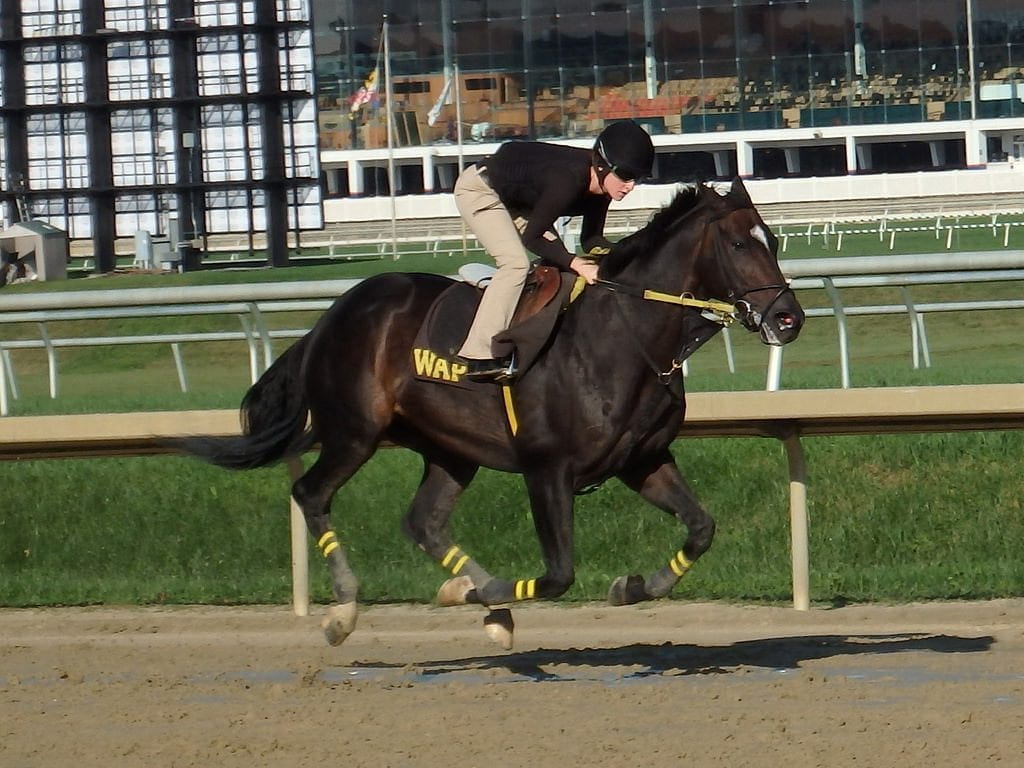 No Brakes. Photo by The Racing Biz.
by Frank Vespe
The nation's top 10-year-old Thoroughbred resides in barn one at Laurel Park.  Take a right through the stable gate, and you'll find him down towards the racetrack.
But chances are, you already know the story of Ben's Cat.
If, instead of turning right through the gate, you continue to drive straight and head clear to the other side of the backstretch, where new tent-style barns are sprouting up like fall-rain mushrooms, you'll find a horse whose story you may not know: the nation's leading 11-year-old Thoroughbred.
On a crystalline October morning, No Brakes, 11 according to the records but acting, says exercise rider Anna Carrow, "like a gingered-up two-year-old," gallops twice around Laurel's mile oval.  
It's his first day back on track since his most recent race, which he won, and he gives a little hop-skip as he leaves the track.
"He just, he feels good," said Carrow, 23 and a 10-pound apprentice jockey. "You gallop him, and… you've got to keep him moving. He does all sorts of gymnastics and aerial acrobatics coming off the track,"
In many ways, Ben's Cat and No Brakes are mirror images of each other.  The former is a multi-millionaire who's won, oh, a couple dozen stakes and helped propel his octogenarian trainer/owner/breeder, King Leatherbury, to the Hall of Fame.
No Brakes, on the other hand, has made his money by winning 22 times in 106 starts, the vast majority in claiming or starter allowance company, en route to nearly $430,000 in career earnings.  He's changed hands often during his career, currently working for 35-year-old trainer Wayne Potts — the 10th person to condition the old-timer.  His lone stakes win, in the 2011 Deputed Testamony Starter Handicap, came for a purse of just $25,000.
One is racing royalty; the other's a working stiff.
No Brakes, a big dark bay gelding with a nifty diamond-shaped blaze on his forehead, has made his money the old-fashioned way: "He's earned every dollar he's made," said Potts.
There's another difference.  A few years ago, Ben's Cat was in the conversation of the nation's best turf sprinters; these days, though still formidable in the right spots, he's not quite that horse.
No Brakes, on the other hand, might be as good today as he's ever been.  He's won two of his last three starts, three of 11 overall this year, and his seasonal earnings of $66,280 are the third-highest of his nine-year racing career.
In fact, Potts has him pointed at a November 6 starter allowance at Laurel Park, which, in addition to offering an enticing $40,000 purse, also confers automatic entry to December's Claiming Crown at Gulfstream Park.  That would give him a shot at the kind of payday he's never had before.
"He's had several different trainers, and he's performed for everyone who's had him," said Potts. "I've got him at a stage right now where he's performing as well as he ever has in his career. I  don't think it's anything we're doing special; he's run for everybody."
No Brakes and Ben's Cat do share a pair of interesting distinctions, beyond sharing a backside.  Both are Maryland-breds, and both, oddly enough, are sons of Parker's Storm Cat, the half-brother to Malibu Moon whose lack of local success at stud eventually led him to Gibson Thoroughbred Farm in Thorp, WA.
"It's great for Maryland racing to have two veterans here that are still holding their own, both by the same sire," said Potts.
No Brakes was bred by John Franzone Jr. Racing Inc.  Franzone, a former member of the Maryland Racing Commission, owned No Brakes into his six-year-old season, through his first four wins.  
At that point, trainer Katherine Sancuk grabbed the gelding for $5,000, which is when Potts, who at the time was dating and working for Sancuk, ran into 'Brakes for the first time.  No Brakes remained in Sancuk's barn for nearly two years before getting claimed away in January of 2013.
"He run pretty well for us back then, and I knew he was sound," said Potts, by way of explaining why he claimed the then-10-year-old.
Sound, indeed.
No Brakes has made at least 11 starts in each of the last six years and has never made fewer than six in a season.  He's earned at least $36,000 in each of those six years, too.
In an era when horses struggle to stay sound — and find it perhaps even harder to remain consistent — you have to ask why.
Potts offers one theory about the deep closer.
"I don't know if it's just his late-running style," he suggested.  "He runs the last three-eighths of a mile. He just goes out there and gallops the first five-eighths.  If he has a pace to run into and they're hooking up, he's going to be coming late. He just seems to keep getting better and better."
Maybe.  After all, No Brakes has been last early in every start of 2016.  So maybe he's only really run half as many races as the numbers say.
Or maybe it's something else.  That's what Carrow and groom Francisco Osceubra posit.
"It's nice to see a horse like him," said Osceubra, who has rubbed No Brakes since Potts claimed him for himself and T D C B E Stable, for $4,000, in August 2015.  "He's still got a lot of power in him. When he goes to the paddock, he's a happy, happy horse to run."
"At the age of 11, he's having fun is what it is," agreed Carrow.
But in a way, that poses its own set of problems.  Sure, the horse is happy and sound and loves his job.  But he's also 11 years old, and of the 26,059 horses born in 2005 to reach the racetrack, only 135 have run even one race this year.  In this era of heightened public scrutiny and social media, plenty of people who have never laid eyes on No Brakes have strong opinions on his future.
"I get a lot of social media problems, people messaging me on Facebook, Twitter," said Potts.  "They say, 'I can't believe you're still running this horse. He deserves to be retired.'"
But Potts, who says that he's unfriended more than one critic, is confident that the racetrack life is the right life for No Brakes.  
"I'm sure King [Leatherbury] hears the same thing about Ben's Cat," Potts said. "This horse loves his job. I don't think he's the kind of horse you could put in a field and say, 'Here, eat grass for the rest of your life.'  
"He needs something to do," Potts continued.  "He gets special care here. He's in the first stall in my barn, so when I walk in, he's the first horse I see."
And, it appears, the first one to receive his favorite treat: peppermints.
Potts, who says that he is working on lining up a post-racing spot for No Brakes, added that he is keeping a close eye on a horse for whom he says he will be the final racing trainer.
"He will never be in for a claiming price as long as I have him," Potts said.  "This horse means too much for me to do that. [Instead] I will retire him.  If this horse was ever to take a bad step or ever showed me he didn't want to do it, there wouldn't be any doubt in my mind just to stop on him."
But that seems to be a problem for a different day.  In the meantime, No Brakes, 11 years old and yet thrashing horses half his age or younger, shows no signs of slowing down.  
That makes Carrow, for one, happy.
"With Brakes, he's just so vibrant,  He's definitely professional in a lot of ways, but he's just having fun," she said.  "He's one of a kind, that's a fact."