GQ: 'Ask me how to bet,' I said, and they did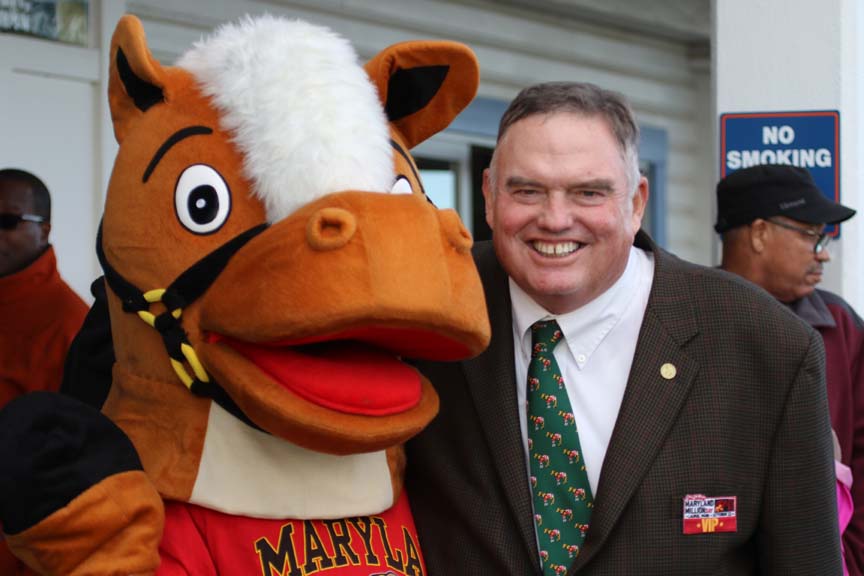 Maryland Million president Jim Steele and friend. Photo by Laurie Asseo.
by Gary Quill

Mother Nature must be horse racing fan… specifically of Maryland racing. The 31st Maryland Million Day at Laurel Park wasn't given the finest of forecasts by the local meteorologists. The consensus was, "Cloudy with a chance of showers… windy with gusts up to 30 mph… highs only in the mid 50s."
Instead, a crowd in excess of 21,000 was treated to sunny skies, temperatures in the mid-60s, few wind gusts and nary a drop of rain.
For the second consecutive year, I volunteered in the VIP Tent area, as a roving wagering ambassador on behalf of the Maryland Horse Breeders Association.  Fans could tell I was a roving wagering ambassador for a simple reason: I was rocking a fire engine red sportscoat, black slacks, and Maryland flag necktie and I sported on my lapel a huge "Ask Me How to Bet" button.  Safe to say that many guests weren't quite sure what to make of it all.
"Are you for real or is that a joke?" asked one woman with program in hand while motioning to the button.
When given the right answer, she continued, "Can I ask you some questions?!"
I smiled and replied, "Certainly!" in my worst Curly-from-The-Three-Stooges impersonation. After a five-minute Handicapping 101 tutorial — summarized as "just pay attention to the last three bolded numbers; they're speed figures, and higher is better — she was off with a smile and a "Thank You."  I like to think a new would-be handicapper was born.
A young couple emerging from the tent of Harford County Executive Barry Glassman also sought out the wisdom of … wait for it… The GQ Approach.  Then there were the families, happy to take in the sideshow of entertainment featuring clowns, jugglers, magicians, face painting and caricature artists.  There were Clydesdales, too, and foxhounds, and even pony races with youngsters kitted up in silks riding their ponies down the stretch.
More than one person seemed to realize it was not their father's race track. It's the Gen X and Gen Y folks — and gens that don't yet have labels — that will propel racing in the Free State to the heights it once enjoyed a half century ago.
That's the magic of Maryland Million Day. A day where the Maryland racing industry entertains not only their VIPs to a food and drink spread fit for a king, but to all in attendance a glimpse at the future of the "Sport of Kings"… which is bright indeed.