Saturday question: Ben's Cat or Kharafa?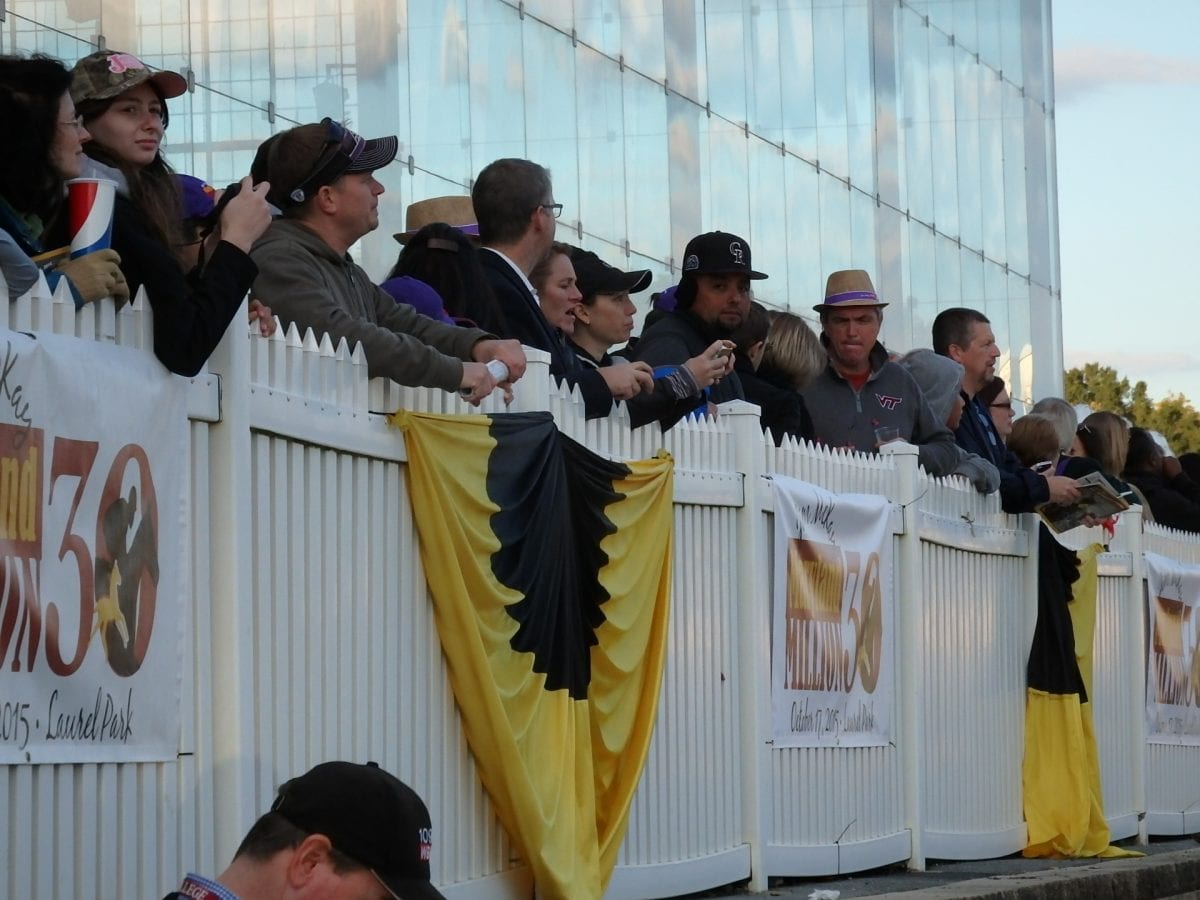 Maryland Million day railbirds. Photo by The Racing Biz.
On Saturday, October 22, both Maryland Million, for Maryland-sired runners at Laurel Park, and New York Showcase Day, for New York-breds at Belmont Park, will take place.  Teresa Genaro won't be in both places — but she sure wishes she could be.

by Teresa Genaro
I went to Aqueduct for the first time on January 29, 2005. That was the first year that I followed horse racing year-round, and after nearly seven years in Brooklyn, I had yet to visit the only extant track in New York City.
I was drawn to the Big A that freezing day not by the local feature, the Paumonok Handicap (though it was a race of which I was shortly to become quite fond, and which has since disappeared from the New York racing calendar), but by the Sunshine Millions cards at Santa Anita and Gulfstream, pitting California- and Florida-breds against each other.
My friend Jonathan and I had checked the racing calendar as we planned our maiden voyage, and the regional rivalry of the Sunshine Millions appealed to both of us. Eleven years later, I'm still a sucker for a racing day that celebrates regional breeding programs.
Chief among them, of course, for this New Yorker is New York Showcase Day, held this Saturday at Belmont Park. I first attended Showcase Day for New York-breds in 2008, and for me, it is the quintessential autumn racing day. Often, vendors are on-site offering New York-made crafts, food, and drink, and there's not much that beats a crunchy Empire State-grown apple with a warming bourbon in the Belmont backyard in late October.
Over the years, we've watched as these races have been populated by horses that go on to success in open company. A year ago, Governor Malibu finished third in the Hudson Stakes; this year, after finishing second in the Peter Pan and Jim Dandy (both grade II), he'll contest the Empire Classic.
In 2015, the multiple Grade I winner Palace won the Hudson; perhaps fittingly for this New York-bred, among the best we've seen, he got his last win on Showcase Day. La Verdad, another state-bred standout, won the Iroquois last year a week before her terrific second in the Breeders' Cup Filly and Mare Sprint.
About 200 miles to the south, Maryland, too, celebrates its breeding program in the fall, its Maryland Million card restricted to horses sired by Maryland-based stallions. It hasn't always been thus, but for three of the last four years, both it and New York Showcase day have been held on the same Saturday.
Practically speaking, there's little reason not to hold both racing festivals on the same day. This is a quiet weekend on the stakes schedule, and there's not much overlap in the horses eligible for the races in both states; only 57 Maryland-sired horses have been foaled in New York from 2011-2015.
Still: when I saw last year's calendar and realized that I could attend both Showcase Day and Maryland Million, I knew I could pencil in two fun days of racing in October, with races full of horses and trainers with big local following, along with the regional on-track celebratory activities at each event (Sagamore whiskey, anyone? Crab cakes?). And as a former Maryland resident, I couldn't wait to attend my first Million Day.
True, there might not be many Marylanders who might head up 95 to spend a Saturday at Belmont Park, or many New Yorkers that would hit the Turnpike to head to Laurel. But it's possible that each track's racing card would get more attention in the trades and online if it weren't competing with the other.
This Saturday, the habitués of Belmont Park will get to watch Lubash, Kharafa, and King Kreesa renew their rivalry in the Mohawk for the fourth year in a row. They'll watch Weekend Hideaway (third in the Vosburgh this year) try, for the third time, to win the Hudson. They'll watch Fourstar Crook go for her seventh straight win when she takes on 11 rivals in the Ticonderoga.
The Laurel Park faithful will watch Phlash Phelps, named for one of Maryland's own, tried to repeat in the Maryland Million Turf.  They'll watch Monster Sleeping look to become a three-time Maryland Million champ with a repeat in the Ladies. And of course, they'll watch their beloved Ben's Cat, now 10, try to get back to the winner's circle, and to avenge his nose loss in last year's Maryland Million Sprint.
Thanks to this year's schedule, our attention will be divided between these two terrific fall racing events. Thanks to this year's schedule, there will be, alas, no repeat for me of last year's consecutive-weekend October double. And thanks to this year's schedule, I've got a hard decision to make: apples or crab cakes? Ben's Cat or Kharafa? Beautiful Belmont or lovely Laurel?