Sinatra: Fingers crossed for "Maryland's day"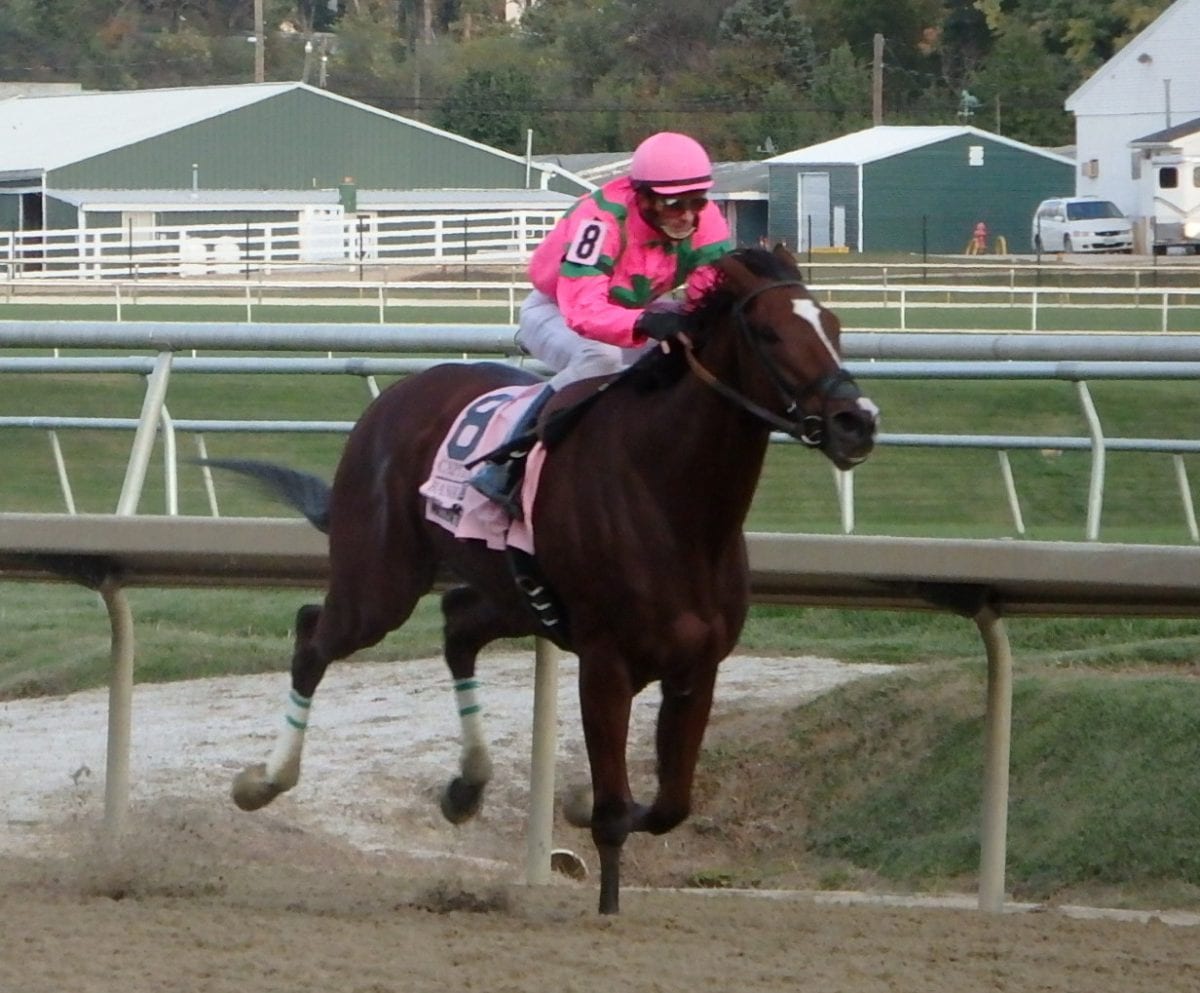 Admirals War Chest hangin' on in the 2015 Maryland Million Classic. Photo by The Racing Biz.
by Frank Vespe
If Sal Sinatra has an enemy this week, it's the weather.
Sinatra, president of the Maryland Jockey Club, is keeping an anxious eye on forecasts which, as of Wednesday, are calling for Friday rain and additional showers Saturday morning.
And a rainy day – or even enough pre-race precipitation to require that races come off the turf – would put a real damper – sorry about that – on Saturday's afternoon's 31st Maryland Million.
Tuesday, on a warm, sunny afternoon, Sinatra was crossing his fingers on the weather – and looking forward to what it is typically Laurel Park's biggest day of the year.
"This is my second one," Sinatra said.  "Coming from another track in the Mid-Atlantic (Parx Racing), my horsemen always raved about it when they came down here."
When they come this year, they'll find substantial renovations to the dining room and second floor of the clubhouse.
"I mean, just excited for the day that it's filled up, which will be Saturday," Sinatra said.  "The place looks spectacular, but really, just want to see butts sitting in those seats and I want to hear the crowd from the dining room with no glass."
The MJC has removed the glass that formerly enclosed the dining room and replaced the seats from the dining room down to the box seats with "dining boxes."  If it all works the way Sinatra hopes, the crowd noise will reverberate through the area, helping to create the kind of buzz not often seen in Laurel Park's grandstand.
But, of course, for that to come to fruition, the racing product will need to measure up.  On that score, in addition to finger-crossing and other anti-rain activities, Sinatra is hopeful.
"I talked to the racing office, and the fields look good," he said. "Outside of one or two questionable races maybe, the rest of them really look strong."
Four horses that won Maryland Million races last year are back for this year's event, including three looking to defend their titles.
The Sprint is shaping up as one of the more intriguing contests.  The great Ben's Cat, the 10-year-old multi-millionaire bred, owned, and trained by King Leatherbury, finished second narrowly in this event a year ago.  He's likely to be back and likely to face Keith Nations trainee Morning Fire, a multiple stakes winner, as well as 2014 winner D C Dancer, who was third in this race last year.
And the $125,000 Turf figures to come up strong, featuring 2015 winner Phlash Phelps and 2015 Nursery winner Corvus.
"The mile Turf is probably going to be the best race of the day," Sinatra said.
A year ago, the MJC reported $3.8 million in handle on the day – a 37 percent jump over 2014.  Can the company beat that number this year?
"Always want to beat last year," Sinatra said, "so that's my goal."
Of course, it's a process.  The number of Maryland-sired foals has begun to rise in the last couple of years, but the 751 mares bred to Maryland stallions in 2015 is a far cry from the 2,200 level the state realized in 1995 and 1996.
To combat the dearth of Maryland-sired foals, Maryland Million now allows Maryland-breds in the races that draw fewer than six Maryland-sired runners.  That leaves Sinatra and the MJC in something of an odd spot: rooting for large fields of Maryland-sired horses but, in races where few are likely to post, hoping for small enough fields that the larger crew of Maryland-breds also can get in.
"This is a huge, huge day, and it's our goal to build on this day and get it back to what it was, a $7 or $8 million handle day," Sinatra said.  "But we need horses to come back."
Either way, Maryland Million is important not just for the sizable handle but also for what it means to the state's Thoroughbred industry.
"What I like about it is that Maryland really gets together on that day," Sinatra said.  "The politicians come, the horsemen show up, the breeders show up, my whole board shows up — it really is, it's Maryland's day."