Greatbullsoffire, In Arrears square off in Nursery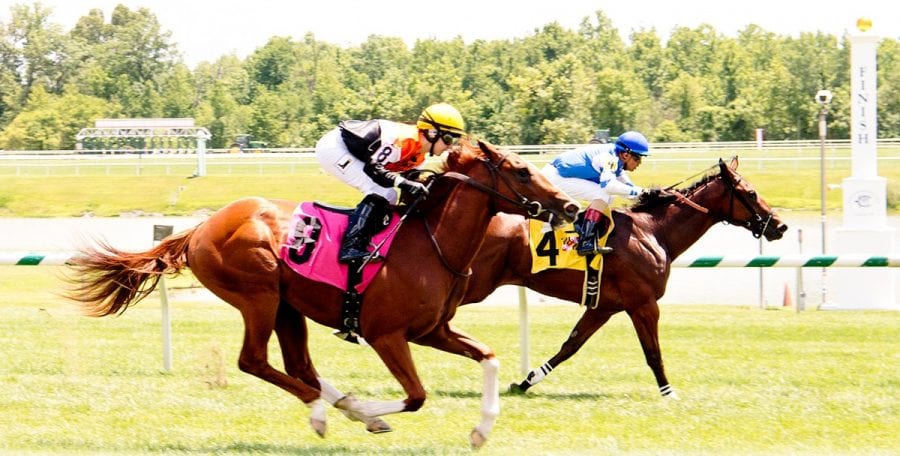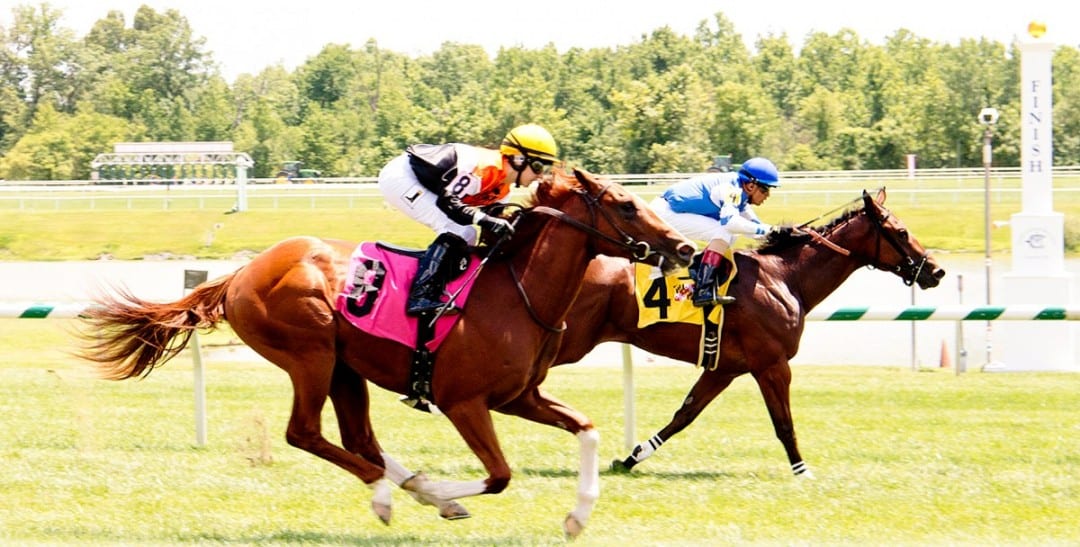 Greatbullsoffire (inside) won at first asking. Photo by Jim McCue, Maryland Jockey Club.
From a Maryland Jockey Club release
Six weeks after suffering his first career loss in the storied Laurel Futurity, Kathleen Willier's Greatbullsoffire returns as the horse to beat in Saturday's $100,000 Maryland Million Nursery at Laurel Park.

The six-furlong Nursery for 2-year-olds by eligible Maryland stallions is one of nine stakes on the 31st annual Jim McKay Maryland Million Day program, including the $100,000 Lassie for 2-year-old fillies.
A bay son of Grade 1 winner Bullsbay, Greatbullsoffire is the 6-5 program favorite for the Nursery where he is the lone stakes winner in the field courtesy of his victory in the Strike Your Colors Aug. 4 at Delaware Park.
"Looking at the PP's on him, he looks like the horse to beat. Hopefully, he'll run to everybody's expectations," trainer Hamilton Smith said. "They're not supposed to be easy spots. There's several colts that can beat him, no doubt about that. We'll see who gets the best trip. We'll try our tactics and they'll try theirs and we'll see who comes out on top."
Greatbullsoffire was a neck winner over Caribou Club in his debut July 17 at Laurel going 5 ½ furlongs on turf before pulling away to a 2 ½-length victory in the Strike Your Colors, contested at the same distance on dirt. He went back to the grass for the Laurel Futurity, where he set the pace as the favorite and weakened to third behind Caribou Club and Undulated.
"I think the two horses that beat him in that particular race, they're going to be nice colts themselves," Smith said. "We got beat by two legit horses, still I wasn't pleased with the way he ran. He went out and didn't carry himself like I thought he should have."
Greatbullsoffire shows three sharp works since the Laurel Futurity, following up a bullet five-furlong breeze in 1:01 Oct. 8 by going in 1:02 six days later over Laurel's main track.
"He's coming into the race fine. We weren't trying to get any speed into him. We were trying to slow him down a little bit," Smith said. "We just wanted to get him to where he was a little more relaxed in his works instead of him getting speed crazy. I don't like that in a young horse. We just wanted to get him to relax a little bit in his works; that way he'll run a better race for us, I think."
Victor Carrasco, up for each of his two victories, gets the return call from Post 7 at co-highweight of 122 pounds.
Narrow Leaf Farm's In Arrears looms a major contender in the Nursery off his impressive four-length maiden triumph going 5 ½ furlongs Sept. 30 at Laurel, where he went off as the favorite. He was sent off at 53-1 in his debut 19 days earlier, taking the lead into the stretch before finishing third at six furlongs.
"I actually liked him first time out myself," said trainer Wayne Potts, looking for his first career stakes victory. "The horse has a little bit of talent and I don't think the distance will be a problem. Maybe he was a little short in his debut, but going back to three-quarters I don't think will be a problem."
In Arrears' victory was further flattered when runner-up El Areeb, a $340,000 2-year-old in training purchase in March trained, came back to graduate with an 8 ¾-length romp Oct. 15. Forest Boyce will ride In Arrears from Post 4.
"That horse won pretty impressively, and I think my horse will move forward a little bit off his last race, as well," Potts said. "The horse came out of his race great. He came back and breezed last Saturday for us and went five furlongs in 1:01. All systems are go. There's one horse in there I'm overly concerned about which is Hammy Smith's horse, but overall my horse is legit and hopefully he can give a good account of himself."
Joining recent Laurel maiden winners Cherokee Spirit and Maryland's Best in the field are Apolodorodedamasco, Dancing With Maude, Ignotus, Jerandson, Slick Man and Sventastic, along with Maryland-bred also-eligibles O Dionysus and Worth His Salt.
[su_box title="
MARYLAND MILLION NURSERY ENTRIES
" style="glass"]
Ignotus (20-1) — Tyler Conner/Rafael Madrigal, Sr.
Apolodorodedamasco (12-1) — Feargal Lynch/Carl Doran
Jerandson (4-1) — Trevor McCarthy/Daniel Lopez
In Arrears (3-1) — Forest Boyce/Wayne Potts
Cherokee Spirit (20-1) — Jose Betancourt/Gina Rosenthal
Slick Man (12-1) — Xavier Perez/Rodney Jenkins
Greatbullsoffire (6-5) — Victor Carrasco/Hamilton Smith
Sventastic (20-1) — Yomar Ortiz/Ann Merryman
Dancing With Maude (30-1) — Steve Hamilton/Tim Keefe
Maryland's Best (20-1) — Angel Cruz/Javier Contreras
(ae) O Dionysus (2-1) — NA/Gary Capuano
(ae) Worth His Salt (12-1) — NA/Jamie Ness
[/su_box]