Putting a bow on Delaware Park's 2016 meet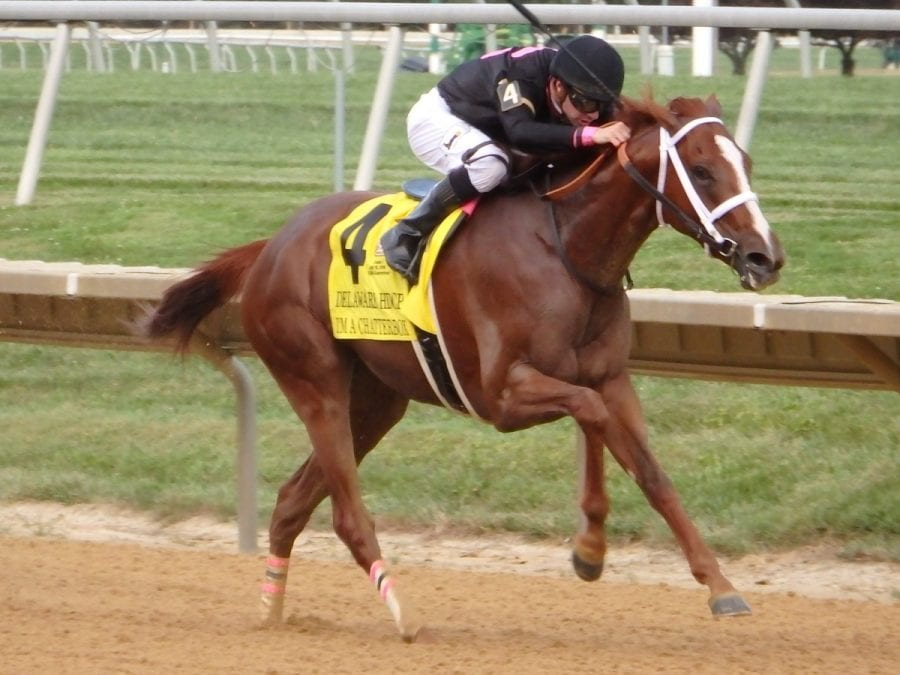 I'm a Chatterbox wins the Delaware Handicap. Photo by The Racing Biz.
by Doug McCoy

Saturday marked the conclusion of Delaware Park's live racing meet for 2016, and in retrospect the season produced more than its share of surprises,
Aggressive recruitment by Delaware Park officials last winter bore fruit and convinced a number of new stables to come to Delaware for the first time in 2016. That influx of horses helped to increase the average field sizes and also produced more competitive racing — though Delaware, like all tracks, had to card its share of bottom maiden and claiming races.

When Rich Papiese severed ties with trainer Jamie Ness early in 2015 there were those who suggested it was the beginning of the end for Ness. Some 18 months later, Ness seems to be handling the bump in his career path quite nicely.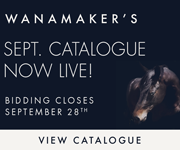 Ness dominated the trainer's race during the 2016 meeting, finishing with 38 wins — 13 more than Larry Jones and Keith Nations, both of whom won 25 times.  It was the third year Ness topped the Delpark trainer's standings. Ness's Jagger Inc., which includes horses either partially or wholly owned by him, led the owner's standings in number of races won with 14, while Fletcher and Carolyn Gray, owners of Delaware Handicap winner I'm a Chatterbox, topped the earnings category with $536,100.
Larry Jones's outfit continued to be perhaps Delaware's most powerful, winning at a 32 percent clip and leading all trainers in purse earnings with nearly $1.2 million.  But Keith Nations' barn, which matched Jones's with 25 wins, made waves by winning at a 25 percent clip and logging $525,165 in earnings.  The transplanted Californian looks to have the talent to be a national power in the not too distant future.
Gerry Bennett captured 22 races in his first season locally, while Wayne Potts very quietly knocked out 21 wins for the meeting with no superstars in the ranks of his outfit while scoring at a 27 percent clip. Given that Bennett's horses had been very active early in the year while he won the leading trainer title at Tampa Bay Downs, his record at Delaware Park is even more noteworthy.
High percentage outfits that raced at Delaware Park on a regular basis included Arnaud Delacour (32%), Tom Proctor (28%),  Gary Capuano (32%), Kieron Magee (38%), and Tim Ritchey (36%)
Ritchey's record of 10 wins from 28 starters was bolstered considerably by Lake Creek, who gets the nod as the winningest horse at the 2016 meeting. Lake Creek made seven starts at the meeting and won six. His victory on the meet's final Thursday over starter optional claiming company was the 15th career win for the eight-year-old gelding.
Carol Cedeno, who came to Delaware Park several years back as a shy young rider with a strong work ethic and desire to improve, wrapped up her third straight riding title Saturday. She finished with 75 victories from 384 starters (20 percent). Brian Pedroza, Trevor McCarthy and Ricardo Chiappe also had strong meets, and Danny Centeno may have been the hottest rider on the grounds the last six weeks after returning from a broken collarbone.  Centeno won four times on closing day.
Two of Delaware Park's biggest races this season — the meet-topping Grade 1 Delaware Handicap and the Grade 3 Robert G. Dick Memorial Stakes — were shrouded in controversy.
In the former, favored I'm a Chatterbox and Florent Geroux took a direct left turn right out of the gate from their four post in the field of six, slamming Milaya and Money'soncharlotte to the inside with such force that Money'soncharlotte hit Paid Up Subscriber (who broke from the one post) in the hip so hard the Stall runner was knocked off stride at a 45-degree angle.
I'm a Chatterbox eventually finished first, some two and a quarter lengths to the good of a courageous Paid Up Subscriber, who re-gathered herself after the incident to be clearly second.
Though the inquiry sign was never lit — officials later blamed a technical problem with the toteboard — the stewards eventually conducted a review after Ricardo Santana, aboard Paid Up Subscriber objected.  The stewards ultimately left the order of finish unchanged.  But their reasoning — that, although I'm a Chatterbox did bump horses to her inside and cause the chain-reaction that affected Paid Up Subscriber, she had caused herself as much trouble as any other horse and thus did not affect the order of finish — struck many observers, including this one, as specious.
It was the second week in a row in which a graded stake had taken place amid controversy.  A week earlier, one of the favorites for the Grade 3 Robert G Dick Memorial Stakes, Suffused, had to be scratched when a veterinarian working for a contractor hired by the Commission failed to show up at the barn and administer the pre-race injection of the diuretic Lasix. Hall of Fame trainer Bill Mott confirmed that his staff had followed all the rules involving their horse and said he would have considered running Suffused without Lasix, but stewards said that was not permitted.
For all that, there was some great racing.  Despite the foul, I'm a Chatterbox delivered a top-quality performance in her victory in the Del 'Cap, and later in the season, took another Grade 1, the Juddmonte Spinster at Keeneland.  Dark Nile won both of her local starts for trainer Arnaud Delacour, including the Grade 3 Delaware Oaks.  And American Patriot set a course record in winning the Grade 3 Kent Stakes for three-year-olds, traveling 1 ⅛ miles in a sharp 1:47.19 to win by a length-and-a-half.
A wrap up of the year wouldn't be complete if we didn't mention Galiana. We're not going to dwell on Galiana's final race, where the gallant mare was pulled up in distress and vanned off. We'd rather salute the six-year-old for the thrills she provided during a career that saw her win 15 of 32 races and amass earnings of $641,000. She started her career at Delaware Park, winning a $7500 maiden claiming sprint and she went on to win nine of 13 starts over the Stanton oval. She was a wonderful mare who was as honest as the day is long and a big crowd favorite here. It's our understanding she will be able to start a new chapter in life as a broodmare. We'll be watching for Galiana's babies. If they're anything like Mom, they'll be fun to watch.