Dr. David Zipf to receive Unsung Hero award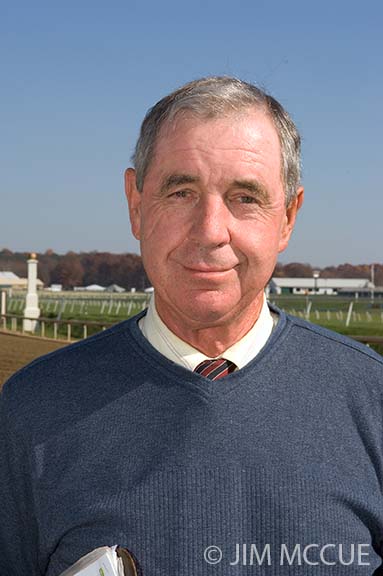 Dr. David Zipf. Photo by Jim McCue, Maryland Jockey Club.
From a Maryland Million release
Longtime Maryland veterinarian Dr. David Zipf has been selected to receive the 2016 Joe Kelly Maryland Million Unsung Hero Award. Presented annually by the Board of Directors of the Maryland Million Ltd., this award honors the memory of Joe Kelly and celebrates important characteristics that are valuable but often unrewarded. It recognizes honesty, hard work and humility – qualities which serve as inspiration to others.
Joe Kelly was a close friend of Maryland Million Ltd. founder Jim McKay, and a mentor to writers, horsemen and fans alike. And he loved the horse industry from his early days at the Baltimore Sun.
Dr. David Zipf has been a regular at Maryland race tracks for 51 years. Shortly after graduating from Ohio State University, he was hired by Ken Schertle as a staff veterinarian for the Maryland Racing Commission. He arrived in August of 1965, and started at the meet at Marlboro Race Track in Upper Marlboro, which was a part of Maryland's illustrious half-mile circuit.
"Dr. Zipf has provided more than 50 years of veterinary service to the Maryland horse racing industry. Throughout that time he has provided, and continues to offer, the industry with a wealth of knowledge and personal commitment to the health, safety and welfare of the horses that compete in Maryland," confirms Mike Hopkins, Executive Director of the Maryland Racing Commission.
In his job Dr. Zipf has observed many remarkable and important races during his decades around Maryland's tracks. He recently recalled that "The most memorable experience I have ever had was watching Secretariat in the 1973 Preakness. He had such an impressive stride. What a horse!"
"Maryland racing is lucky to have Doc Zipf. His love of animals and dedication to his job are second to none, and he has a great rapport with everyone around the track," says Maryland Jockey Club's Vice President of Marketing Carrie Everly.
When he is not working Dr. Zipf enjoys soccer. Over the years he has played and coached, and at one time started a league at the track. He and his wife Jacqueline have a small farm in Howard County, where he enjoys gardening and spending time with his three children and grandchildren.