Region-breds drive Fasig-Tipton yearling results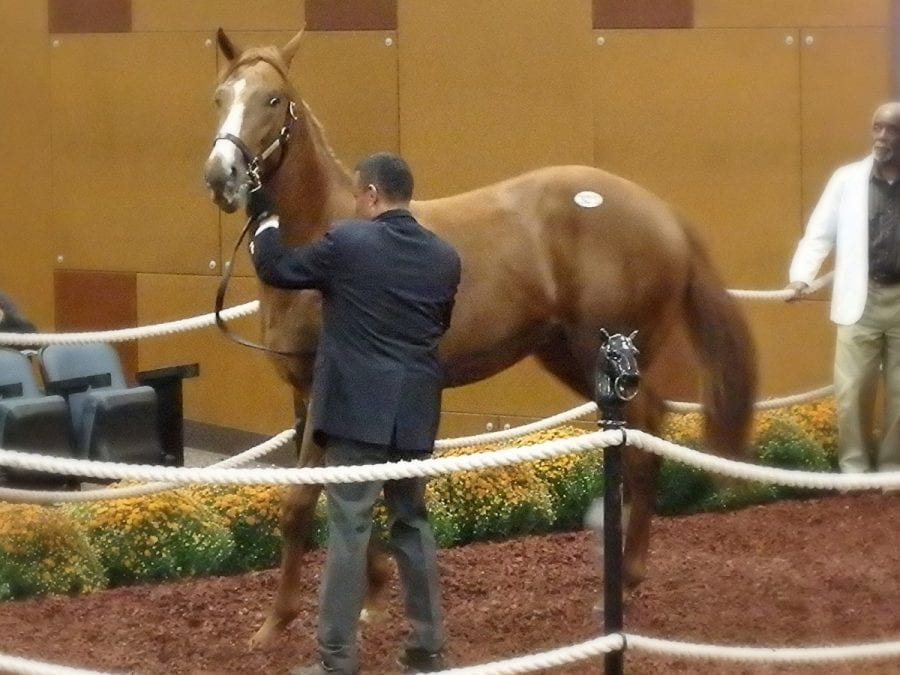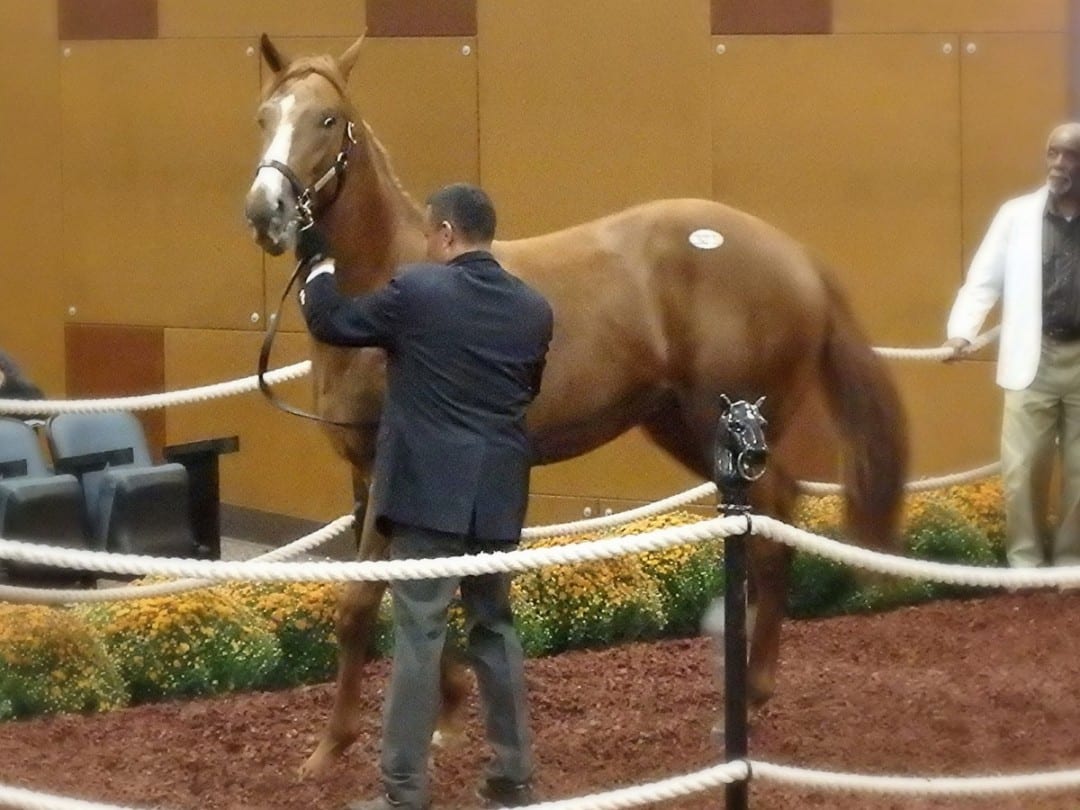 Hip 323, the sale-topper. Photo by The Racing Biz.
by Frank Vespe
Becky Davis and her father, Tom Bowman, embraced.  Moments earlier, a horse (Hip 323) from Davis' consignment – one which Bowman and business partner Milton Higgins had bred – had sold for $450,000 to top yesterday's Fasig-Tipton Midlantic Fall Yearlings Sale.
"My heart is beating a million miles a minute," Davis said.
The sale put the exclamation point on a day which went, for the most part, just as Fasig-Tipton and the region's Thoroughbred industry would have hoped.  The gross and average sales totals both rose, and the buyback rate fell.  What's more, it was horses bred in the region that led the charge.
The top two sellers in the event were bred in Maryland and Pennsylvania, respectively.  And though the third highest-priced horse, an Into Mischief colt that McKathan Brothers bought from the Candyland Farm consignment for $190,000, was bred in Kentucky, he, too, has a regional connection.  He is Delaware-certified.
Davis' sale-topping Curlin colt is a Maryland-bred, the second-most expensive Maryland-bred in the history of this sale  – and one bred to be a star.  He is out of the winning Awesome Again mare Formalities Aside and a half-brother to Awesome Flower, who won six stakes en route to earning over $550,000.  It's also the family, under the second dam, of Well Armed, earner of more than $5 million.
"He was a super-classy, super-cool baby," said Davis.  "But honestly, I couldn't say this was going to happen."
Charles Zacney, who bought the top two sellers in the event (and three of the top eight) signed the ticket.
Davis said that, while horses her family raises typically spend their days out with other horses, once the weather broke this past winter, "He was just too valuable to us to put back out in the field with the other colts."
So she sent him to Cary Frommer in Aiken, SC, and from there he was targeted at the early August Saratoga Selected Yearlings Sale; in fact, he was actually cataloged for it.
But Frommer then advised patience.
"She said, 'There are 12 Curlins in this sale,'" Davis recalled.  "'The whole family has been late to develop.  We might be better off going in the fall sale.  He's going to stand out there like his hair's on fire.'"
Davis' Curlin colt was one of 114 Maryland-breds that sold on the day.  Those horses averaged $22,968, second only to Kentucky-breds in average value.  The Maryland-breds accounted for $2,618,400 in total sales – 41 percent of the event's total of $6,436,600.
But he did stand out; he was one of just two Curlins in the sale.
The sale's other son of Curlin – Hip 171, consigned by Chanceland Farm – brought a top bid of $150,000 from Hillwood Stable LLC.  He is out of the winning Polish Numbers mare Tanca and is a half-brother to Corvus, winner of the 2015 Maryland Million Nursery.
"I like the horse, love the pedigree," said trainer Rodney Jenkins, who advised Ellen Charles of Hillwood on the purchase.  "That mare seems to produce, and Curlin was definitely a jump up [in sire quality]."
The second-best seller in the event was also bred nearby.  Hip 187, a Pennsylvania-bred filly, brought a winning bid of $290,000.  She's by hot sire Uncle Mo and out of the Two Punch mare Two Klassy.  She's a half-sister to multiple stakes winner Uptown Boy.  Zacney also signed the ticket on her.
Pennsylvania wasn't far behind Maryland in average, with its horses fetching a mean winning bid of $22,790.  With a far smaller group of 42 horses on offer, though, total sales of horses bred in the Keystone State were $957,200.
Virginia-breds accounted for $283,200 worth of sales on the day, with nine hips fetching an average price of about $31,465.  The top seller was Hip 144, a Tale of the Cat colt out of the stakes-placed Smart Strike mare Smart Kiss.  Novogratz Racing Stable paid $105,000 for the colt from the Corner Farm consignment.
The 12 West Virginia-breds that left with new owners brought an average winning bid of $14,125, good for a total of $169,500.
The top horse from the Mountain State to sell was the final hip of the day, Hip 368, a Blame filly that brought a top bid of $80,000 from Matthew Schera.  Consigned by Bill Reightler for O'Sullivan Farms, the filly, named Blame Julie, is out of the stakes-winning Eastover Court mare Julie B, who earned $890,000 in her career.
Of six New Jersey-breds in the sale, five were scratched and the sixth did not meet its reserve after drawing a high bid of $7,900.
All told, horses bred in Maryland, Pennsylvania, Virginia and West Virginia brought more than $4 million in gross sales.  That was 62.6 percent of the day's grand total.