Family – and wins – drive Erick Rodriguez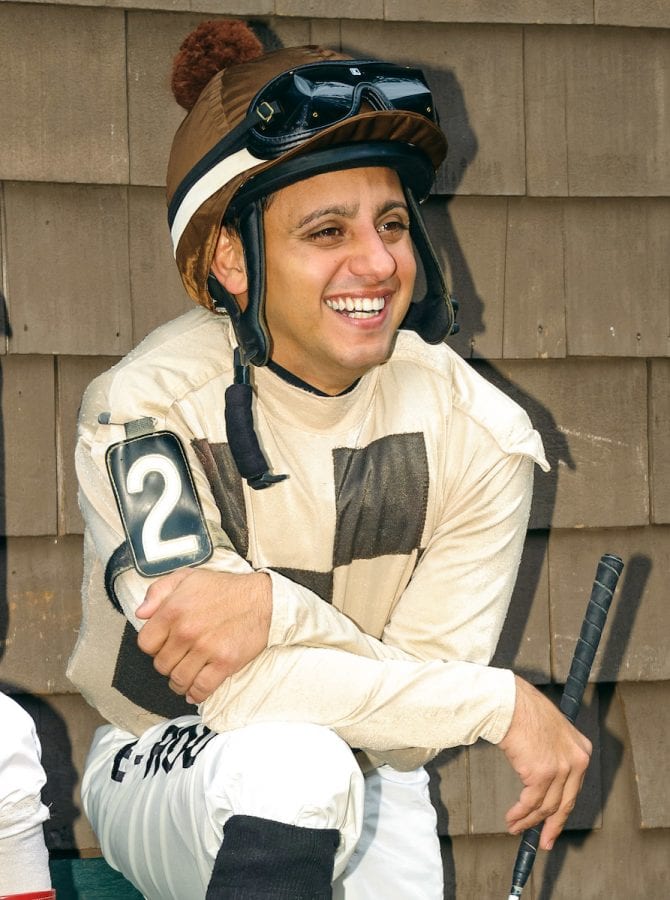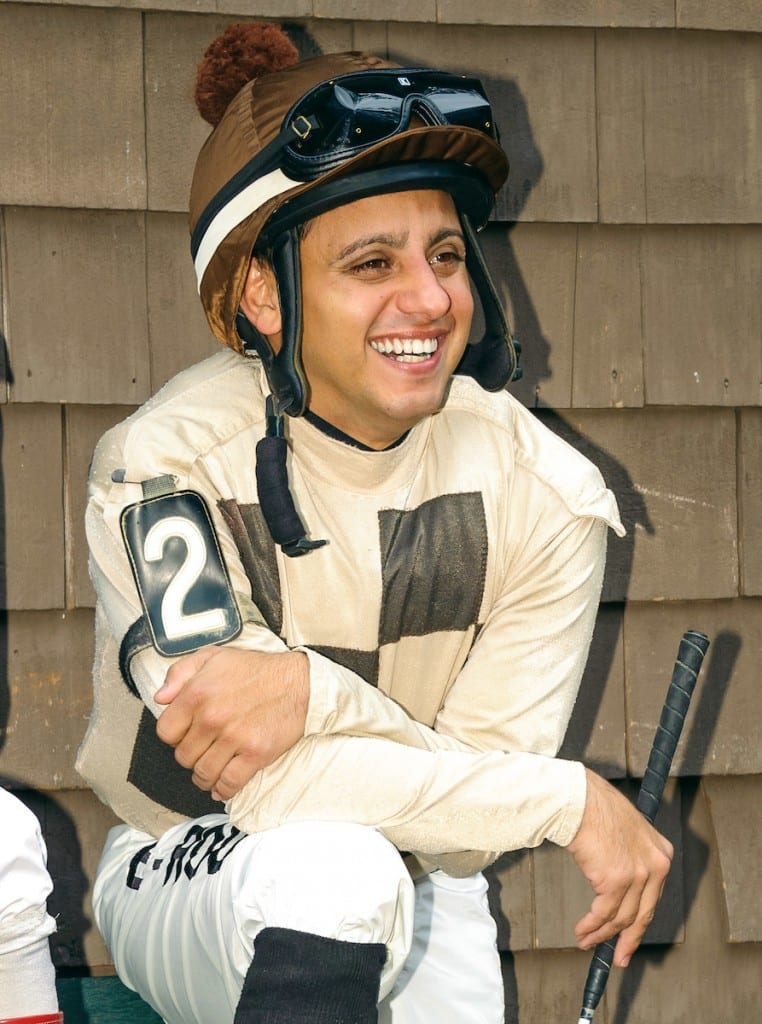 Erick Rodriguez. Photo by HoofprintsInc.com.
by Doug McCoy
For the past two years jockey Erick Rodriguez spent his summers riding at Presque Isle Downs, and from a business standpoint they were two productive years. The rider won 74 races at the western Pennsylvania track last season to rank third in the rider's standings, and his mounts earned $1.4 million in purses. In 2014 Rodriguez won 78 races at Presque Isle, finishing fourth in the standings, and his mounts earned 1.75 million.
But money isn't everything in life. Rodriguez's early roots and family ties are centered in the Mid-Atlantic. The divorced rider has three children, Cristian, 17, Ericka Nicole, 11, and Adrian, age 6, and being away from his children much of the year was troubling to Rodriguez. Finally this spring the rider decided to base his operations at Delaware Park so he could spend more time with his kids.
"I did very well at Presque Isle the past two seasons and the money was good, but I'm 36 now and my kids are getting older, and I just felt like I needed to be with them more," the jockey said after training hours recently.  "They're getting older and I had missed enough of their childhood because of my career.  While I might not be making as much this year as in the past, I'm back where I feel at home, I'm able to be with the kids more, and those are things you can't put a price tag on."
Rodriguez is currently tied for fifth in the standings at Delaware Park with 37 winners and has also been riding on occasion at other tracks in the region like Laurel, Pimlico, Parx, Monmouth Park and Penn National.  He has 49 wins for the year with three months left and his mounts have earned $1.14 million in purse earnings. The rider's mounts have earned at least $1 million in purses every year since 2003.
While Rodriguez has ridden for a number of outfits here this season, he has had his biggest success when teamed with veteran horseman Gerald Bennett. Rodriguez has won 13 races while riding for Bennett, who ranks fourth in the trainer's standings with 19 victories, and the rider says riding for the Bennett stable has been one of the high points of the meeting.
"Mr. Bennett is very hands-on with his horses, he knows every one's personalities, their quirks and the things that make them perform at their best," the rider pointed out. "When he gives me instructions on a horse, I don't question him because I've learned he is so in tune with his horses he knows what I need to do to get them to run at their best. And he runs his horses where they belong, he knows when to put them where they can win. I'm hopeful I can continue to ride regularly for him  when we go back to Tampa (Bay Downs) this winter."
Rodriguez had a subpar winter at Tampa Bay last year, winning just eight races, but he plans on being in Oldsmar earlier this season to get on horses and build relationships.  With riding power Antonio Gallardo moving his tack to Southern California, Rodriguez believes there will be a lot of business opening up for other riders.
"Any time you have a rider who wins 135 races not coming back, it's got to open up business for the rest of us," Rodriguez said.  "Kevin Witte is my agent, and he also has Daniel Centeno, and working together I'm hopeful we can have a solid winter. It's a tough spot to ride — there are a lot of riders there competing for mounts — but you also have a chance to get on some good horses because trainers like Graham Motion, Christophe Clement and others ship in with their horses. We're going to ride at Laurel for a bit after Delaware Park closes then head south. Tampa is opening in late November and they'll open the barn area 30 days before that. I plan on being there early and be getting on horses that first week. It's the kind of place where every rider gets on horses in the morning, so I want to get a good foundation going. Setting up a good schedule with Tampa in the winter and the Mid-Atlantic in the summer where I can win races and be around the family is what I'm shooting for."